Many good things can be abused: food, sex, fire, and CrossFit. When abused they can result in personal harm, and they are commonly decried as bad, although the fault lies with the abuser, not the thing being abused.
In recent years the CrossFit movement has gone from an esoteric novelty to something more akin to a religion to be embraced or anathematized among fitness enthusiasts. In case you aren't familiar with CrossFit, I've borrowed this from the CrossFit website:
"Our program delivers a fitness that is, by design, broad, general, and inclusive. Our specialty is not specializing. Combat, survival, many sports, and life reward this kind of fitness and, on average, punish the specialist."
The program is based on functional movements (movements that transfer to common, real-life scenarios) and involves Olympic lifts, gymnastics, and much more. Most of the workouts would be classified as metabolic resistance training, and athletes commonly measure progress by recording a faster time or more reps or rounds in a given timeframe.
For some avid and crazy CrossFitters, getting injured is almost an inevitable rite of passage. And tossing your cookies is also something you can expect if you're working hard enough. (CrossFit's mascot is Pukey, a vomiting clown.) But good or bad, these are not the responsibility of the program itself, but rather its execution.
Here's the rub: the fact that people get injured doing CrossFit is not CrossFit's fault: it's the fault of people who don't know what they're doing or when to stop. Injuries happen when you do a movement the wrong way or when you sacrifice form in order to squeeze out one more rep. This happens all the time with CrossFit. People are racing against the clock, trying to eek out one more deadlift even though the glutes and lower back are fatigued, and guess what? Injury.
Now, though this scenario is common, is it the fault of CrossFit? Again, I say, "No." True CrossFit purists are fanatical about form and working both smart and hard. But most people don't know how to do both. They can do movements correctly with much care and time, but when they're being timed, that goes out the window while others cheer them on.
So really, what is so great about CrossFit? Well, I'm glad you asked.
Why CrossFit is Great:
It's hard work. Most people aren't familiar with really hard work, and CrossFit excels here. When you're working out with a partner or a team, you often can go harder than you thought you could. It's like other sports in this sense: a team can push an individual past his mental barriers.
The community of support. If you spend time on the CrossFit website, you'll find people pushing and prodding one another to go hard and improve. The good folks who run the website are more intent on helping people than making a buck, which is why they make the Workout of the Day (WOD) available for free to anyone on their site. People flock here for training tips and support and the community is a great resource for athletes of all abilities.
The structure. Some people want to build their own workouts, but don't know where to start. CrossFit provides some help here. While I wouldn't build all the workouts the way they do, I have learned a ton about how to do this from CrossFit.
The variety. With CrossFit, you're doing something different every day you work out, and a particular workout may not come up again for anywhere from two weeks to two years.
The broad exposure. The first time I did kipping pullups, thrusters, cleans, snatches, deadlifts, air squats, wall ball shots, glute-ham situps, toes-to-bars, kettlebell swings and many other movements was doing CrossFit. (Yes, I have CrossFit to thank for my introduction to kettlebells!)
Metabolic resistance training is the bomb! This protocol provides the most bang for your buck. It enables the athlete to gain strength and stamina, burning fat while building muscle, and more. If you want to be around to hold your grandkids, like me, you may want to make this a regular part of your training regimen.
But for all of that, while I utilize a lot of the principles I have learned from Crossfit, I don't actually do Crossfit itself.
Why I Don't Do CrossFit:
I think the list above is pretty compelling, but make no mistake: CrossFit is not for everybody. While I did CrossFit for the better part of two years, I don't do it anymore. I'm not a hater, but it doesn't square with my philosophy, goals or station in life. Here's why I don't do CrossFit:
CrossFit doesn't account enough for specific goals. When you don't know what you're going to be doing from one day to the next, you need to find extra time to work on your personal goals. If you want to add 25 pounds to your military press, you need to work on that when you're not doing the WOD. But if you have a goal of general and functional fitness, you definitely find it by sticking to the workouts of the day.
It's not fun to do alone (and I usually work out alone). Kettlebell and bodyweight movements don't require a spotter or a partner (maybe there exists some exception, but you get the point), so I don't need a partner to do most of what I do now. But not having a partner or a spotter would be the immediate deal breaker for me when it comes to a lot of CrossFit workouts. E.g., I'll never do barbell back squats without a spotter, and I don't bench without a spotter. I just don't do it. Some guys do; not me.
There's more to exercise than getting a "good workout." When I was a CrossFitter, every workout was harder and more intense than I had ever exercised during the first 30 years of my life. It took me to a different level mentally. But when I began training primarily with kettlebells and bodyweight movements, my overall fitness and stamina only improved. So I get good workouts now (Especially when I do high volume kettlebell snatches! Whoa!), but it's always with a purpose and while working toward a particular goal.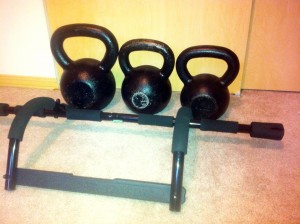 There's too much set up and teardown for my liking. While CrossFit requires less equipment than many other programs, it cannot compare to the simplicity of my standard equipment: Six kettlebells (2 each of a 70#, 53# and 40#) and a pull-up bar. That's it. That represents my equipment for nearly all of my workouts and it suffices for my personal goals. I love free weights and Olympic lifts (especially deadlifts), but I am not committed to the time it takes to pull the car out of the garage, set up and tear down, and pull the car back in when I'm working out solo. This may seem like a lame excuse, but the reality is that I have found the daunting task of having to set up and tear down to be prohibitive to exercise in the past, and I prefer to minimize the obstacles to exercise. So instead I have zero set up or tear down for my workouts.
The Takeaway
If you have one very general goal to get in good shape, I cannot recommend CrossFit highly enough. But I would suggest joining one of their many affiliate gyms for sake of getting the customized coaching and encouragement. Otherwise, take the time to learn the movements properly so as not to injure yourself, and always, always stop when form starts to break down.
But if you're like me, and you want more than a good workout from your exercise time and you want to work toward identified, particular goals with focused intensity, then I don't recommend CrossFit…for you.
What do you think? Are you a CrossFit fan? Hater? Feel free to leave a comment below.
Have you read…