Crock-pot Sweet and Sour Chicken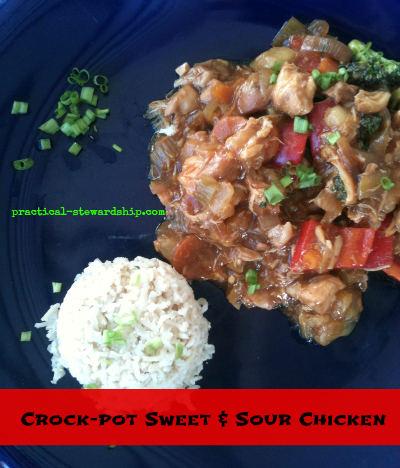 When you are in the mood for a little sweetness and a little sour in the same bite, there is nothing like some good sweet and sour chicken to appease the craving.  And making it in the crock-pot is super easy!
Eating in is typically so much tastier, healthier, and cheaper than eating out.  Since putting the dish together is broken up a bit, prep time flies.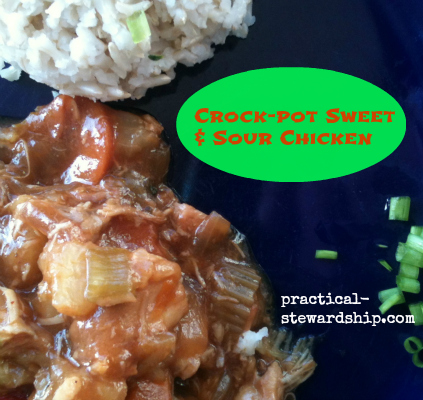 To thicken the sauce with cornstarch, I found non-genetically modified cornstarch at our local Co-op!  I will digress a bit….I know a lot of you who read this blog already know, but in case some need a little 101 on GMOs, here you go.  Most corn is genetically modified.  Anything organic cannot, by definition, contain genetically modified organisms (also know as GMOs).  We are slowly pulling ourselves out of the GMO science experiment, one product at a time, since it is unclear as to the human health and environmental impact GMOs may cause like allergens, cancer and creating toxins.  This is not a fear-based decision, but a decision based on going back to the basics of our food, as the Lord has provided food for generations, and generations, and generations.  It is curious as to why companies wouldn't want the GMO label on their products, and those companies fought so hard in California on Proposition 37 in 2012 not to have their products labeled.  And why have European countries banned some GMOs?  Hmm…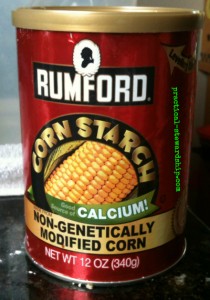 Most people would make this dish with chicken breasts, but I am really partial to dark meat, as it just has more flavor.  So I used chicken thighs in this recipe.  Plus dark meat is also a much more frugal option if you aren't buying the whole chicken, but I am sure this would work great with chicken breasts.
Crock-pot Sweet & Sour Chicken
Ingredients
1 lb. of raw chicken, cubed (I used boneless chicken thighs)
2 ribs of celery, diced
2 carrots, diced
1/2-1 onion, diced
1/2 cup apple cider vinegar (can use white vinegar)
1/2 cup water
1/2 cup organic evaporated cane juice (sugar)
1/4 cup soy sauce or liquid aminos for gluten-free
1/4 cup tomato paste
3 garlic cloves, minced
1 inch of ginger, minced
2 T of non-genetically modified cornstarch
2 T water
1 cup of pineapple, diced (canned pineapple works, but look for natural juice)
1 bell pepper-color of choice, diced
Instructions
Place chicken, celery, carrots, and onions in the crock-pot.
In a medium bowl combine the apple cider vinegar, water, organic evaporated cane juice (sugar), soy sauce, tomato paste, minced garlic and ginger to make the sweet and sour sauce.
Pour the sauce over the chicken and vegetables in the crock-pot, and stir.
Depending on how fast your crock-pot cooks, cover, and cook on low 4-6 hours, or until chicken is thoroughly cooked.
In the last 20 minutes of cooking mix the cornstarch and water together so it is smooth and add to the crock-pot. Stir it well, and add the pineapple and bell pepper at this time.
The sweet and sour chicken is ready when your bell pepper has reached the desired tenderness (for us approximately 20 minutes).
Serve as is or on a bed of organic brown rice-we crock-pot our rice.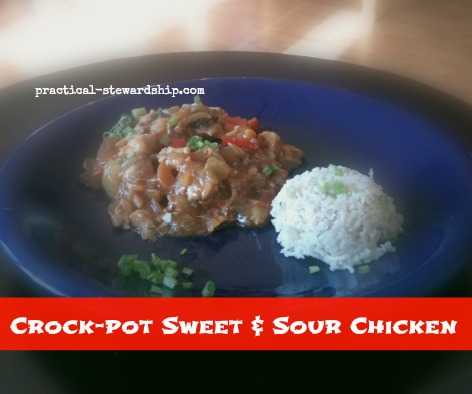 The Verdict:
We've been greatly enjoying this meal as a family.  It easily doubles, and is a great leftover, as I can attest to multiple times!  The family likes the bell pepper fairly crisp, so we don't lengthen the last stretch of cooking time.
Since we have multiple crock-pots, I make the rice in the crock-pot during the last 2 1/2 hours of cooking.  Go here to learn how.  And if you want that nice looking portion of rice, just fill up a rounded measuring cup (I think I used 1/4 cup size), and turn it over carefully on your plate.  Rice is forgiving, so you can shape it a bit if needed if you are after aesthetics.
If your leftovers are a little dry, just sprinkle some soy sauce, a little apple cider vinegar, and pineapple juice to moisten the dish before reheating.
Go here for the complete list of recipes.
Have you made a whole chicken in the crock-pot before?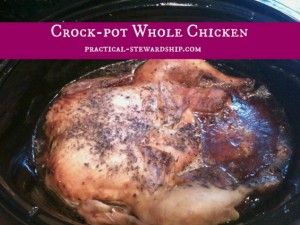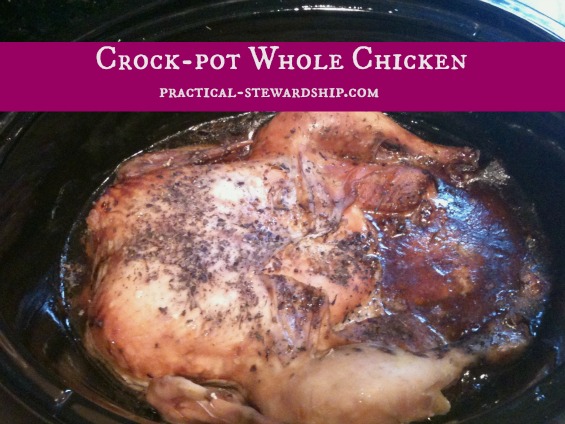 How about making a whole chicken with ginger and oranges?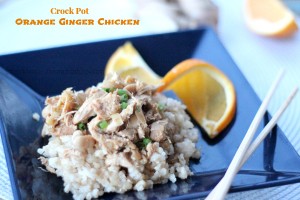 This post may contain affiliate links that cost you no more money, but support our blogging efforts. Thank you! 
Sharing at some of these great link parties.