Are you like me and love Trader Joe's? For the most part Trader Joe's has excellent prices and a great selection of whole foods. (I am not excited about all of their products, but I sure like a lot of them.)  On our clean eating, whole foods journey I am finding myself wandering the aisles of that funky little grocery store more and more.  I am especially buying more of our organic produce there.  And of course, the kids look forward to getting the stickers when we are there, too!
Here are a few of my favorite reasons to buy Trader Joe's-labeled products, which include Trader Ming's, and Trader José's.  Their private label items contain…
no GMOs (genetically modified organisms).
no partially hydrogenated oils.
no synthetic colors.
no MSG.
You can go here to read more about their general facts, and if you are interested in reading more you can go here to learn about Trader Joe's commitment to eliminate GMOs from their private label products.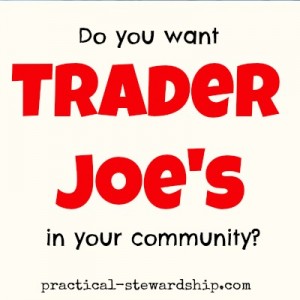 So, do you want to get a Trader Joe's in your area?  The first step in getting a Trader Joe's in your neighborhood is to fill out a Location Request Form.  We've got to let them know there is an interest.  When I am at Trader Joe's, I'll occasionally ask the clerk if any new stores are coming to the area.  That's great and all, but having something written down for the company is even better, since the clerk may not pass along our messages.
Here is my personal request letter to Trader Joe's that I sent them the day before Easter.
To Whom It May Concern,

My whole family LOVES Trader Joe's!!  We have definitely been increasing our frequency of buying food there, and now I find that I need to go nearly weekly as opposed to monthly with our conversion to whole foods and journey toward organic foods.

I love that your brand is non-GMO, too!!

If you notice, more and more stores are coming to the Marysville-Smokey Point Area.  Trader Joe's would fit right in!  I am guessing that you will find a HUGE market for your store as there is no other Trader Joe's between Bellingham and Everett, WA, leaving a 66 mile gap.  A Smokey Point store would help bridge that gap.  I hope you will consider.

Sincerely,

Sonja Sarr

Mom, and a Whole Foods Blogger @ practical-stewardship.com
I hope you all will join me in requesting a store in your area.  The more Trader Joe's there are the more buying power, lower prices, etc….  If you happen to live in the North Snohomish County area of Washington state, I would be especially thankful if you went to Trader Joe's website and filled out their location request form.  You can find that here.  Your letter doesn't have to be as long as mine.   It could be as simple as "We'd love a Trader Joe's in our neighborhood."  Cut and paste that.  I don't care.  If you could add more to that, it would be even better!
I have no idea where this will go, but I am glad to have taken the first step, and I am asking that you join me.  If this goes nowhere, at least I know I tried to do something.  I know this isn't a matter of life or death or anything, but it sure would help us have access to better food.  If this interests you, please share this post with your friends.  Link it to Facebook.  Tweet it.  Pin it.  Anything.  Thanks for considering!
We would love to hear from you!  Get free e-mail updates by subscribing here.  Follow us on Pinterest, Facebook and Twitter. "Moreover, it is required of stewards that they be found faithful" (1 Corinthians 4:2 ESV). Thanks for visiting!
Sonja