If you have followed us here last year at all, you would have known that I posted almost a smoothie a week, 48 different smoothies to be exact.  I realized at the beginning of this year that in all of last year I had not shared one of my childhood favorite cold treat flavors: the orange creamsicle-inspired smoothie.

I have been telling my family almost everyday this summer that this is the best weather we have ever had for a summer here in Western Washington.  I have lived in Washington over 30 years, and I can't remember a better summer.  With the weather being so warm here in the Pacific Northwest, I thought this would be the perfect time to share this Orange Creamsicle Smoothie.
Not only because the weather is nice, but this is divine time to share this smoothie.  You see my friend Serena from Serena Simply Bakes from Scratch asked me if I would write a guest post months back, and I gladly excepted.  Well, now is the time to share; unfortunately, these are awful circumstances!
I know Serena would appreciate your prayers now.  Serena was hit by a semi-truck on the freeway last week, and thanks be to God, she was able to walk away.  Yes, walk away, but she is in great, great pain now.  I was able to visit her because we discovered a year ago we live in the same town!  Divine!  If I were her, I would never want to get on the freeway again; it's traumatic!
Anyway, bless her, and hop on over to
Serena Bakes Simply from Scratch
to view the
Orange Creamsicle Smoothie
.  I hope you all enjoy this cool and refreshing sweet treat! Does a
Pie-Inspired Smoothie sound good?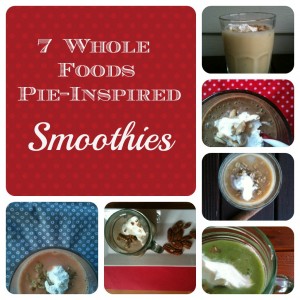 Go here for the complete list of recipes.