Stove-top crispy chimichangas have become one of our favorite go-to lunches this summer; and it's my absolute favorite hands down.  With my husband home this summer for lunches I have needed a good, filling, frugal, and quick lunch.  Chimichangas fit the bill.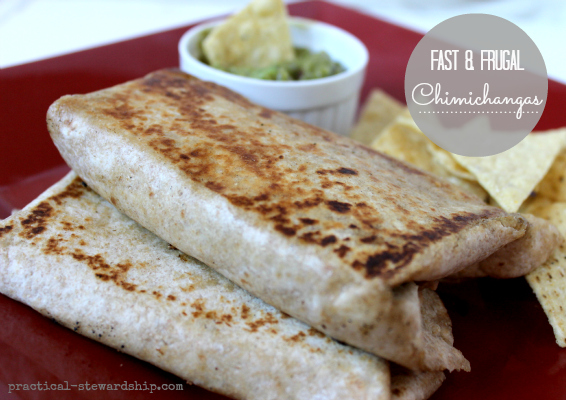 We occasionally eat chimichangas for dinner during the times we need something pronto.  Since I have started making fresh refried beans in the crock-pot this year to save money, I try to keep the refried beans in the fridge, so there is no barrier or excuse for a good, fast, protein-laden meal.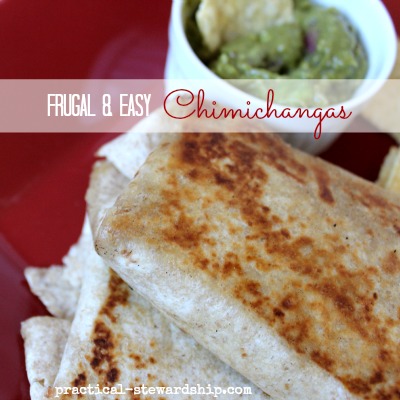 The traditional chimichanga is deep-fried, but in this recipe the chimichanga is pan-fried in a cast iron skillet for about 45 seconds on each side.  I love, love, LOVE the beautiful golden tortilla with the crispy texture.  Amazing!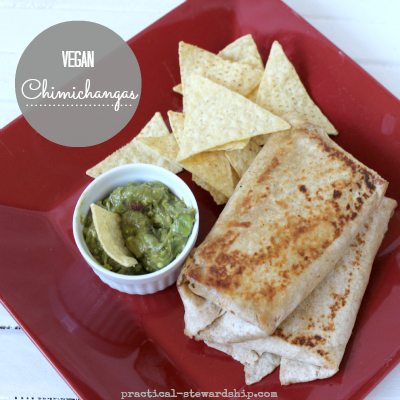 The chimichangas I make are typically vegan, since I am off dairy, and we don't always have a lot of meat around.  It would be easy to add ground beef, ground turkey, shredded chicken, and/or cheese to the mix if you'd like.

To fold the chimichangas if your tortillas are a bit inflexible, you can warm them (in the microwave, oven, or skillet) to make them more pliable.  This will help the tortillas to fold with minimal ripping.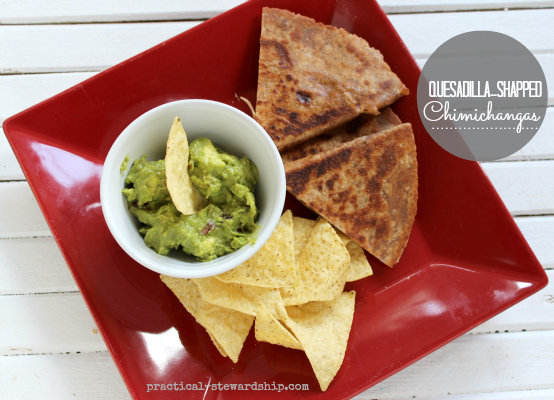 If Jonathan is making the chimichangas, the shape morphs into quesadillas, which are equally as tasty.  They are even easier and faster to put together this way.
Chimichangas, Vegan Option
Yield 6 medium chimichangas
Ingredients
1 1/2 cups of refried beans, or one 16 oz. can of refried beans
3/4 cup salsa
1/2 cup choice meat if desired, optional
1/2 cup cheese if desired, optional
6 medium whole wheat tortillas (corn tortillas work in quesadilla form as a gluten-free option)
grapeseed oil (coconut oil, and olive oil would also work)
Instructions
If you are using a cast iron skillet, place 2 T grapeseed oil in the skillet, and heat the oil on medium heat.
In a medium bowl mix refried beans, and salsa. If you are adding meat and cheese, mix them in at this time.
Heat bean mixture in a microwave for about 1 minute (or on the stove in a separate pan) until thoroughly warmed.
Place 1/3 cup of the bean mixture in the middle of a tortilla, fold as shown above, and repeat the process.
Place chimichanga on iron skillet, and cook about 45 seconds on each side, watching carefully not to burn.
Add more oil to the skillet as needed, and cook remaining chimichangas.
Enjoy!
The Verdict: This recipe easily doubles, or triples, or quadruples; it's really one part salsa to two parts beans.  I sometimes keep the refried bean/salsa mixture in my fridge so I can cook up fresh chimichangas even faster.
This recipe is inspired by Superhealthykids.com.
Do you have a guacamole recipe?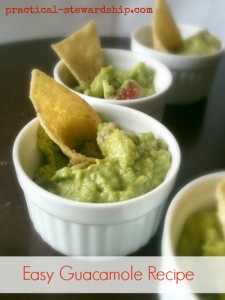 Have you ever made your own refried beans?  It really is so easy!!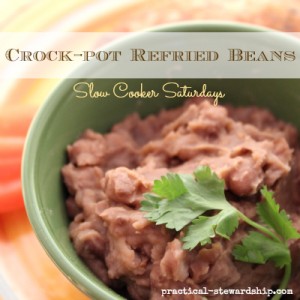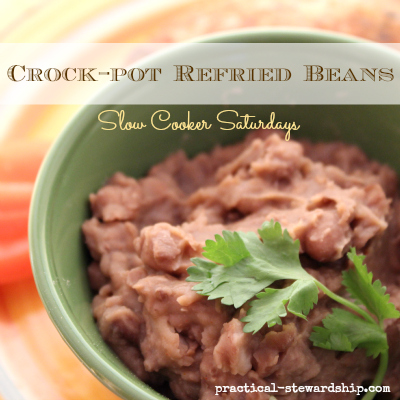 This post may contain affiliate links that cost you no more money, but support our blogging efforts. Thank you!