How many of you grew up eating the commercial canned version of tomato soup?  You know the one with the big "C"!?!  This was one of our family staples growing up.  We ate a lot from cans: corn, chicken noodle soup, raviolis, and the like.  Can anyone else relate?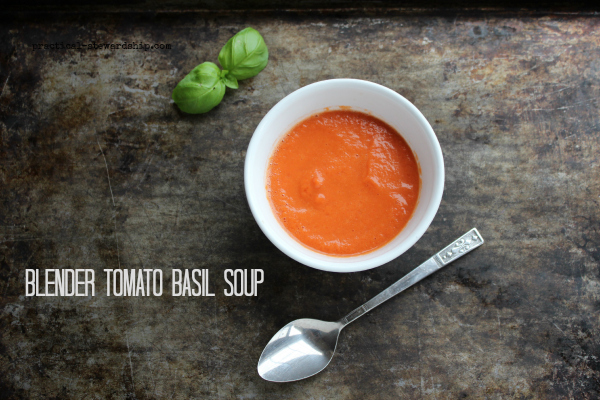 About three years ago I opened up a can of tomato paste and thought, 'this smells like tomato soup.  There must be a way to make if from scratch.'  If there is anything I've learned in the last couple of years is that MOST processed foods can be made better, fresher, and more frugal than their commercial counterparts. Wow has our lifestyle changed!  Anyway, this summer I made my first tomato soup from fresh tomatoes and have made it several times since.  This week I tried it with canned diced tomatoes to see how it would work, and it was just as great. 
I think this is one of the best soups to make in the Vitamix (or other high powered blender) since it's such a smooth soup. It is easily veganized with the use of almond milk or other milk substitutes.
The sautée onions and garlic really bring a lot of flavor to the soup, so I highly recommend this step.  If you are interested in raw foods, you don't have to sautée the onions and garlic, just start with a small amount of each.  After blending the soup for 6 minutes my soup was warmed to 120 degrees.  So blend until combined, and you decide when to stop the blender to achieve the desired warmth of the soup.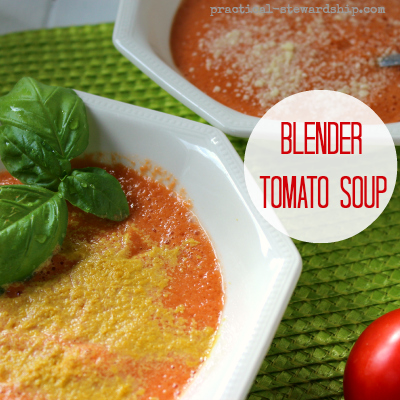 So here is my Blender Tomato Basil Soup version inspired by Serena's Tomato Basil Soup.  You can add a sweetener if desired, but I like my tomato soup without the extra sugar since many tomatoes have a natural sweetness.
Blender Tomato Basil Soup
Yield 3 cups
Ingredients
8-10 Roma tomatoes (or 2 15 ounce cans of diced tomatoes)
6 large fresh basil leaves (can use one t of dried basil)
1/2 onion
3-6 cloves of garlic
2 T olive oil
1 t salt
1/2 cup almond milk
Instructions
Optional, sautée onion and garlic in olive oil over medium heat until onions are translucent (skip if you want a raw soup, and reduce the amount of onion and garlic, starting small and adding to taste since raw onion and garlic are VERY strong).
Place all ingredients in a high powered blender or food processor until combined. If you want a hot soup, blend for 6 minutes in the Vitamix. This brings the temperature to 120 degrees f. If you want a truly raw soup, don't blend as long. Alternatively, after blending you can warm soup in a pot on the stove top over medium heat, but do not bring to a boil.
Serve with a sprinkle of nutritional yeast or Parmesan cheese, additional milk or water if desired, and enjoy!
What other foods have you made in the blender?  Have you tried raw jam, thickened with chia seeds?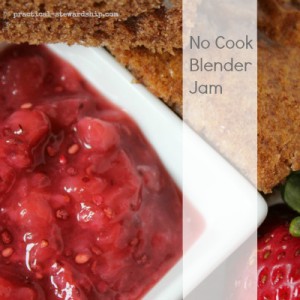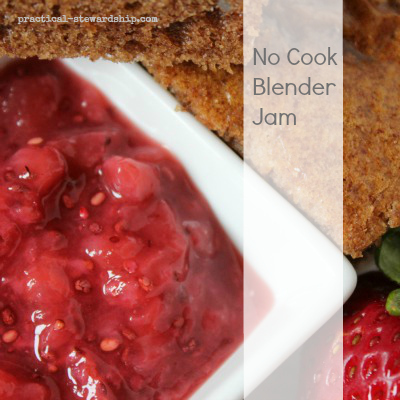 Do you really need a high powered blender?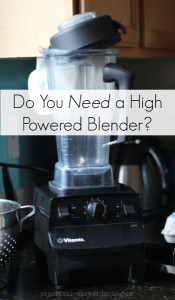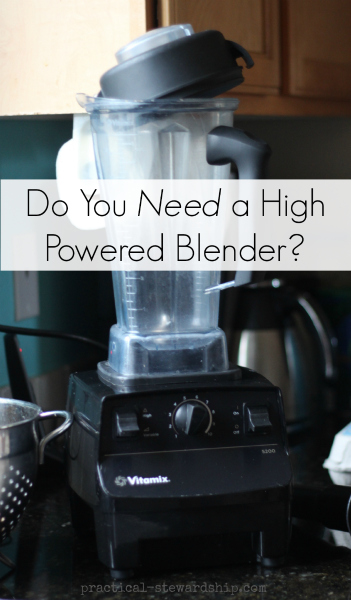 This post may contain affiliate links that cost you no more money, but support our blogging efforts. Thank you!