Did I just entitle this post Crock-pot Chocolate Covered Pretzel Rods? Well, I guess I did, and I never thought about using the crock-pot to make chocolate covered pretzel rods until recently. I mean, I've made candies in the crock-pot before. I don't know why it took so long to figure out that using the crock-pot makes putting together chocolate covered pretzel rods WAY easier.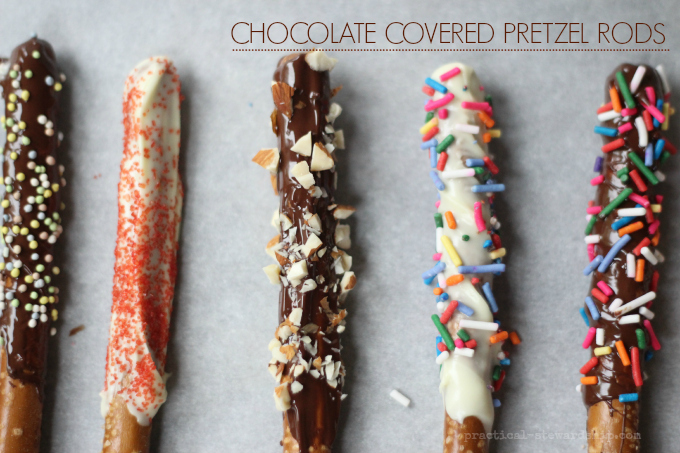 So my daughter just celebrated another birthday, and I was brainstorming, trying to think of a birthday treat that wouldn't send all the students at school into sugar shock but would still be a sweet treat. I was looking for an alternative to the common classroom cupcakes. I have brought whole-food homemade "Slurpees" a few times for birthdays and crazy cake in ice cream cones, but this time I also wanted a treat that I could make in advance since we had such a busy few weeks surrounding her birthday. I mentioned in one of my last menus that I thought chocolate-covered pretzel rods would be the perfect treat especially since my Ellie-girl LOVES salty and sweet, and at the same time, it's even better!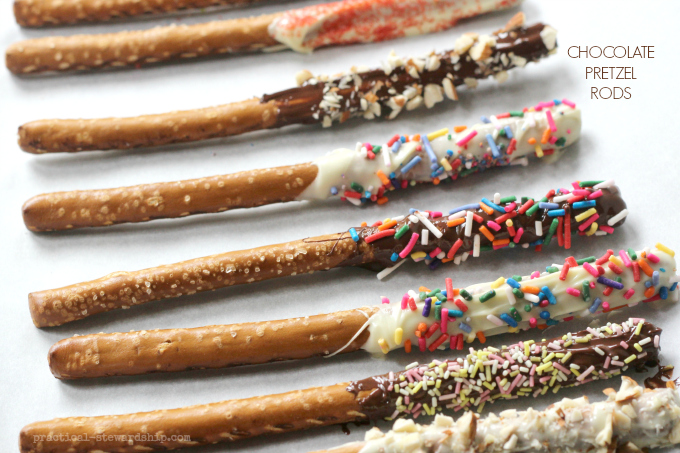 *Yes, this works to use the microwave. I've done it before especially in a pinch. Just put the chocolate in a taller glass container for 30 seconds. Stir and repeat until needed. But we've been without a microwave for about 9 months now. At the end of its life, the microwave started making some explosive sounds, so we knew it was time to retire it. Good bye microwave. Honestly, I was excited to finally replace the microwave with a Convection Toaster Oven
 since I am kind of wary about microwave use anyway, but to be honest, Jonathan has not felt my excitement. You know there is just something so convenient about the microwave. I do miss the convenience, but that's it. We'll see if another microwave makes it's appearance in our house, but maybe its new home will be in the garage :).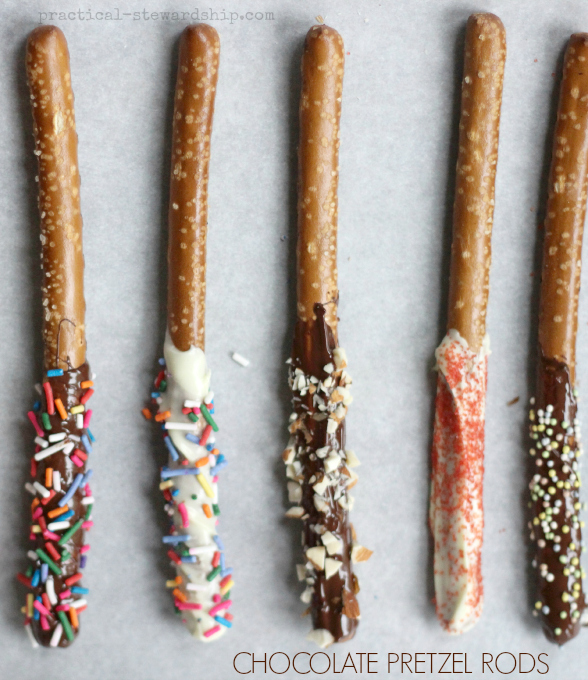 Anyway, I love my toaster oven and the first time I made these pretzel rods, I use the toaster oven to melt the chocolate. Actually I made these using the toaster oven the first couple of times.  The problem when you are work with melted chocolate is that you only have a short window of time before the chocolate becomes rock hard and impossible to work with. Then I read The Yummy Life, and saw how Monica used the crock-pot to melt her chocolate. Pure genius! Like I said I've made candies in the crock-pot, but not using glass jars in the crock. The jars make dipping the pretzels in the chocolate incredibly easy. Go check out her ideas of how to drizzle chocolate, too if you get a chance. Another genius idea!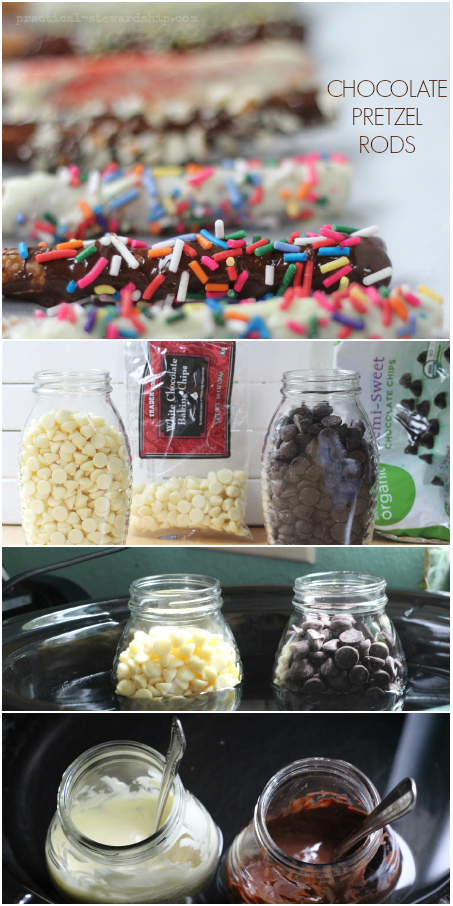 I actually made the pretzel rods a week before the big day. I think the mixture of working with quickly hardening chocolate and having made them that far in advance gave that kind of whitish look to some of the edges of the chocolate. No one complained (to my face at least:); they still tasted great. Then when I made them using the crock-pot, the edges didn't turn white as fast, so I this is definitely the way for me to go.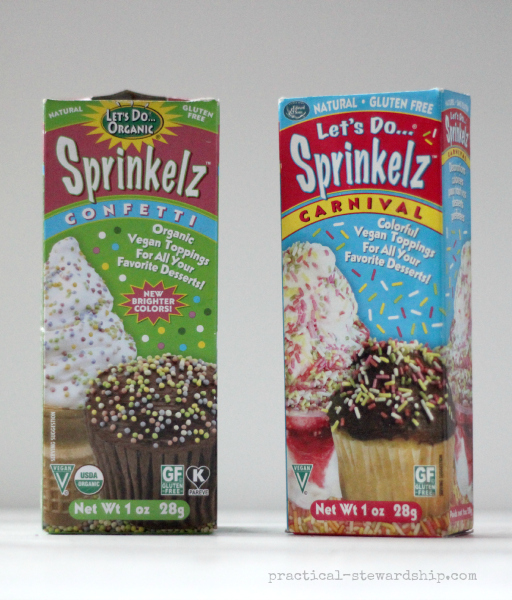 All of our recipes on this blog are healthier in some way. So what did I do to make these healthier? I used organic chocolate chips, GMO-free white chocolate chips, chopped almonds, and we use these Sprinkelz
 for some of the sprinkles which have no artificial food coloring and are organic! The only problem with Sprinkelz is that the colors don't really pop, which I have to admit are fun and beautiful to admire. So I caved a bit and even used some artificially-colored sprinkles. Don't shoot me. Just keepin' it real. This is our 7%. Some people have an 80/20 rule with whole foods. We are probably 93/7. I JUST found out that there's Newman's Own Organics Pretzels, Salted Rods, 8-Ounce Bags (Pack of 12)
 available and gluten-free pretzel sticks by Glutino
if needed.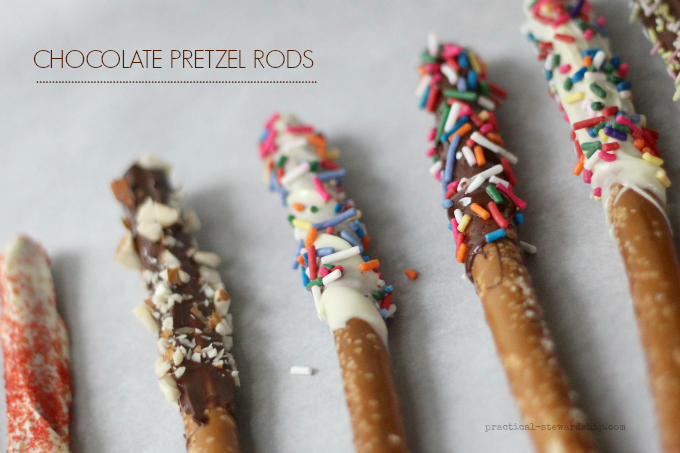 I rest a bit easier when I know my kids are eating these…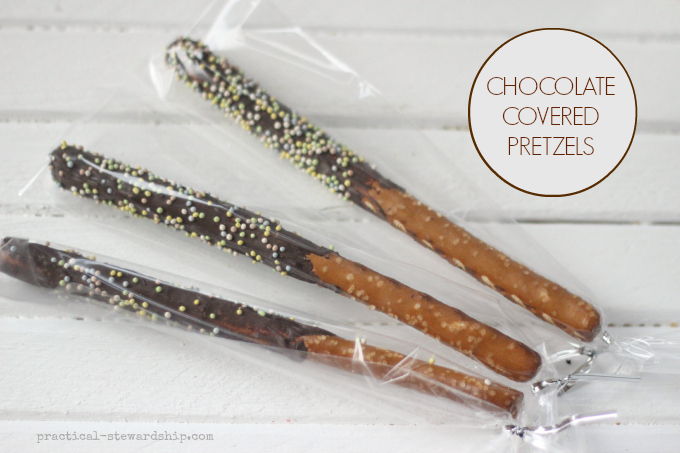 Update**12/15  here is my Christmas influenced pretzel rods.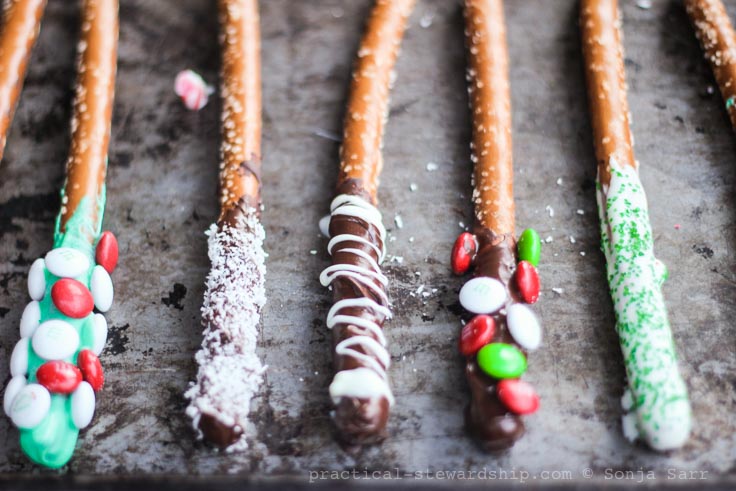 I used unsweetened coconut flakes like snow, crushed candy canes, red and green sprinkles, and M & Ms.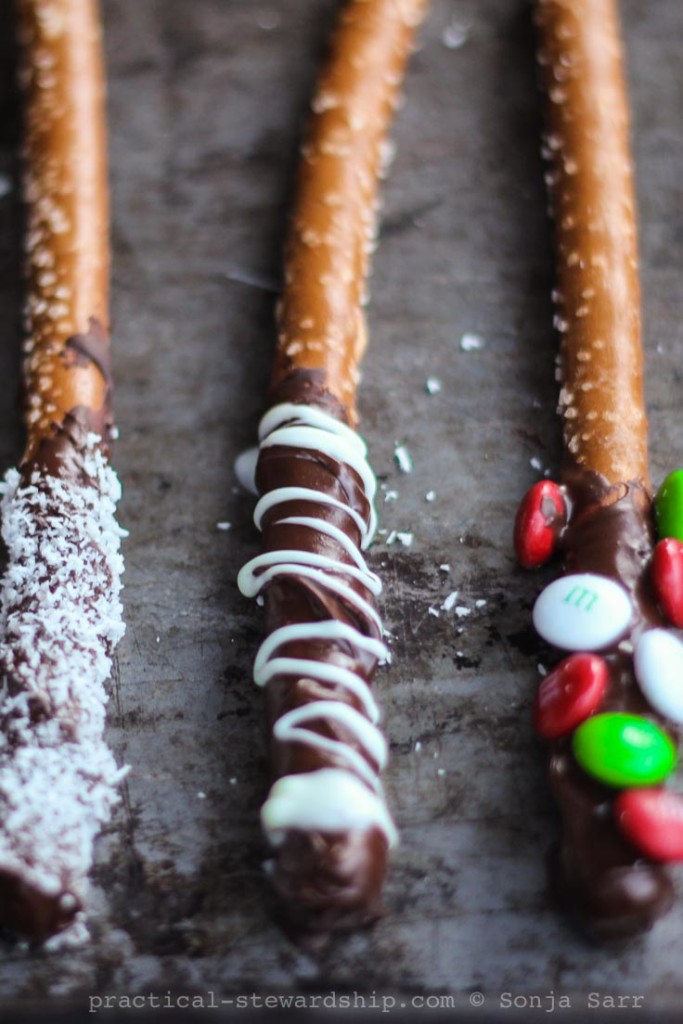 Frugal, fun, and festive!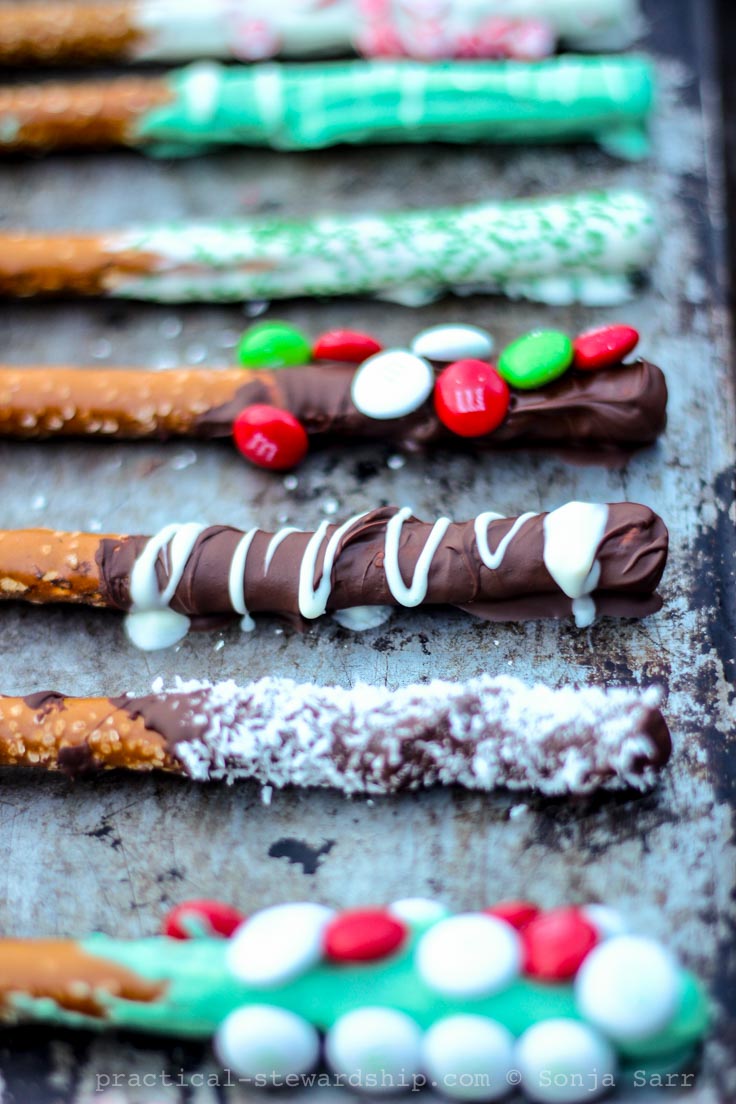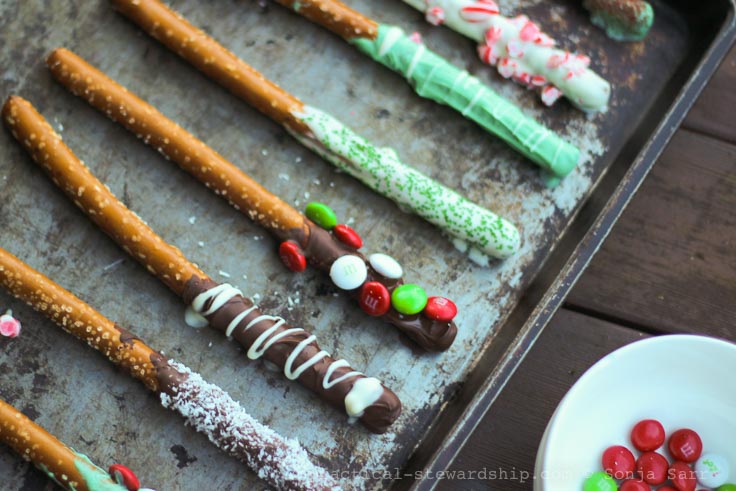 7/16 update: Here are my patriotic inspired white chocolate-covered pretzel rods.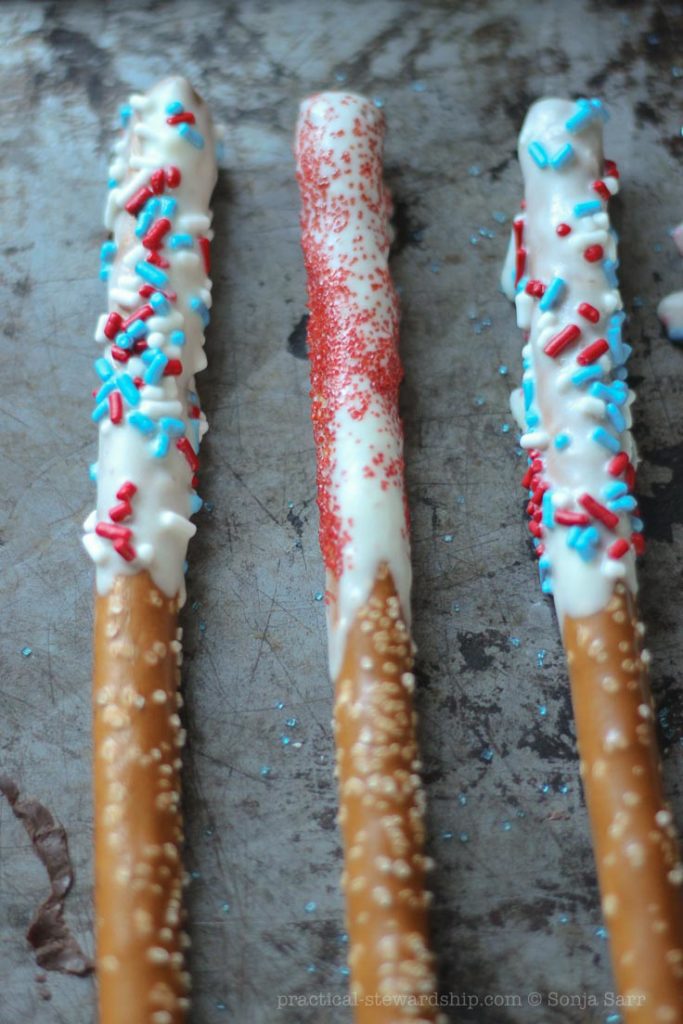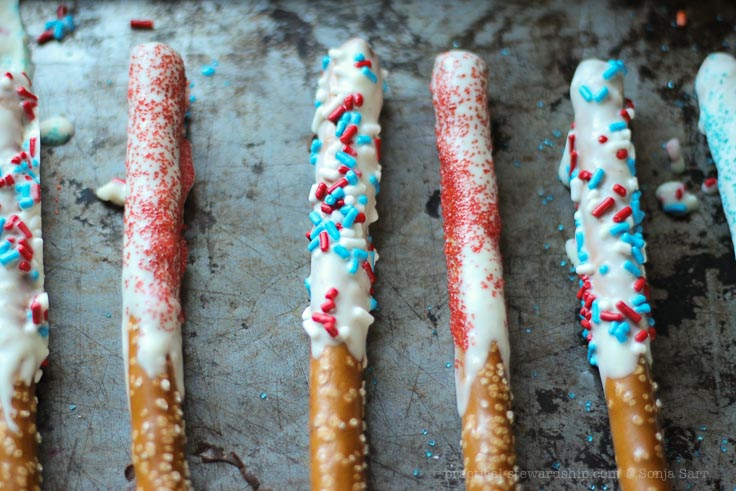 I even found some other thick sourdough pretzels
and bought some party bags
to fit these pretzels which are perfect for dipping.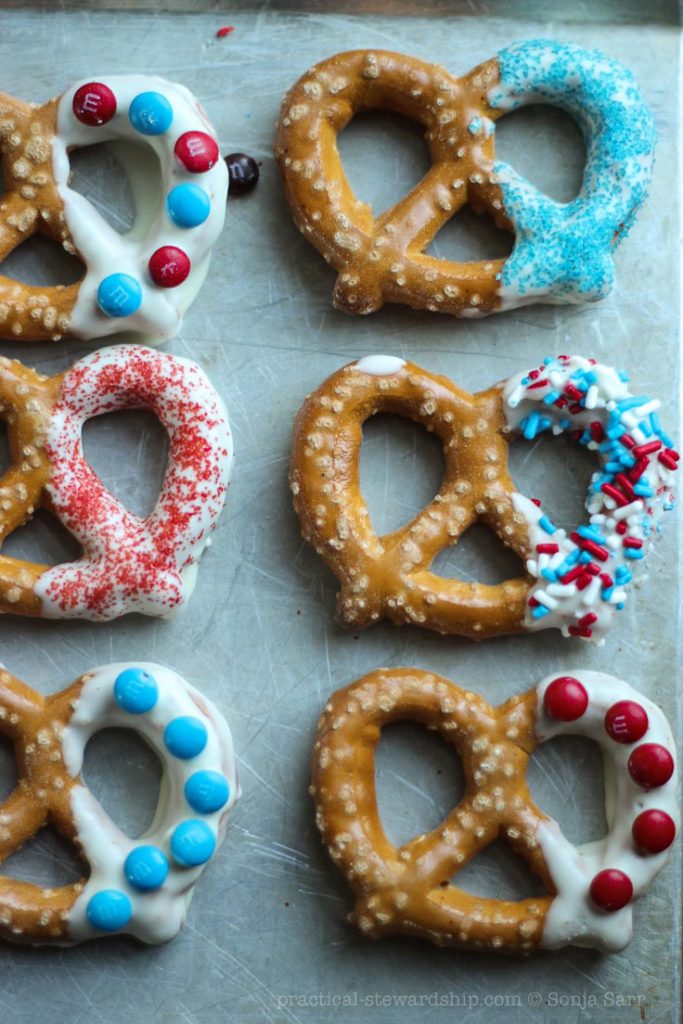 A few dos and don'ts:
Don't put the melted chocolate on a plate and try to roll the pretzel rods in the chocolate. That's a sure fire way to break a pretzel rod. Don't ask me and my kids how we know or how many broken pretzels we just had to eat.
Don't leave too much chocolate on the pretzel sticks or the chocolate and the goodies will slide right off.
Don't make these weeks or months in advance.
Do make them a day or two in advance.
Do have your pretzels, toppings and parchment paper-covered baking sheets ready before removing chocolate from the heat.
Do put the chocolate jar back into the crock-pot to reheat if necessary.
Do get those cool Pretzel Rod Bags
to seal the rods and make them look super slick.
Do make chocolate nut clusters with any leftover melted chocolate using any kind of nuts or seeds you have. Just mix in nuts so they are thoroughly covered, spoon generous teaspoonfuls of the nutty goodness onto parchment paper, and place in the refrigerator until hardened. Instant homemade chocolate nut clusters.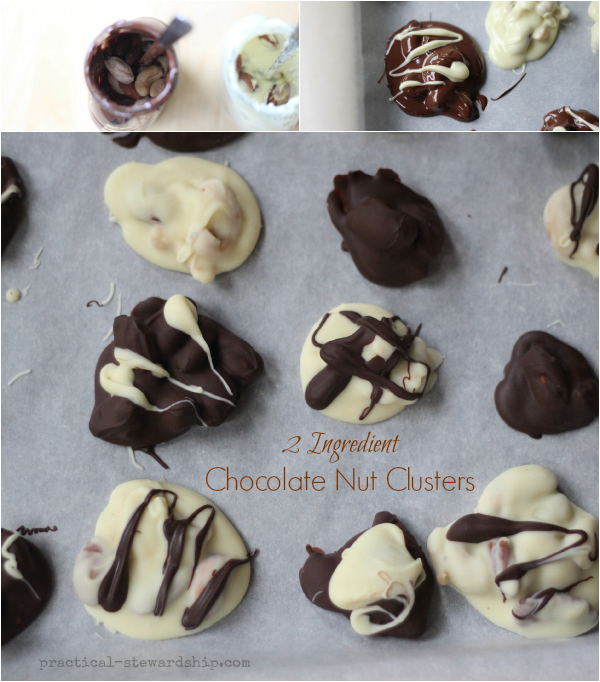 Crock-pot Chocolate Covered Pretzel Rods
Ingredients
1 cup baking chips of choice (I used white and chocolate here-use dairy-free if needed)
10 ounce bag of pretzel rods
sprinkles, chopped nuts, or toppings of choice
Instructions
See microwave instructions above. *
Fill a crock-pot about half way up with water.
Place baking chips in a glass jar(s).
Carefully lower the jar/glass of baking chips into the crock-pot being careful not to get any water into the jar or else it will ruin the baking chips. If the jars feel like they might float, carefully remove some of the water from the crock.
Heat jars on high with the lid off.
Stir after 30 minutes, and every 10 minutes after that until the baking chips are thoroughly melted.
While baking chips are melting, cover baking sheets with parchment paper, and get pretzels and toppings ready.
Carefully remove jar(s) from the water.
Dip about half of one pretzel into the melted baking chips, and use a spoon to remove excess chocolate.
Sprinkle on desired toppings, place on parchment paper, and let chocolate firm in the refrigerator.
Once firm, use pretzel rod bags to cover, and enjoy!
What kind of healthier homemade birthday treats do you make?
Go here for the complete list of recipes. 
This post may contain affiliate links that cost you no more money, but support our blogging efforts. Thank you! 
Sharing at Weekend Potluck, Metamorphosis Monday, and some of these great link parties.