These Dairy-Free, Egg-free, and Gluten-free Monster Cookies are so, so good, you'll never think anything is missing!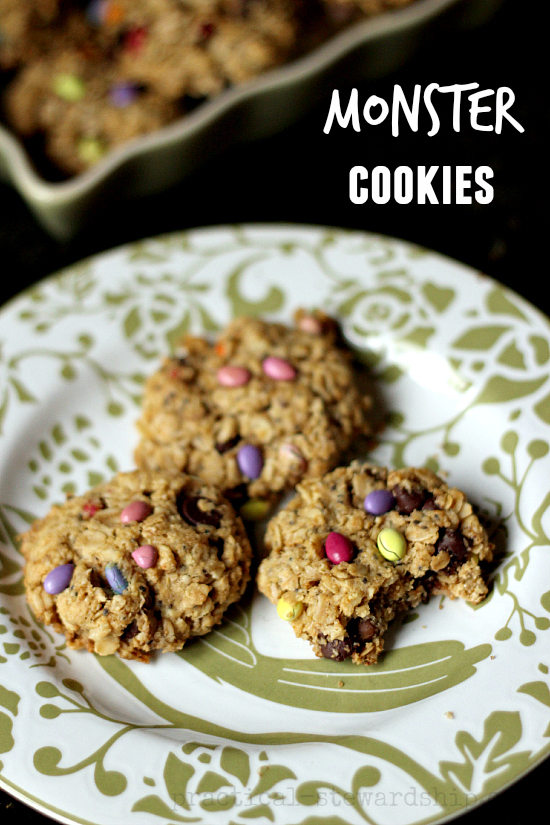 This has been my most cookie-est (I am declaring this a word now) Christmas ever. We always have oatmeal cookie bars stocked in the fridge for those emergency chocolate cravings, but besides that, we just don't keep individual cookies on hand. I guess I get a bit impatient with taking the time to shape those seemingly endless tablespoons and tablespoons of cookie dough. Don't get me wrong. We do love cookies. I don't know what it is this year, but ever since Thanksgiving, cookie inspiration keeps knocking on my door. Create cookies. Create cookies. So I must obey.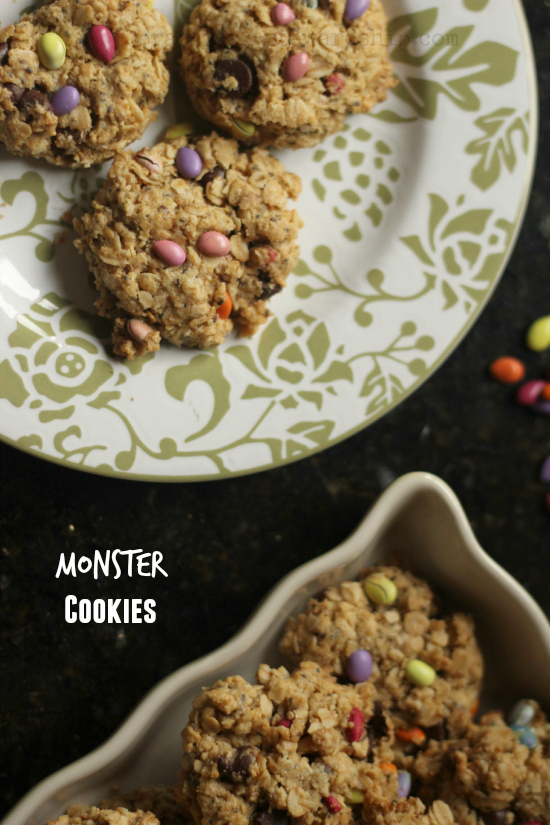 Oh, I know what it was! It started with those Cranberry Orange Oatmeal Breakfast Cookies that I couldn't get out of my mind (healthy enough to feed my kids for breakfast without guilt, and sweet enough to satisfy my sweet tooth). And then I saw these Monster Cookies from the Montana Homesteader. I had to try to make them dairy-free and egg-free. And so this Holiday Season we've made dozens and dozens AND DOZENS of cookies. And then I went to a Christmas cookie exchange and brought home dozens more. See. I told you. This is my cookie-est Christmas.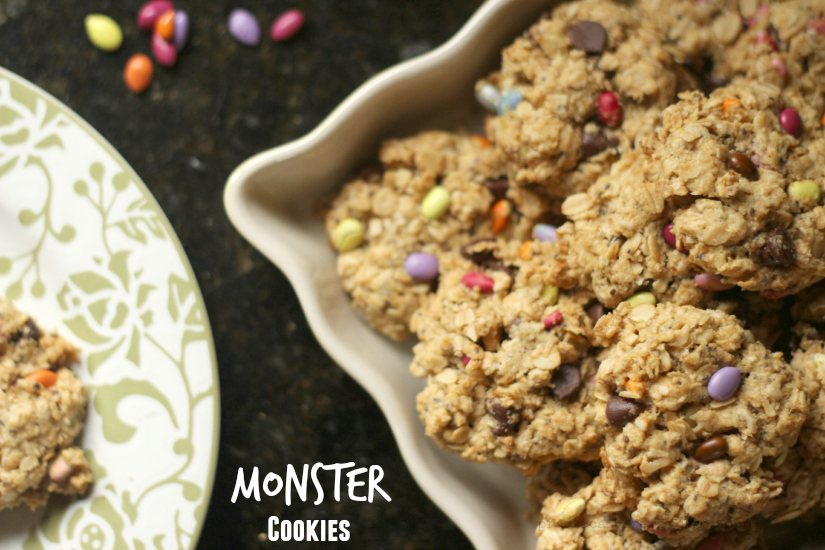 This is my last cookie recipe I'll share before Christmas arrives. No more cookies after this for me…well at least for a little while…or until we finish the last batch I made. The frugalist inside of me can't waste all of these cookies, of course.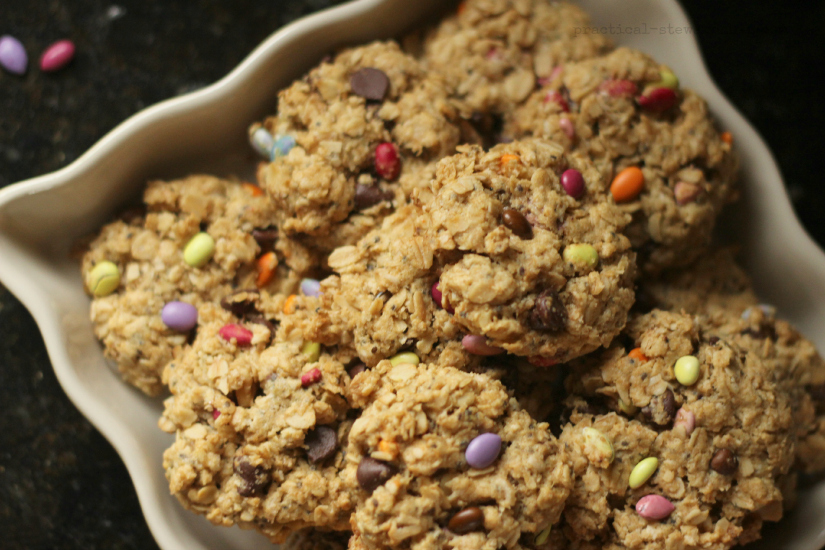 These cookies were super easy to make dairy-free and egg-free. I just subbed the butter for melted coconut oil and the eggs for "chia seed eggs". Super easy. The subs worked fabulously. Plus, they are gluten-free if you use certified gluten-free oats. You can satisfy the vegan, gluten-free, egg-free, or dairy-free with this recipe! Gotta love it! I also subbed coconut sugar for brown sugar and granulated sugar. I've also used evaporated cane juice for the sugar. They both work great! I like the coconut sugar best because it doesn't make my heart race out of my chest like regular sugar or evaporated cane juice does. If you want them even healthier, lean more toward the side of using nutty mix-ins like walnuts and pecans.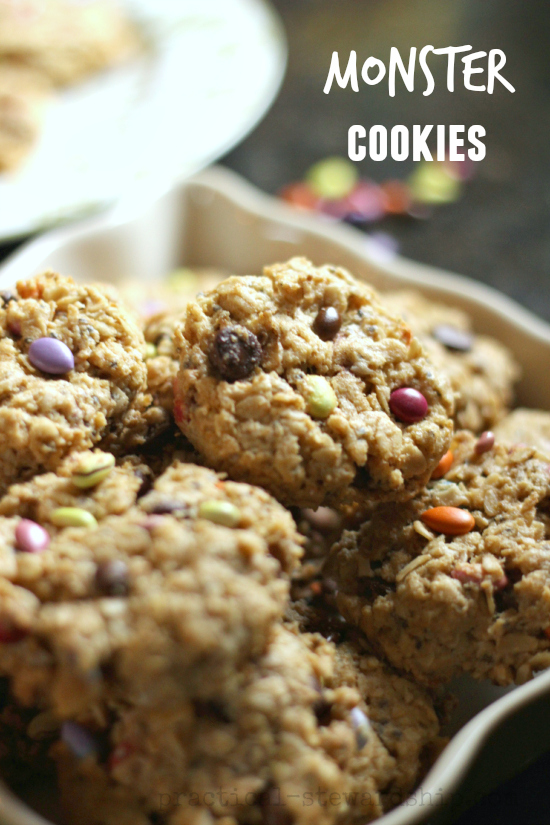 My kids love this recipe. My husband loves this recipe. And they're such a perfect mix of healthy and sweet that I love this recipe, too!
Dairy-Free, Egg-free, Gluten-free Monster Cookies
Yield 4 1/2 dozen cookies
Ingredients
2 cups evaporate cane juice, coconut sugar, or granulated sugar of choice
1/2 cup melted coconut oil, can use butter
3 "chia eggs", or pasture-raised eggs
1 TBS vanilla
1 1/2 cups peanut butter or nut butter or choice
5 cups old fashioned oats, GF if needed
2 tsp baking soda
2 1/2 cups mix-ins like walnuts, pecans, and chocolate chips (I use 1/2 cup walnuts, 1 cup chocolate chips, and 1 cup of chocolate covered sunflower seeds~just watch labels if you need dairy-free)
Instructions
Preheat oven to 350 degrees.
If you are using an egg substitute, place 3 tablespoons of chia seeds with 9 tablespoons of water in a small bowl to gel for a few minutes.
In a large bowl (preferably an electric mixer like a Kitchen Aid) cream together the sugar, coconut oil, eggs, and vanilla.
Add nut butter.
Mix in oats and baking soda.
Add in your choice of 2 1/2 cups of mix-ins.
Place cookie dough by the tablespoonful onto a cookie sheet. I use a small cookie scoop and mash the dough into the scoop to make sure the dough stays together. These cookies won't spread, so if you want them flatter, you'll need to flatten them by hand.
Bake 10-12 minutes or until the edges are golden brown.
Cool on baking sheet for a few minutes, transfer to wire rack to finish cooling, and store in an airtight container.
Enjoy!
Need other secretly healthy cookie and treat recipes? Check out this cookie roundup.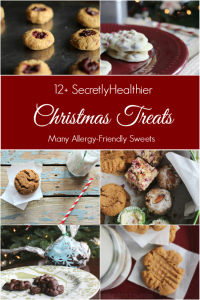 THIS POST MAY CONTAIN AFFILIATE LINKS THAT COST YOU NO MORE MONEY, BUT SUPPORT OUR BLOGGING EFFORTS. THANK YOU!