Easy DIY Rag Strip Quilt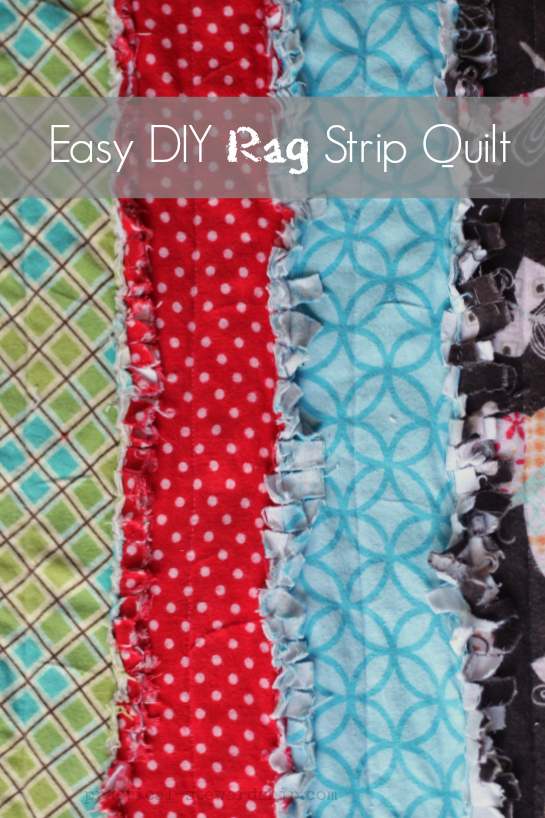 I am so excited to shared this easy peasy DIY Rag Strip Quilt tutorial. If you can sew a mostly straight line, you can sew this quilt together. Rag quilts are very forgiving and easy to put together. Did I say easy? My 7 year old assisted me in making one of the last rag quilts I put together, so bring your kids along for the fun.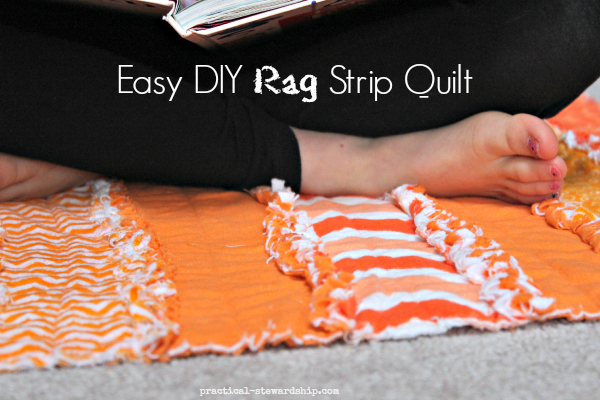 Update 12/15* Throughout the post I'll show you a few different easy DIY rag strip quilts I've done over the years for color and design inspiration.
Seriously I've been wanting to post this for over two years.
When my son was born in 2009, my friend Merri gave us this awesome rag quilt made out of squares pictured below. I always had admired her work and started to learn to sew the following year when I really started appreciating all of the time and effort she put into her work.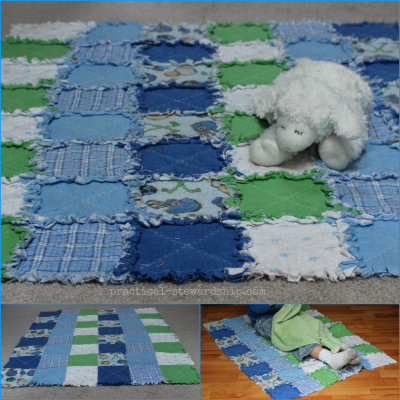 Merri's quilt inspired me, and finally during Christmas Break 2012, I made my first strip quilt.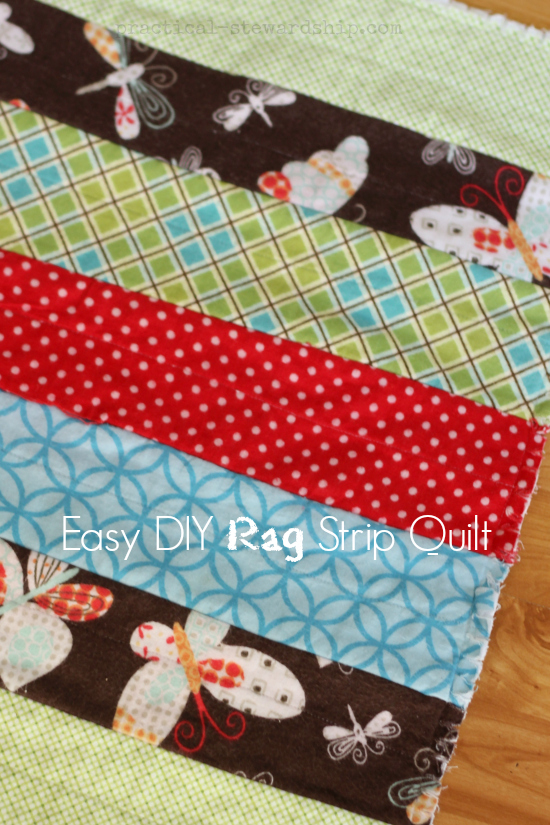 Why make a strip quilt instead of blocks you just might ask? Well, with a strip quilt you get similar fringy results with less work.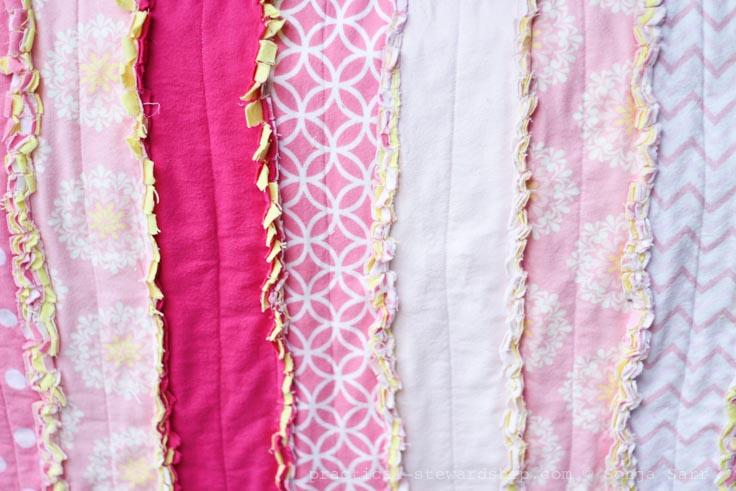 Also, a strip quilt is WAY faster to sew because you are working with larger portions of fabric. 7 rows of strips, and each strip has 3 layers, so altogether you'll need 21 strips. With a block quilt you need 6 rows by 8 rows equals 48 squares times by 3 layers: that equals 144 squares to cut. No thanks! At least at this point in my life:). I'll just sit back and admire Merri's block quilts. Sounds like my kinda deal!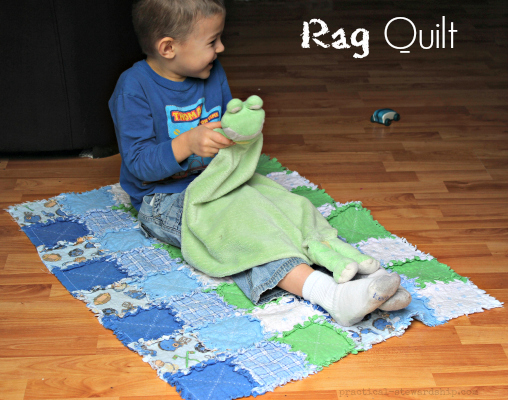 The Rag Strip Quilt was so fun to make and the whole quilt came together in about 3 hours my first time. Seriously?!? I was so excited and I didn't even know who I was making the quilt for. I just wanted to make it. I was excited when my girls said they'd love to have it in their room. The last one I made took 1 hour of cutting and sewing, and about an hour to cut the fringe. So I am getting more efficient.
So in one dedicated afternoon you could have your own strip quilt.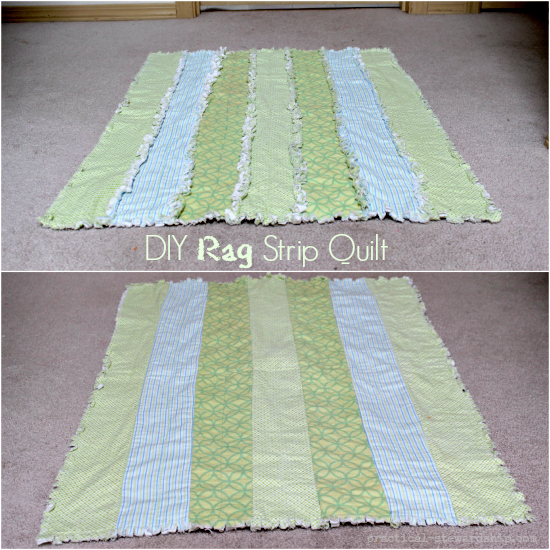 You'll need 7 rows of strips, and each strip has 3 layers, so altogether you'll need 21 strips. For each layer I use a print, a white or solid strip, and then the same print as pictured in the first square below.
What You Will Need:
coordinating flannel (you can use re-purposed fabrics and old flannel baby blankets especially for that middle layer)
coordinating thread
sewing machine
fabric scissors
cutting mat and rotary cutter (almost a necessity-these will help you cut super fast, but if you are new to sewing and don't want to invest in these yet, you can get by with your scissors.)
So, in a nutshell (refer to picture above for reference):
(1.) Decide which colors you want next to each other. I play around and try different color combinations trying to get an eyeappealing layout.
Cut out 21 strips of flannel, 4 inches X 32 inches each. (Feel free to add more rows than 7 or make them longer or shorter. This tutorial is just a guide. I've made the strips 28 inches before, and it looked just fine, too.)
(2.) Arrange the strips in seven rows with each row containing three layers like a sandwich with the right sides facing out on the back and the front layers.
(3.) Take one row and sew the three layers together right down the middle in a straight line. Repeat this for the rest of the other six rows.
(4.) I will call the shaggy side the top side. Now lay all rows down in order, deciding which side will be fringy/shaggy top side. Sew the strips together the long way making sure the raw edges are only apparent on one side with a 1/2 inch seam allowance. Do this until all strips are sewn together.
(5.) Use the rotary cutter to make the length of the edges even.
(6.) Sew around the perimeter of the blanket with a 3/4 inch seam allowance. You'll run over the strips, and that's fine. It's okay if it's not perfect. The blanket is very forgiving.
(7.) Snip around the edges of the blanket every half inch or so to make it shaggy.
Wash the blanket once or twice to make it shaggier.
Enjoy!
Let me know if you have any questions. I hope you enjoy!
Have you made reusable baby wipes? Super easy and cute.
Have you made a pot holder for a skillet? So easy and and comes together in no time!