Crock-pot Enchilada Chili with a Stove Top Option
We LOVE chilis and soups around these parts, and this crock-pot Enchilada Chili rivals one of my favorite chilies, the Crock-pot Turkey Quinoa Chili. Why have I never thought of this before this year? It's combining two of our favorite foods, enchiladas and chili, coming together in a perfect marriage of bold flavors.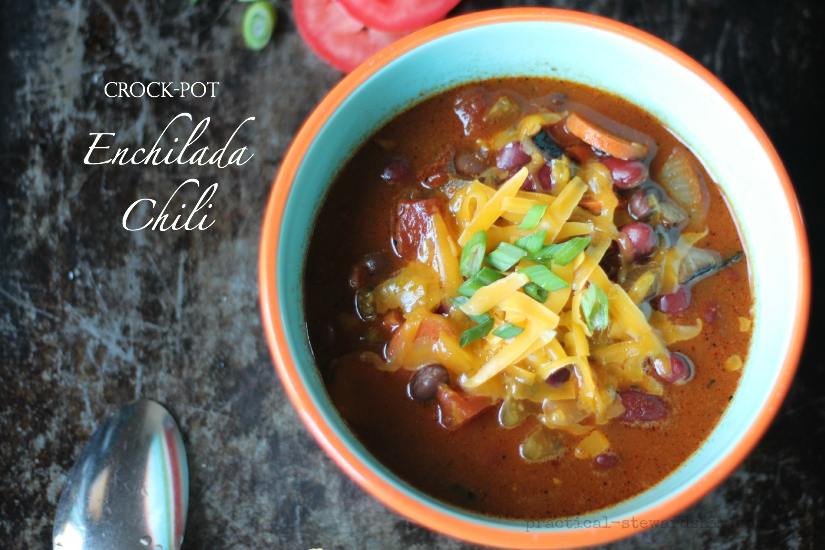 I even actually tried to make this on the road during our Presidents Day Weekend getaway to Spokane. I thought it would be the perfect on-a-road-trip-in-a-hotel-meal because you can literally boil this recipe down to beans and enchilada sauce if you have to and the enchilada sauce provides enough flavor to not feel deprived. I was all set to add it to my road trippin' with the crock-pot post. But a slightly sad thing happened that fateful first night when we arrived.
I brought my Ole' Faithful crock-pot to make some of our meals (saving money, time, and you can eat way healthier, as ya' know). We had the 2 quart crock-pot we got for our wedding over 15 years before~the one I love to make yogurt in. Yeah, that one. As an aside the day we arrived was the anniversary of Jonathan proposing to me. Ah, sweet! AND he proposed at Riverfront Park in Spokane. Double sweet!! So it was kinda extra special being in that city that day if you know what I mean. Well as JSarr and I were walking through the lobby of the hotel, my trusty dusty crock-pot which was precariously resting on top of all of our traveling worldly possessions promptly slid to the floor and shattered into a thousand different pieces.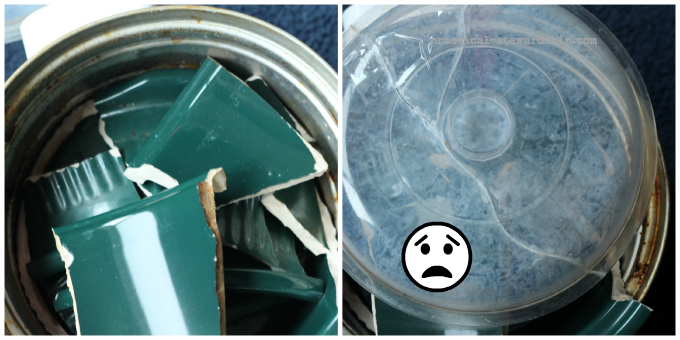 It was a sad day for this crock-pot lover, but it really was time to retire my Ole' Faithful since her lid had been taped and glued time and time again~it was embarrassing (that's from back when they would make plastic lids~not a good thing).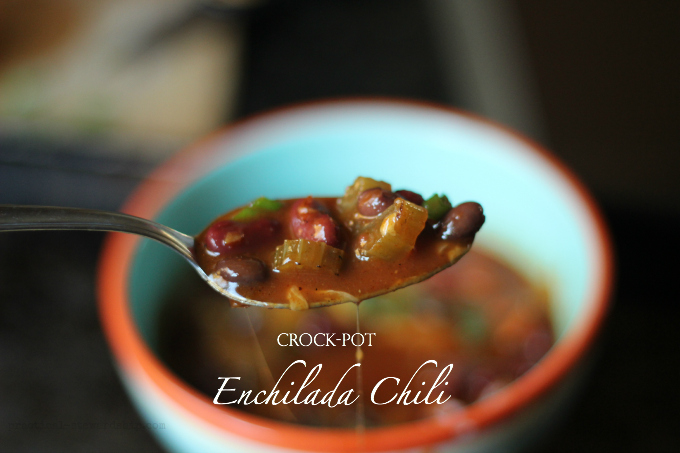 Anyway, while I was there for a music conference, my kids and Jonathan got to see lots of different family there, both his family and mine. It was a great trip and we had some great sunny weather too! 
As far as the crock-pot is concerned, now I use a different more sleek 2 quart crock-pot, one we bought on a different road trip when I forgot Ole' Faithful, but packed everything to use her.
Okay, back to the chili. When I use the Trader Joe's brand of enchilada sauce in this recipe, it reminds me of those canned Ranch Style Beans
my dad would always serve growing up. Anyone had them before? They are totally tasty! In fact he still brings a can over to eat (not necessarily to complement) with our meal. We could be having pizza and a can of those Ranch Style Beans
may show up.
**A few notes about the recipe: you can easily make this on the stove-top, too. If you are making this in a hotel, just use the canned ingredients. If you have access to onions, celery, and carrots, awesome, but not required. You can add corn at the beginning of cooking or bell pepper in the last hour of cooking. This is a vegan recipe if you use vegetable broth. We usually make it vegetarian since I use bone broth, but feel free to add meat. I hope you enjoy!
Crock-pot Enchilada Chili with a Stove Top Option
Ingredients
12 ounces enchilada sauce (1 1/2 cups)
3-15 ounce cans of beans (I use a mix of kidney and black beans)
2 cups water or broth
1-6 ounce can of tomato paste
2 TBS olive oil or avocado oil
1 medium onion, chopped
2 carrots, cut into coins
2 stalks of celery, chopped
4 cloves of garlic, chopped
dash of Cayenne pepper
salt and pepper to taste
Instructions
Crock-pot Instructions
Optional, sauté the onions, carrots, and celery in oil until onions are translucent, and then add the garlic for a minute more watching carefully as to not burn the garlic. This adds an amazing depth of flavor to crock-pot cooking and speeds up the softening of the carrots but is not required.
Place the remaining ingredients in the crock-pot.
Cover and cook on high for 3-4 hours, or on low for 6-9 hours or until carrots are thoroughly cooked. For a saucier soup, add more water or broth by the 1/4 cup until desired consistency is reached.
Top with your favorite cheese or cheese substitute, green onions, tomatoes, or whatever your heart desires.
Stove Top Instructions
In a 5-6 quart Dutch oven, heat oil on medium heat. Then sauté the onions, carrots, and celery in oil until onions are translucent or browning. Add the garlic, and cook for another minute watching carefully as not to burn the garlic.
Add remaining ingredients to the Dutch oven, and cook until thoroughly heated, stirring occasionally about 30 minutes. For a saucier soup, add more water or broth by the 1/4 cup until desired consistency is reached.
For my List of Soups and Chilis, you can go here.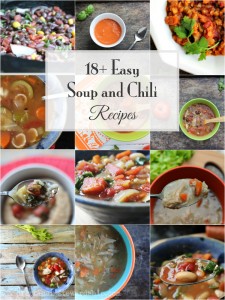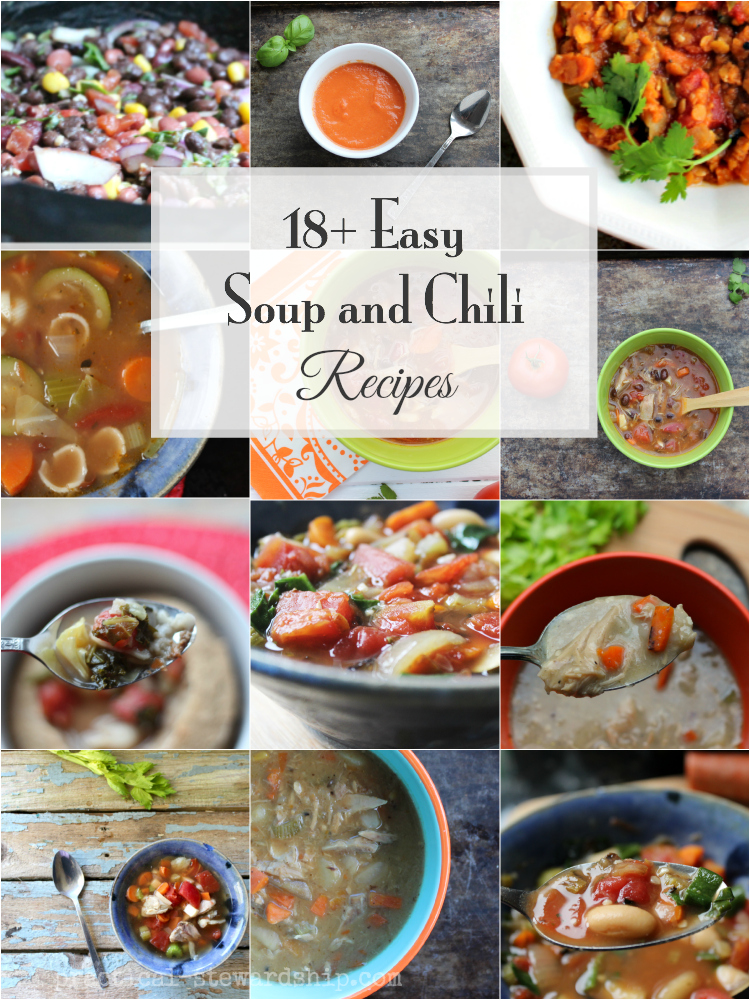 GO HERE FOR THE COMPLETE LIST OF RECIPES. 
THIS POST MAY CONTAIN AFFILIATE LINKS THAT COST YOU NO MORE MONEY, BUT SUPPORT OUR BLOGGING EFFORTS. THANK YOU!