Easy Homemade Salsa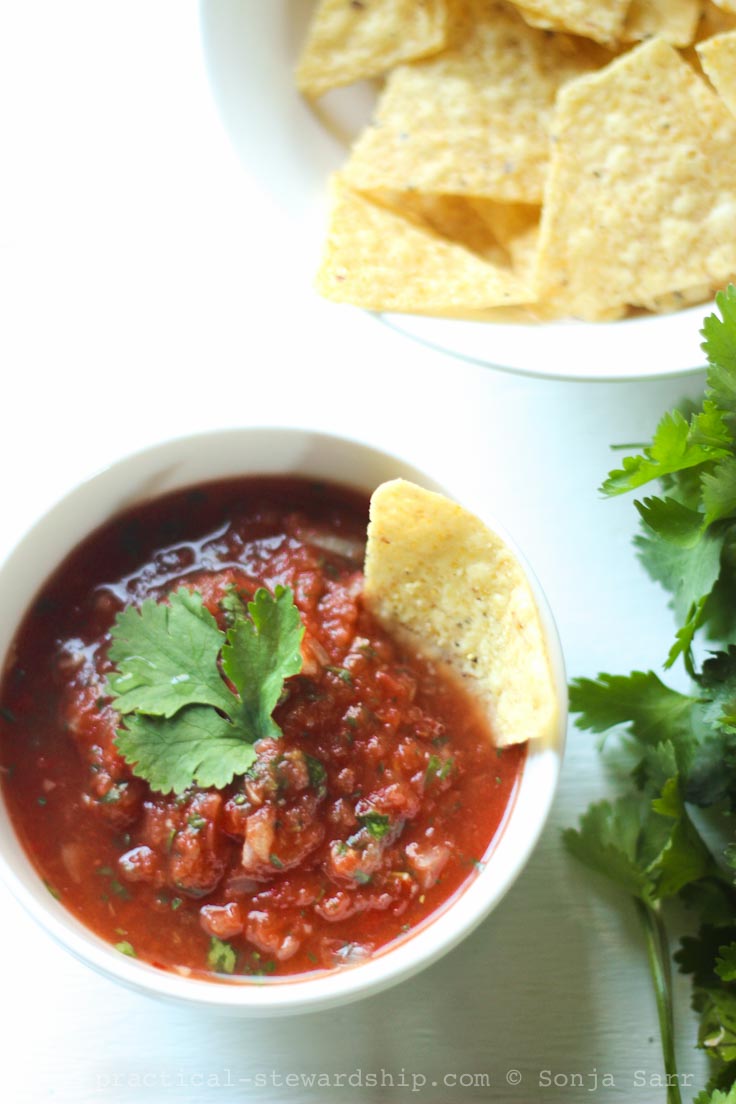 Salsa is a staple in the Sarr house. When nachos are a go-to lunch on non-school days, you've gotta bet there is salsa around somewhere.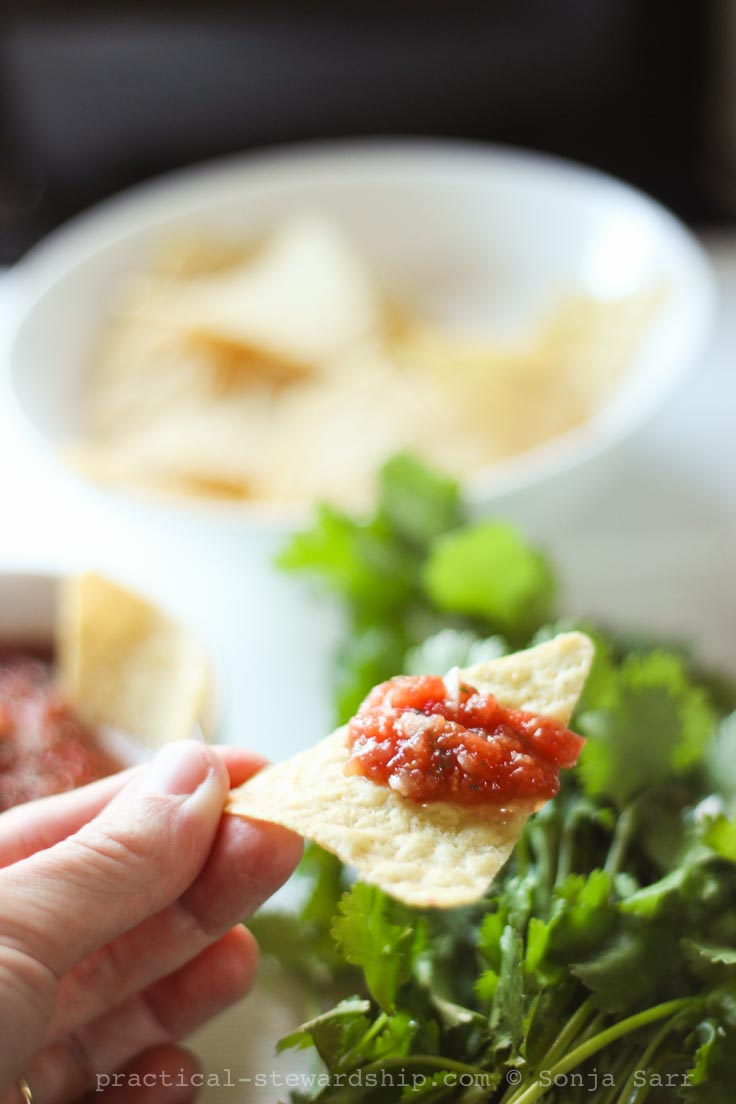 I've said before that I think unless tomatoes are in season, it's just cheaper to buy pre-made salsa most of the year. I've believed it for years. But things changed at the end of last summer. I was really looking forward to making some garden fresh homemade salsa (the kind like pico de gallo), and big batches of crock-pot salsa. So I bought a few tomato plants, and I don't know if they were mis-marked or what, but they ended up being yellow pear tomato plants. Let's just say they were less than ideal for my salsa-making endeavors.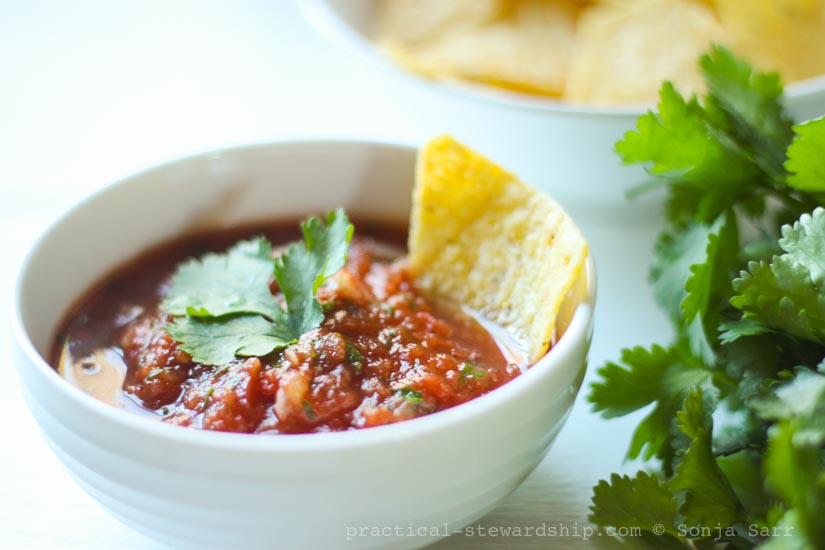 My heart was set on making salsa, so I reached for some canned tomatoes. At Costco we can get an 8 pack of diced tomatoes for $5.99 which makes it $0.75/can. AND they are organic! So for less than $2 I can make a batch of this salsa. Frugal, fast, and flavorful! Confession, I still like the Kirkland Signature Organic Salsa and will keep it on hand for "emergencies" (what a first world concept when you call running out of fresh salsa an "emergency" rolling eyes at self). Go here to see my Costco Grocery Price List (this post is NOT sponsored by Costco, by the way~just trying to share our frugal findings. But Costco, if you are out there, you are welcome to sponsor me because I believe in you:).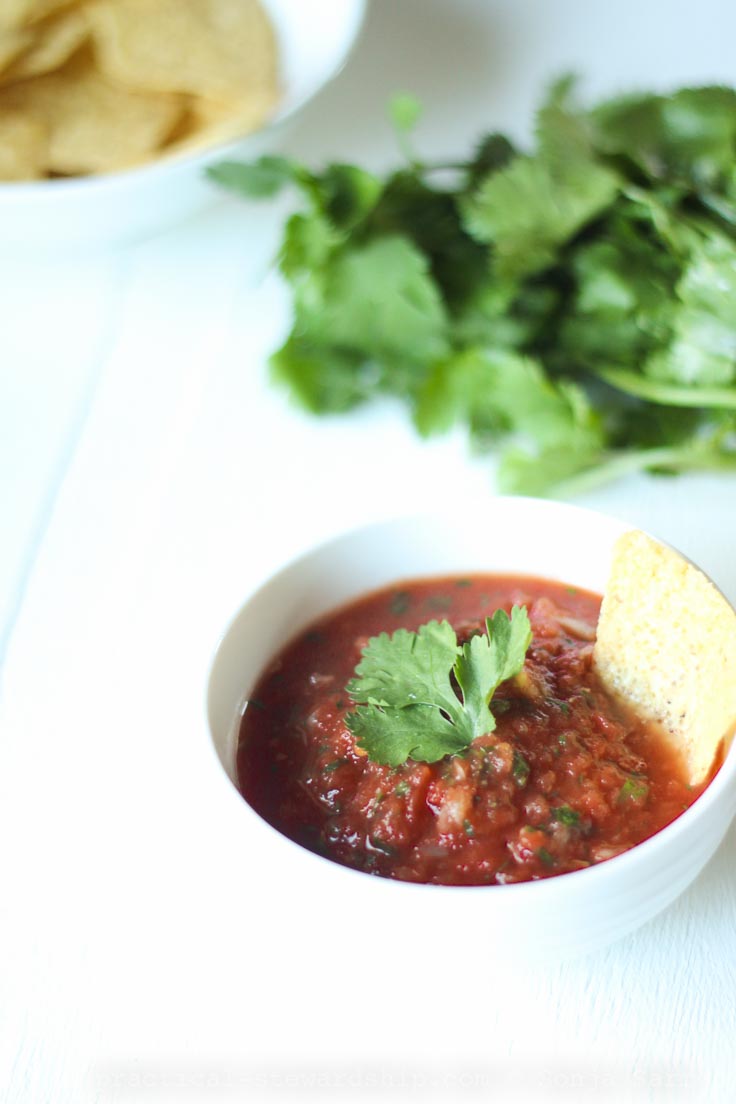 So making this from canned tomatoes means we can have fresh salsa ANYTIME OF YEAR. Gotta love that!  Below you see the salsa made without draining the tomatoes. I like the salsa better a little thicker, but feel free to not drain the tomatoes if you prefer a thinner salsa.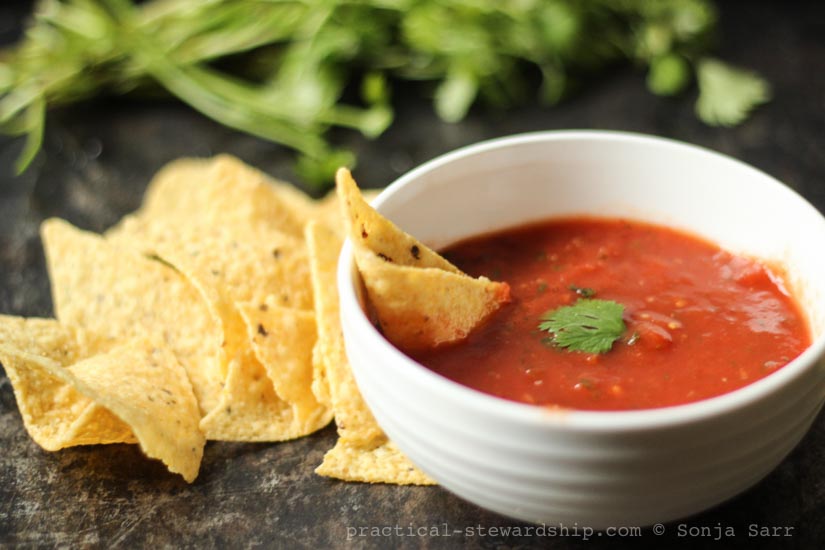 I wanted to make it with some bite, too. I tried this recipe with fresh tomatoes two summers ago, thinking I'd try to up our spice intake. I actually used an entire 7 ounce can of chipotle peppers in adobo sauce. WOH! Way to much!! I had to keep adding tomatoes to dilute it again, and again, and yet again! So now I start with one teaspoon of the peppers, taste, and add more as needed. I keep the rest of the chipotle peppers in the freezer, and thaw as needed.
Easy Homemade Salsa
Ingredients
1/4 cup onions, diced
2 cloves garlic, minced
2 Tbs olive, coconut, or avocado oil
1 tsp chipotle peppers in adobo sauce, or more to taste
2 cans 14.5 ounce cans diced tomatoes, drained
1/3 cup cilantro, de-stemmed
1 Tbs lime juice (about 1/2 a medium lime)
1/4 tsp salt
Instructions
Heat oil in a skillet on medium heat.
Cook onions in skillet until translucent.
Add minced garlic, and heat until fragrant, about 1 minute. Watch carefully as to not burn the garlic.
Optional, add drained diced tomatoes to skillet, and heat until tomatoes are warmed thoroughly.
Remove skillet from heat.
Place chipotle peppers in blender and pulse a few times.
Add cilantro, lime juice, salt, tomatoes, onions and garlic, and pulse 4-5 time. Scrap down sides, taste. Add more chipotles in adobo sauce to taste.
Refrigerate up to a week.
Have you ever made Garden Fresh Salsa?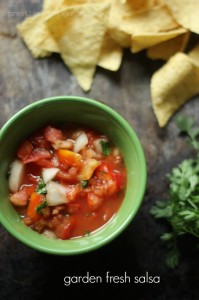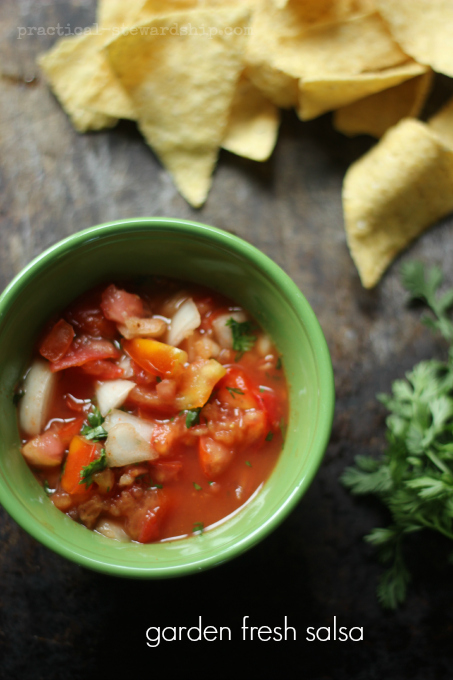 How about Crock-pot Salsa?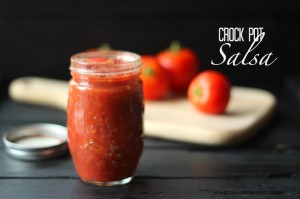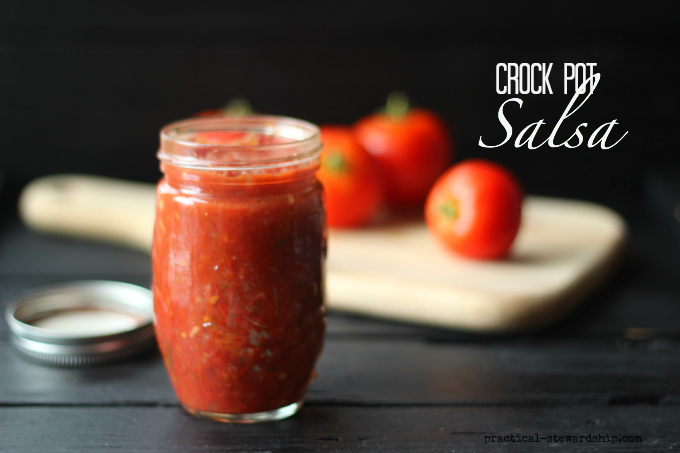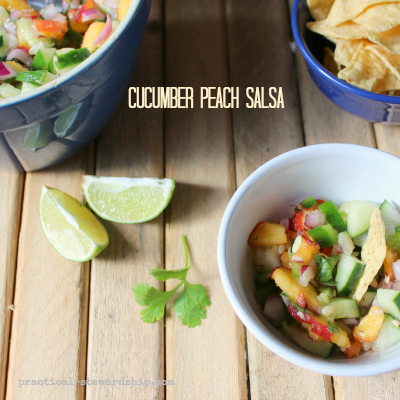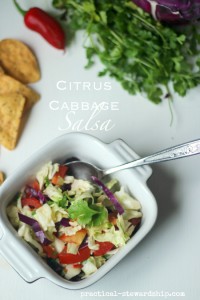 THIS POST MAY CONTAIN AFFILIATE LINKS THAT COST YOU NO MORE MONEY, BUT SUPPORT OUR BLOGGING EFFORTS. THANK YOU!