Paleo Meaty Zucchini Skillet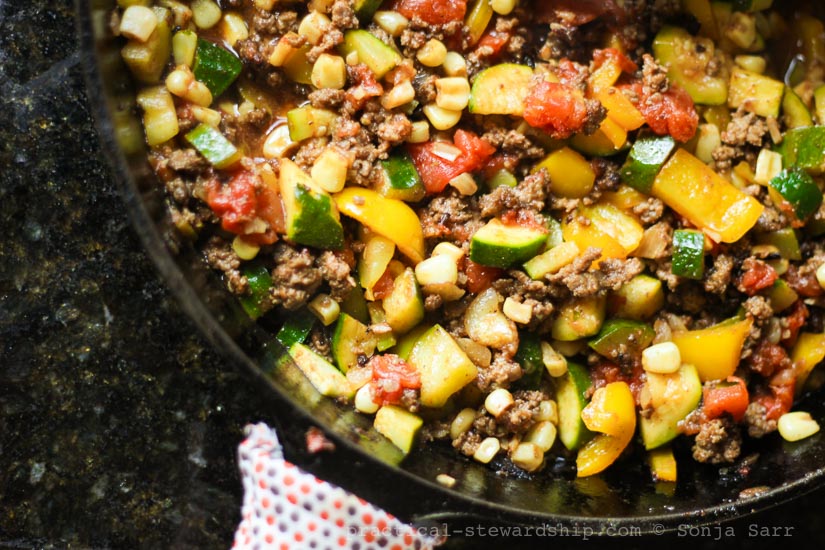 My dad introduced us to zucchini with this zucchini bake in my teens when my palate was ready for cooked vegetables beyond creamed corn. I didn't grow up eating salads or like veggies really at all. I actually remember liking this dish even though it had cooked zucchini in it.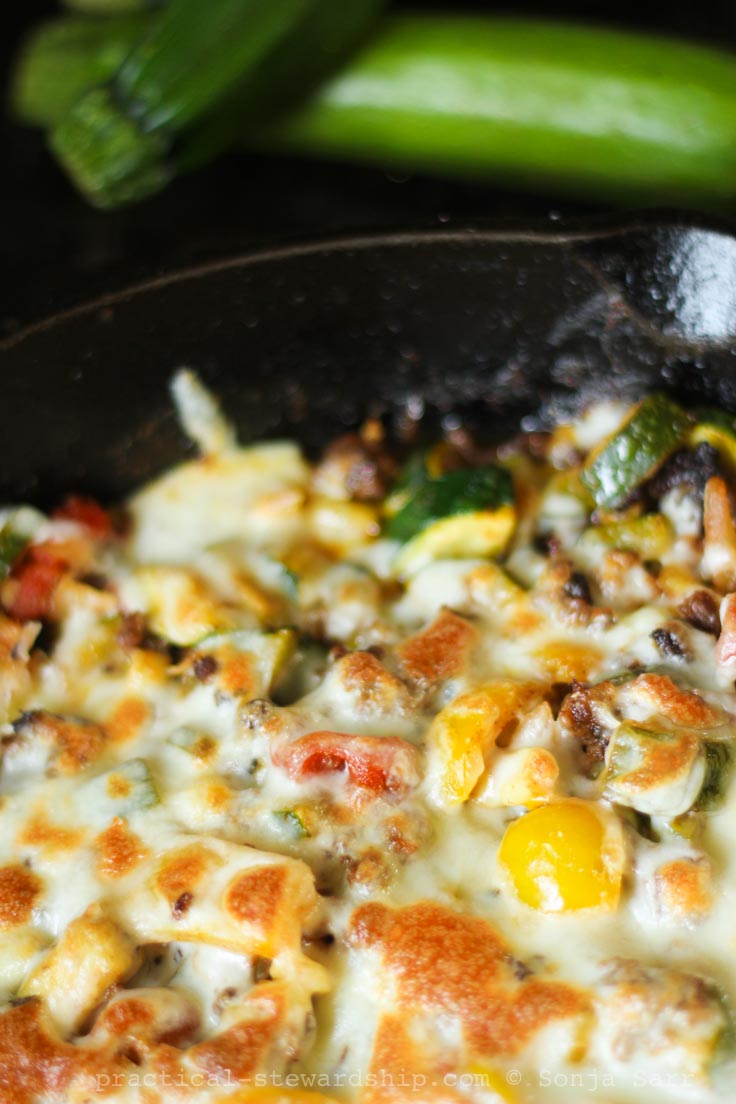 I recently asked my dad for the recipe for this dish after I had a friend asking for a non-starchy casserole with ground beef.
This "casserole", if you want to call it that, is great for the paleo enthusiast if you simply omit the cheese and corn. It's hardy with protein, vegetable dense and full of flavor with few ingredients. I turned it into a skillet dinner because it was so easy to do, cooks faster, it's easy to clean, and I simply love my cast-iron skillet.
I was surprised when my dad first gave me the recipe that the meaty zucchini was merely seasoned with garlic, cumin, salt, and pepper. REALLY? It goes to show me that simple is best, and that we don't always need to add a lot to have a lot of flavor. I do add a dash or two of tumeric with its anti-inflammatory properties, brain health, cancer-fighting properties and more (source) and Cayenne pepper since it aids digestion, boosts the metabolism, fights migraines and more (source). I try to add those two spices to most dishes anyway. I've even been known to throw a dash or two of turmeric into granola and waffles, you bet!
When cooking, I cook off some of the liquid from the dish, carefully watching as to not burn the dish.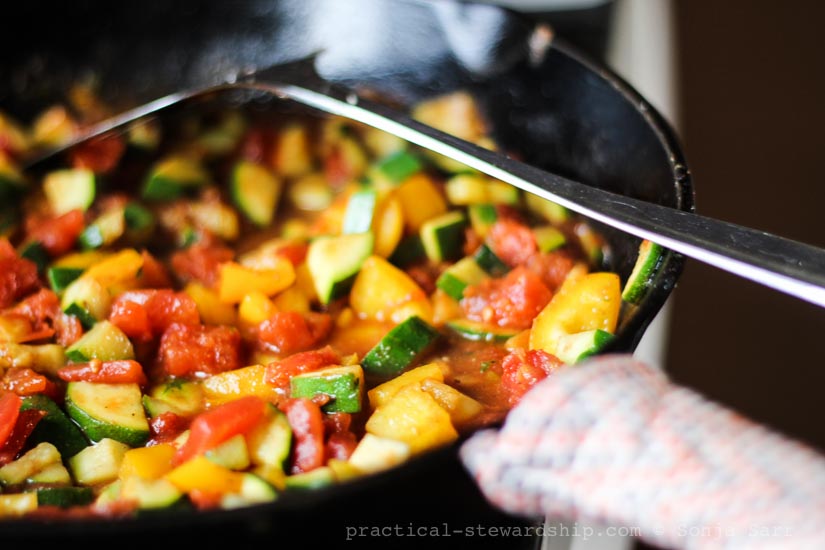 If you have leftovers, they are a FABULOUS addition to spaghetti sauce. So good! Don't trust me. Put down your electronic device now, and go try it yourself.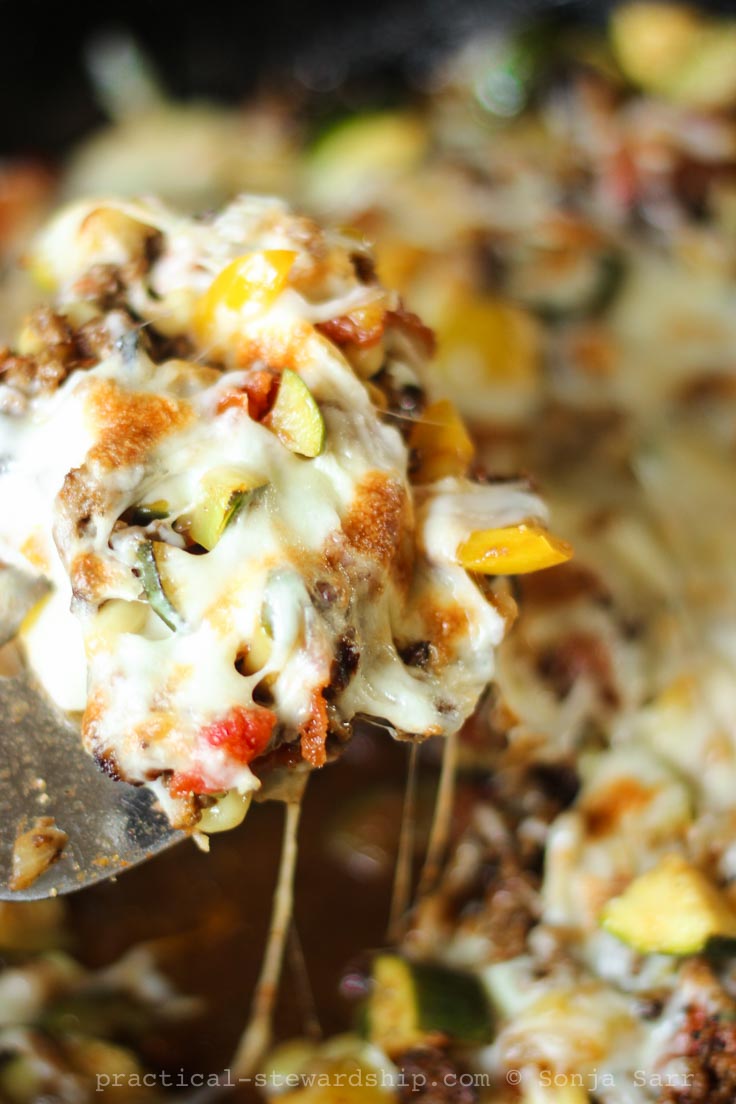 Meaty Zucchini Bake
Ingredients
1 onion, diced
2 Tbs avocado, coconut, or olive oil
1 pound ground beef
3 cups zucchini, sliced and diced
1-15 ounce can of diced tomatoes, or 1 1/2 cups of tomatoes, diced
1-15 ounce can of corn, Mexi-corn, or 1 1/2 cups of corn
1 bell pepper, diced
3-5 cloves garlic, minced
1 Tbs cumin
1 tsp salt
1/2 tsp pepper
optional, 2 dashes of tumeric
optional, 1 dash of Cayenne pepper
optional, cheese
Instructions
On medium heat place oil in skillet and let warm.
Place diced onions in skillet, and heat until translucent.
Add ground beef, and heat until fully cooked.
Put ground beef mixture in a bowl.
Place zucchini, tomatoes, corn, bell pepper, garlic, cumin, salt, pepper, turmeric, and Cayenne pepper in skillet, and cook until zucchinis are softened.
Add back the ground beef mixture.
Top with cheese if desired.
Remove from heat when cheese is melted, and serve. If you want to brown the cheese, place entire skillet in the oven under the broiler for 3-5 minutes watching VERY carefully as to not burn the cheese.
Looking for a skillet dessert? Skillet Biscuit Cobbler!
THIS POST MAY CONTAIN AFFILIATE LINKS THAT COST YOU NO MORE MONEY, BUT SUPPORT OUR BLOGGING EFFORTS. THANK YOU!