Copycat Dairy Queen Ice Cream Cake, Dairy-free Option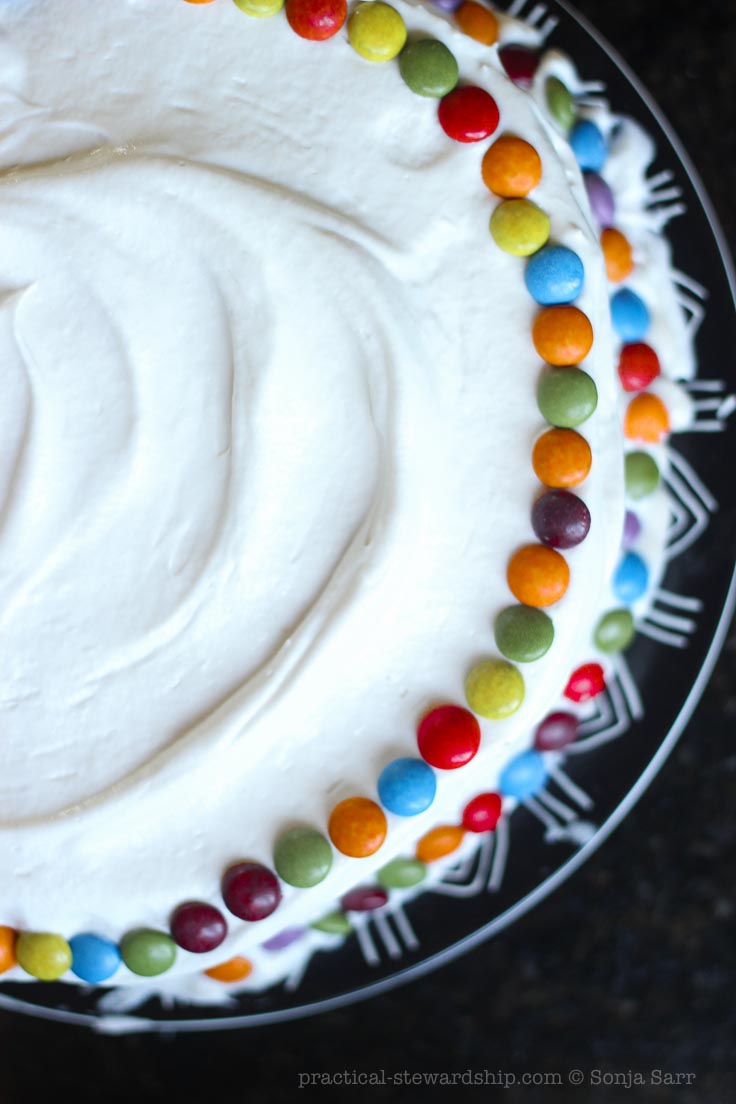 A couple of birthdays ago my son asked for an ice cream cake. Since then I've made them for almost all of our birthdays. You see, they are just SOOO easy to put together yet they are impressive! I even made one for my own birthday this year-I like them that much!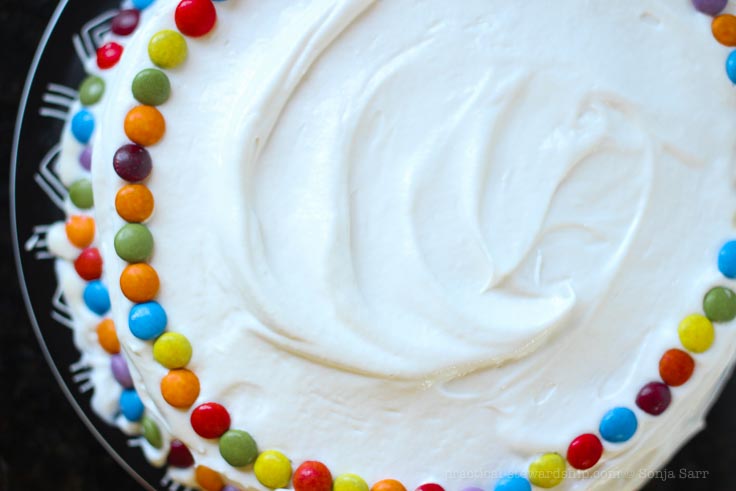 All of the steps are easy and short, especially because there is no real baked cake in this ice cream cake. There are just several hours between steps with all of the freezing. But it's worth it, I tell you, and it's always a win at parties!
You can customize the cake to the liking and allergies of the birthday boy or girl. For the inside of the cake instead of chocolate sandwich cookies like Oreos, Newman's-O, or Jo-Jos (which are all actually vegan), you could used most chocolate candies like peanut butter cups, M&Ms, Kit Kat, or their favorite cookies, etc…And you could use different flavors of ice cream. Whatever you do, just think about how the flavors work together. The chocolate drops pictured here are not dairy-free and can be found at Trader Joe's (that's the only part on this cake that contains dairy).
In general ice cream cakes costs a lot. Currently a 10′ round Dairy Queen Ice Cream cake goes for $25.99. Yikes! And that's not dairy-free, so I'd imagine it might be close to double that if they actually sold dairy-free ice cream cakes. For about $12 you can make a dairy-free version, and if you make it with dairy, your cake would be even cheaper. I have found the quart of soy milk ice cream at Trader Joe's for $2.99. For being dairy-free, it's an amazing deal and tastes amazing too!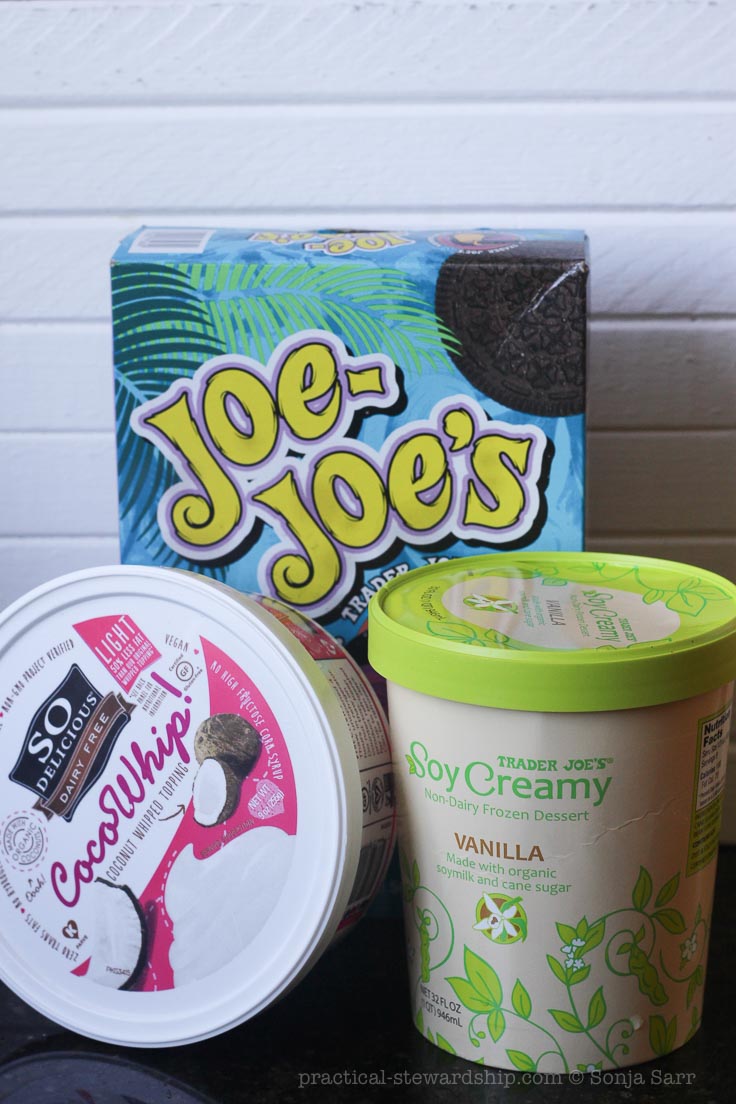 I also found that So Delicious Dairy Free Coco Whip doesn't have the aftertaste that the canned Trader Joe's Coconut Cream may have (which I've whipped and used on the cake before).
I use a 10 inch spring form pan which works quite swimmingly. Here I didn't use parchment paper, but I've made enough of these to know that you want to use parchment paper, or you'll end up with a melty mess.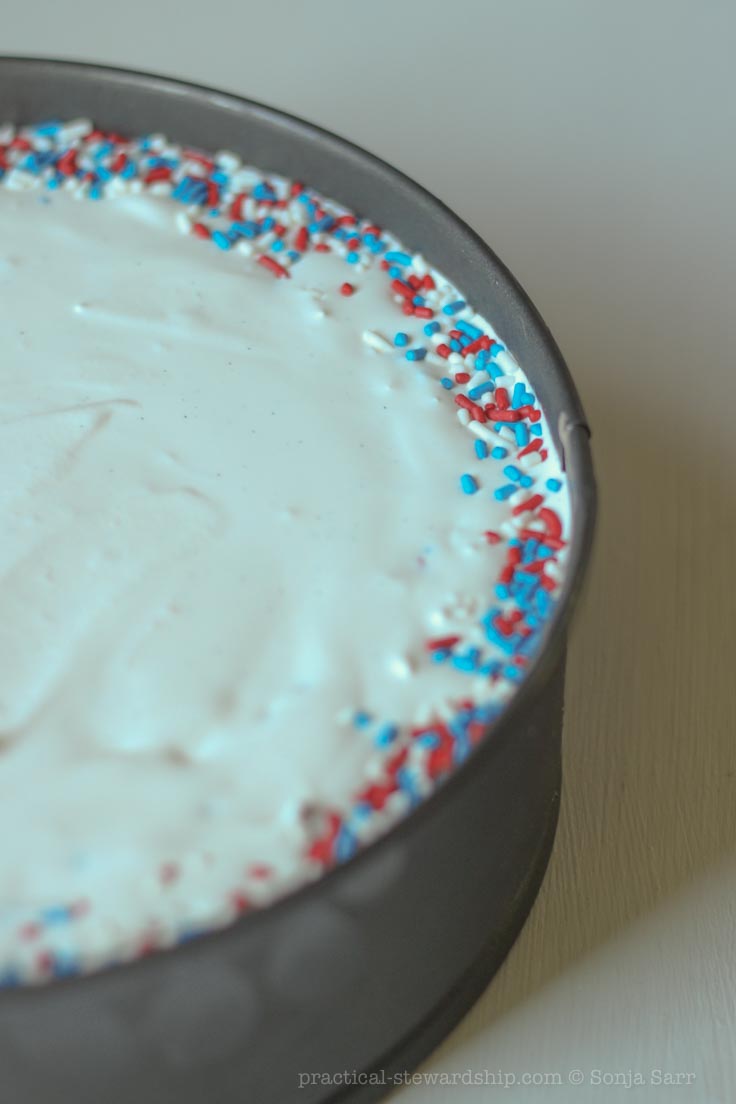 Here is a cake I made a couple of 4th of Julys ago.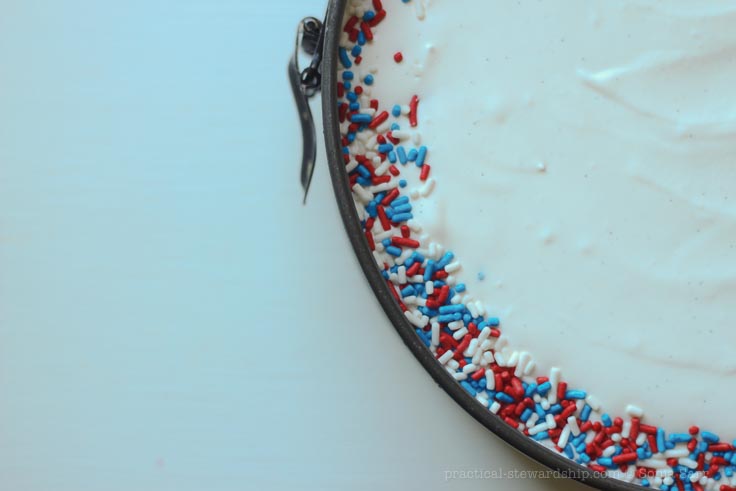 Copycat Dairy Queen Ice Cream Cake, Dairy-free Option
Ingredients
2 quarts of ice cream (I use two quarts of the Trader Joe's Soy Ice Cream)
1/2 package of chocolate sandwich cookies (most are vegan), candies or brownies, crushed
chocolate syrup or fudge topping
12 ounces non-dairy whip (like So Delicious Coconut Whip in the freezer section)
Instructions
Melt 1 quart of the ice cream until spreadable (I usually just leave it out for a half hour or so after buying it from the store).
Line a 10 inch springform pan with parchment paper including the sides. Spread the ice cream on the bottom of the springform pan, and up the sides as best you can. Freeze for two or more hours.
Remove pan from freezer, and fill the middle of the ice cream cake with crushed cookies and chocolate syrup or fudge topping. Place in the freezer again. The chocolate might not freeze all the way.
Melt the last 1 quart of ice cream until spreadable. Remove pan from freezer, and spread the rest of the ice cream until smooth. Don't worry if the parchment paper makes the sides wrinkly because it will be covered later. Freeze for 3 hours to overnight. Place the non-dairy whip in the refrigerator to soften at this time.
Remove pan from freezer, remove the springform pan from the cake carefully, and place the cake on a serving plate (make sure it fits in your freezer). Spread the entire container of non-dairy whip on the top and sides of the cake. Refreeze for a couple of minutes and then decorate as desired. Freeze as needed.
Remove cake 10 minutes before serving, slice and enjoy!
THIS POST MAY CONTAIN AFFILIATE LINKS THAT COST YOU NO MORE MONEY, BUT SUPPORT OUR BLOGGING EFFORTS. THANK YOU!
SaveSave