This is a dish that I will make two batches at a time, and will bake one (@ 350 degrees, 35 minutes) and slow cook the other.  Making two batches is a big time saver (which means it's a money saver) since I am going through the work to put this dish together and going through the whole clean up process.
I love throwing extra veggies into dishes like this to increase vegetable intake in our family.  This recipe is very flexible.  If you don't have the bell pepper, spinach, and/or beans, it will still work.  Substituting is allowed, too.
Crock-Pot Enchilada or Enchilada Casserole Recipe
Ingredients
1 cup enchilada sauce, divided
1-2 cups cooked, shredded chicken or cooked ground beef
1 can (approx. 15 oz.) of chopped tomatoes or tomato sauce
1 can (approx. 15 oz.) refried beans
1 can (approx. 15 oz.) black beans, drained and rinsed
1/2 cup loose spinach, chopped finely
1/2 green bell pepper chopped
1/2 red bell pepper chopped
1 yellow onion
diced 1 garlic, minced, or 1 T garlic powder
dash of cayenne pepper
1 T Italian seasonings
1 T pepper
6 tortillas, or as many as needed to layer
1 cup cheddar cheese, shredded (I also used a little mozzarella)
Instructions
Cover the bottom of the slow cooker with a thin layer of enchilada sauce to prevent sticking, approximately 3 Tbs.
Mix remaining ingredients together minus tortillas, enchilada sauce and cheese.
Layer the tortillas, cutting as needed to fit the slow cooker.
Layer chicken mixture on top of tortillas.
Continue alternating the remaining tortilla and chicken mixture.
Top with enchilada sauce and cheese.
Cook on high for 4-5 hours or low for 6-8 hours.
Enjoy!
http://practical-stewardship.com/2011/12/19/crock-pot-enchilada-recipe/
The Verdict: This is a family fave, and frankly, I don't make it enough!  Sometimes I sprinkle the leftover crumbs from the bottom of our tortilla chip bags onto the enchilada casserole before or after cooking.  I love using the seemingly unusable and giving it purpose, kind of like what God does with us.
Other crock-pot recipes you may enjoy: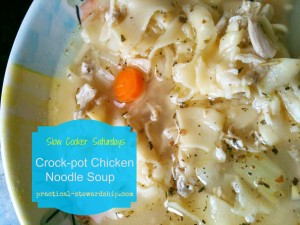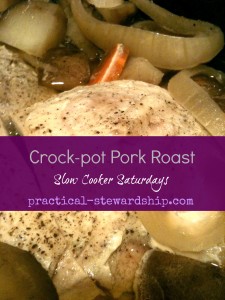 Go here for a complete list of recipes.
We would love to hear from you!  Get free e-mail updates by subscribing here.  Follow us on Pinterest, Facebook and Twitter. "Moreover, it is required of stewards that they be found faithful" (1 Corinthians 4:2 ESV). Thanks for visiting!
Sonja
Shared @ URS.