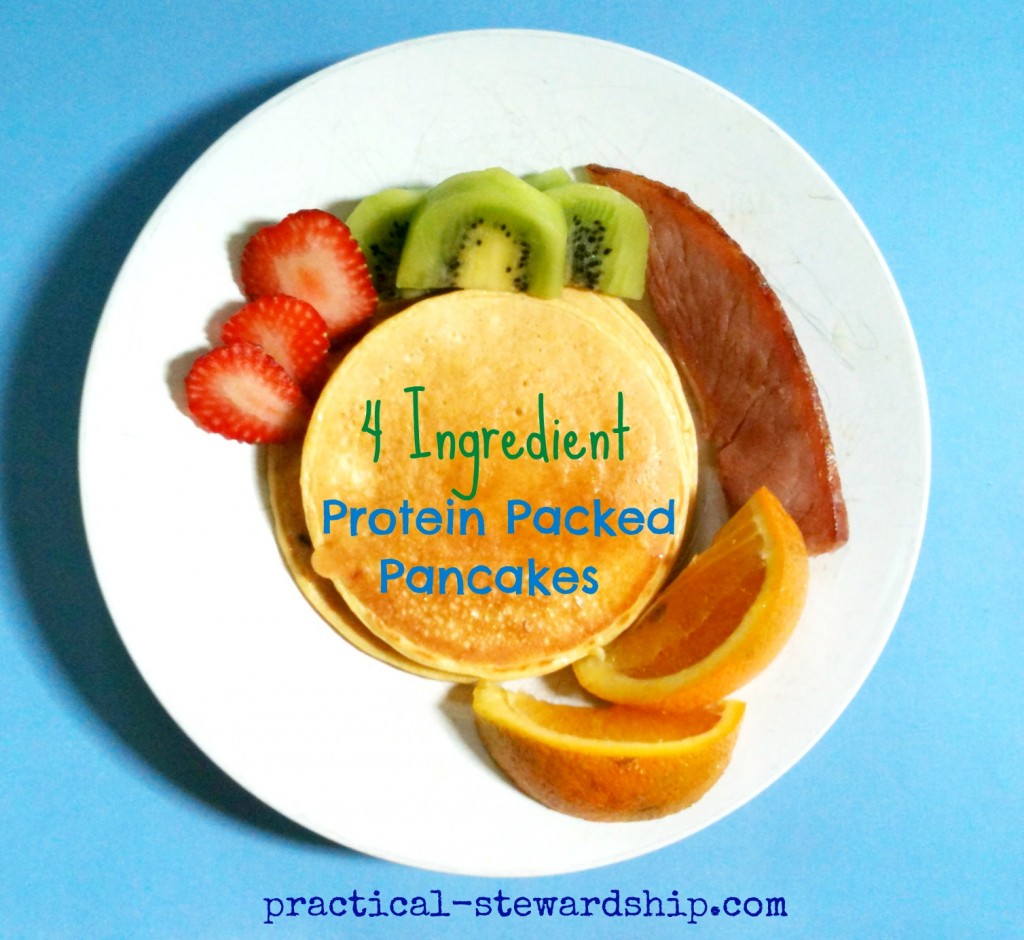 This recipe I recently received from a special former choir student I had when I taught high school choir 12 years ago!  I like to call her "Fancy Nancy".  It's been so good to catch up with her!  Thanks, Fancy Nancy for the recipe!!
I have a hard time with milk products except for ice cream and cheese:).  I never consume straight milk unless it's in cereal or a recipe.  I have had to acquire a taste for yogurt in my adult years.  Cottage cheese is hard for me, and I'll eat it in lasagne, but I prefer ricotta cheese.  I thought I would give this a shot, especially for my protein-yearning husband.   This pancake packs a series protein punch!
No Flour Protein Packed Pancake Recipe
Ingredients
4 eggs
1 cup oatmeal (certified gluten free if needed)
1 cup cottage cheese
1 tsp vanilla

optional, 1 tsp flaxseed

optional, 3 T TriMix (1 T Wheat Germ, 1 T Wheat Bran, 1 T Oat Bran)
Instructions
Blend all ingredients (in blender) until the batter is smooth.
Grease griddle.
Warm griddle to medium heat.
Pour 1/3 cup of the batter for each pancake.
Flip pancakes when they bubble.
Serve with your favorite toppings. We love butter, real maple syrup and jam.
http://practical-stewardship.com/2012/01/25/no-flour-protein-packed-pancake-recipe/
The Verdict:
The blended batter was so smooth.  I was really impressed!   I couldn't even tell there was cottage cheese in it because it was blended.  I would double the batch next time, especially since a 16 oz. container of cottage cheese is two cups.  I will definitely make this again!  JSarr agreed that we can make this our go-to recipe for pancakes now.
Other recipes you may enjoy:
We would love to hear from you!  Get free e-mail updates by subscribing here.  Follow us on Pinterest, Facebook and Twitter. "Moreover, it is required of stewards that they be found faithful" (1 Corinthians 4:2 ESV). Thanks for visiting!
Sonja