Chocolate Granola~a fun variation of the standard granola.
Granola has been our go-to breakfast for over two years now. Before that it was steel cut oats (which we still have once or twice a week), and before that it was boxed cereal. Boxes and boxes of cold cereal (which was my go-to for over 3 decades). While I still keep some boxes of cereal around just in case we run out of granola or want a little variety, it's not nearly the stockpile of cereal I used to build when I was actively couponing.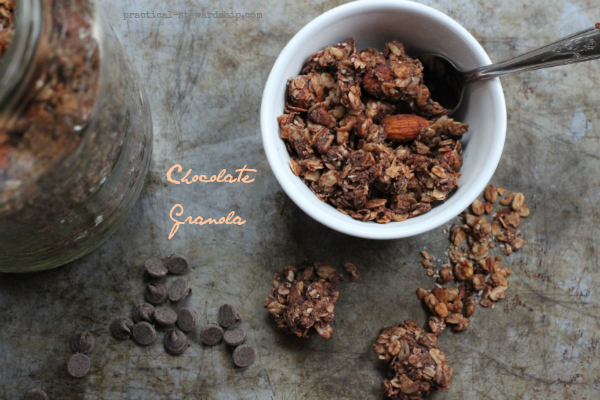 Since we've been eating basically the same granola recipe for a few years, I wanted to give our go-to granola a little variety. Chocolate! I thought it was time to add some chocolate to the mix. Usually I can't do chocolate in the morning, but the exception has been crispy cocoa rice cereals and this granola cereal.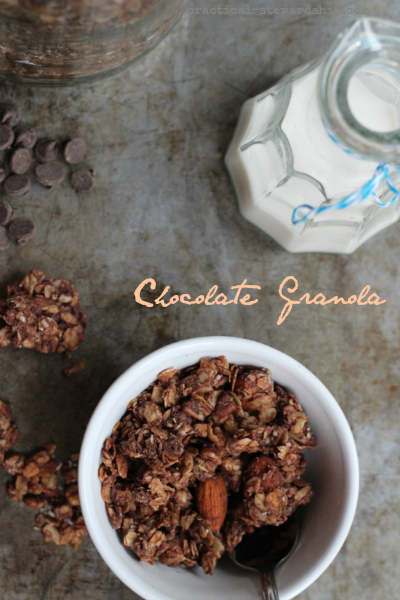 There are so many different variations of granola you can make when you experiment with the different nuts, seeds and dried fruits. So here is the base of our recipe, and feel free to add and substitute as you wish.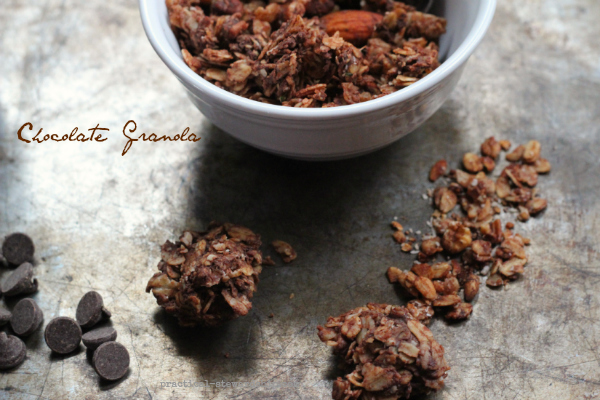 A few notes:
I cut this recipe in half to bake in the oven on one baking sheet.
If you are using a crock-pot, a 5 quart crock-pot or larger would work. I've put it in my 4.5 quart before, but the 6 and 7 quarts have worked best.
This version of chocolate granola happens to be dairy-free depending on how dark your chocolate is, vegan if you substitute the honey for maple syrup, and gluten-free if you use gluten-free oats.
For a clumpier granola, don't aggressively stir the granola after adding the chocolate chips.
I like to make two batches at a time so we end up with 28 cups of granola. It might last us two weeks.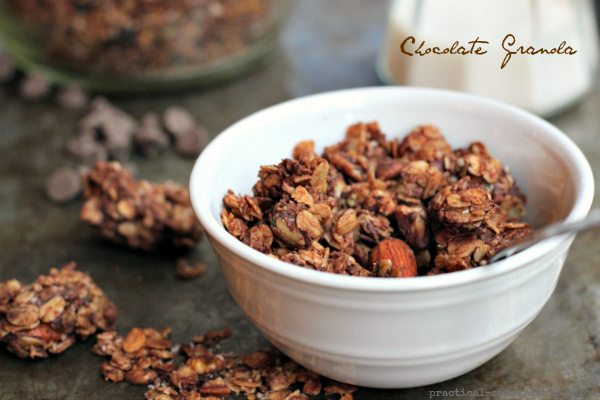 Chocolate Granola, Crock-pot Option
Yield 14 cups
Ingredients
8 cups organic rolled oats
3 cups chopped nuts-walnuts, almonds or pecans (I use 1 cup of each)
1/2 cup cocoa powder
optional, 1/4 cup pumpkin seeds
optional, 1/4 cup hemp hearts (raw shelled hemp seeds)
1 cup coconut oil
3/4 cup honey (maple syrup for vegan)
1 cup chocolate chips (make sure they are dairy-free for vegan)
1-2 cups unsweetened coconut flakes
1-2 cups dried cranberries, dried blueberries, dried cherries (or dried fruit of choice)
Instructions
Crock-pot Directions
Grease bottom and side of crock-pot with coconut oil.
Place oats, cocoa powder, nuts, and seeds in the crock-pot, and stir.
Heat coconut oil until melted (about 1 minute in the microwave).
Pour coconut oil and honey over the oat mixture, and stir.
Cover and cook on high with the lid slightly cracked (I use a popsicle stick).
Stir well every 15 minutes, making sure you stir the granola off the bottom of the crock-pot well.
Cook until desired (I usually cook it for 45 minutes to 1 hour, but you could go longer to get a more dried, golden brown look, about 2-2 1/2 hours).
In the last 15 minutes of cooking add the chocolate chips.
Stir in coconut flakes and dried fruit when finished cooking.
For a crunchier granola, cool for about 3 hours in the crock-pot in the "off" position with the lid off, stirring every hour or so before placing it in an airtight container.
Store in airtight containers for up to a month.
Oven Directions
Halve the recipe or use the full recipe with two baking sheets.
Preheat the oven to 300.
Stir dry ingredients together in a large bowl (minus chocolate chips), stir wet ingredients together in a separate bowl, and pour onto dry ingredients.
Grease baking sheet, and place granola on baking sheet.
Bake for 30-45 minutes, stirring every 10 minutes or until golden brown.
In the last 10 minutes of cooking add the chocolate chips.
Cool and store in an air tight container.
For more crock-pot ideas, check out my Cookin' with the Crock-pot Board on Pinterest. Follow Sonja Sarr (practical-stewardship.com)'s board Cookin' w/the Crock-pot on Pinterest.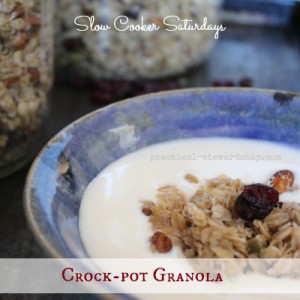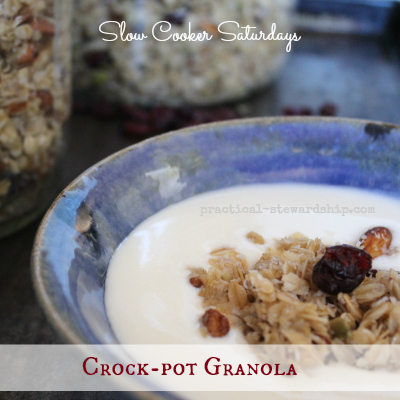 How about Oatless, Low Carb Peanut Butter Granola?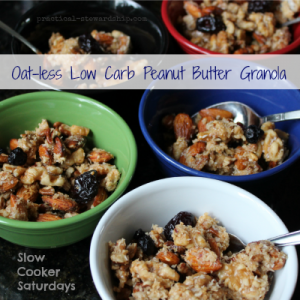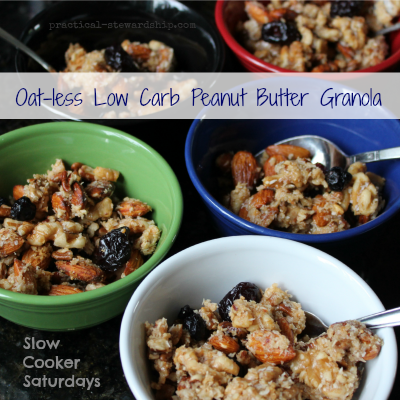 THIS POST MAY CONTAIN AFFILIATE LINKS THAT COST YOU NO MORE MONEY, BUT SUPPORT OUR BLOGGING EFFORTS. THANK YOU!
Featured at Whole New Mom!