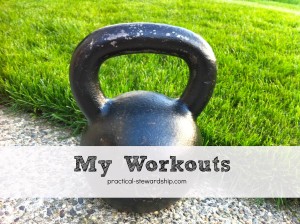 First off, I'm sorry I haven't posted my workouts in a while. For those of you who don't know, I have been pretty busy – along with some other fantastic folks – working to start a new classical and Christian school. We just finished our first week, and it was great. But it also means that I have not made posting my workouts as high of a priority as assembling classroom furniture and organizing curriculum.
But that doesn't mean I haven't been doing the workouts (though in many cases I've had to cut them short for sake of time). I'll do my best to bring you up to speed.
Week of August 13
This week I was at a retreat and took some kettlebells along with me. Given that I was trying to get stronger on the military press, I spent some time "greasing the groove" on the press. So as far as the press goes, I planned for this:
Sunday: Double 53# military press: 5 sets of 3 reps. Monday: Double 53# military press: 3 sets of 5 reps. Tuesday: Double 53# military press: 4 sets of 4 reps. Wednesday: 70# military press: 5 sets of 1 rep per side. Thursday: 30# military press: 5 sets of 5 reps per side. Friday: 70# military press: 3 sets of 2 reps per side.
I did some actual workouts beyond this, too, but nothing too crazy: some swings, some squat-and-presses, a some get-ups. But the big takeaway here was overtraining. In fact, I didn't even do any presses on Friday because I was experiencing such discomfort in both arms. In an effort to get better at the military press, I totally overworked those muscles. So I learned that if I want to "grease the groove," I need to go lighter. None of these training sessions was particularly difficult, but the composite was too much. So I was rewarded with some elbow pain, sore biceps, and a sensation similar to when I've thrown out my elbow from throwing a football hard without warming up. Idiot.
So I took all of the next week off from presses.
Week of August 20
At the front end of this week we were visiting some friends at the beach, so I took my 70# KB along to do some swings. While I was taking the week off from presses, my swings felt great. So I did these:
Tuesday: 10-minute countdown: 20 KB swings, double 70# KB. Thursday: Five rounds: A) 10 swings – double 53# KB's B) 15 swings – 70# KB
A and B each took one minute, so the whole workout took 10 minutes.
Week of August 27
I just did some training, working on bodyweight stuff and easing back into the presses. The important thing this week was that I followed up/tested some goals that I had written down:
Military press (70#KB): Goal: 3 reps per side Actual: 4 left, 7 right This was a pretty encouraging success. I'm ready now to more consistently use the 70# bell during workouts.
Pistol squats: Goal: 5 per side, barefoot Actual: 3 per side, wearing shoes.

This was a disappointment. For as long as I've been working on these, I'd have hoped to be better at them by now. I'll keep plugging away.
One-arm pushups: Goal: 10 per side. Actual: 11 left, 10 right. I was very surprised that I was able to complete these. I had never attempted more than five at a time, and was not that pleased by my progress. But when I tested on them, they felt great. I guess I was a bit stronger here than I thought. Usually my right side is a bit stronger, but I was sort of tired from pressing the 70-pounder.
All in all, I was glad for the progress, and very glad that I had written down my goals.
Week of September 3
Monday: Nada. Tuesday: Stretching. Wednesday: Five rounds: A) 2 military presses left and right, 70# KB B) 20 swings Each round was 2 minutes so, once again, a 10-minute workout.
Thursday: Stretching Friday: 7 ladders, up to 3 rungs, of double 53# "Olympics." I rested once minute between rounds.
On Saturday I was pretty sore from the Olympics. Ouch. Hadn't done those in a while.
All told, I survived a pretty busy stretch, but thanks to may militant commitment to keep my workouts simple and my program sustainable, I was able to at least hold serve during a few strange and busy weeks.
Go here for the complete list of workouts.
We would love to hear from you!  Feel free to comment.  Get free e-mail updates by subscribing here.  Follow us on Facebook and Twitter. "Moreover, it is required of stewards that they be found faithful" (1 Corinthians 4:2 ESV). Thanks for visiting!
JSarr