Sourdough Cinnamon Rolls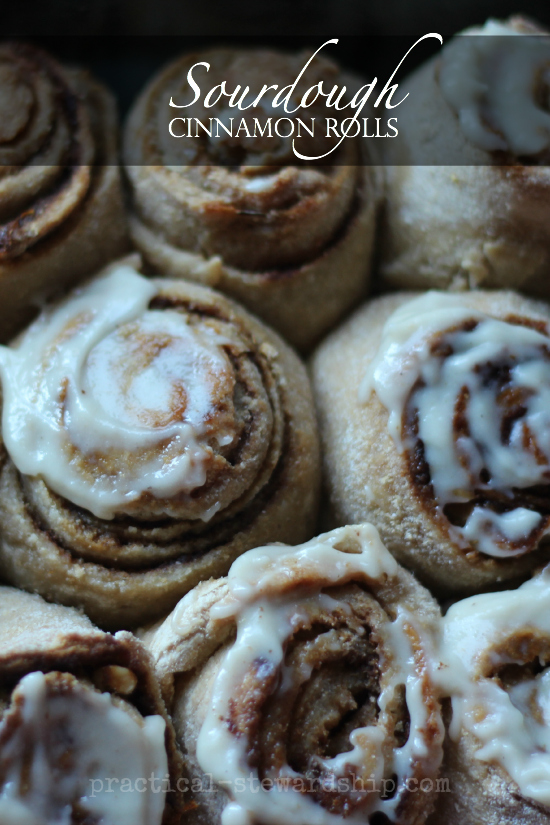 The last couple of years for Christmas breakfast we have made it a tradition to eat cinnamon rolls.  Since I have been working with sourdough this year, it appeared seamless to transition my normal sourdough bread into sourdough cinnamon rolls.  It works great, and it makes them egg-free and dairy-free if you substitute coconut oil for butter!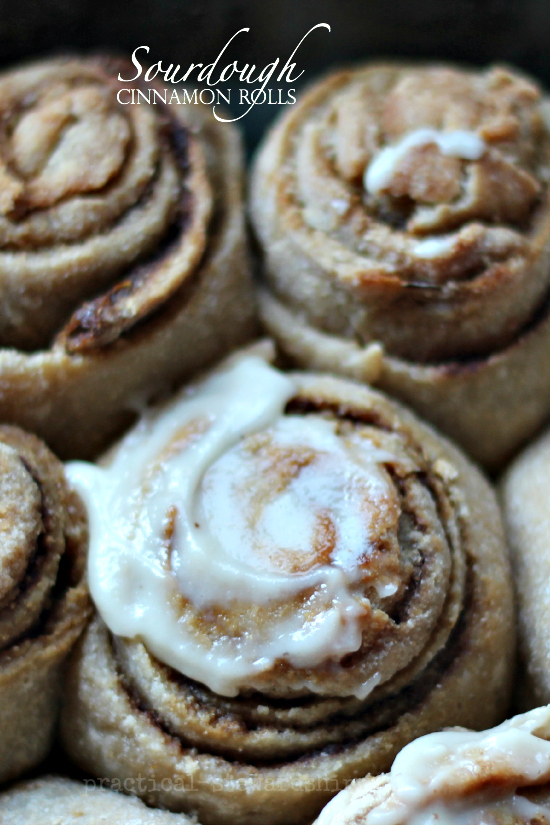 If you have a favorite bread dough recipe, you could probably easily adapt this recipe to use your dough by starting at Instruction #4 below.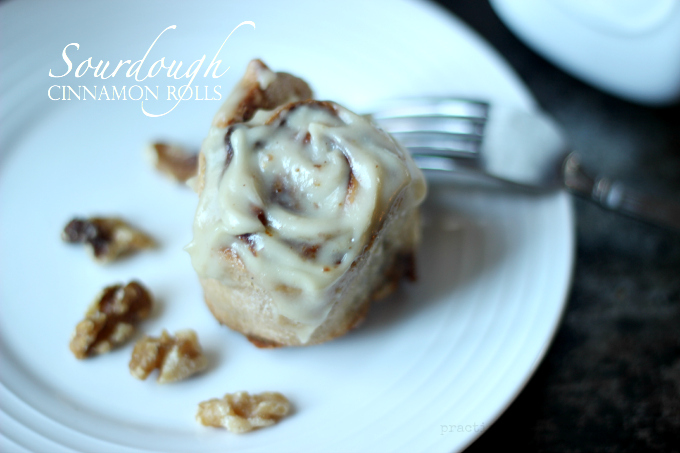 You can do fun things with the cinnamon rolls.  You can arrange them to make a wreath.  You can make one big cinnamon roll, putting the roll together with long strips (you do have to bake it about 15 minutes longer so the center gets baked).  Or you can make one big loop, creating a different kind of Christmas wreath garnished with grapes and cranberries.  I think strawberries and kiwi would also be a great garnish.  I have also seen the rolls arranged to make a Christmas tree.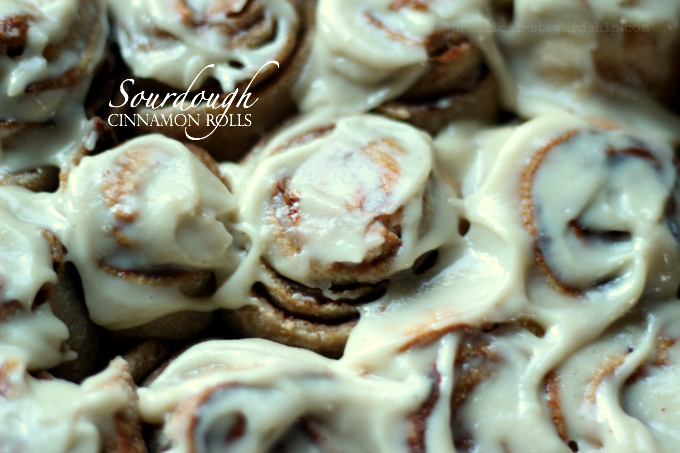 I love that the sourdough cinnamon rolls are soaked overnight so they are easier to digest, making it more simple for the body to take in the nutrients of the wheat.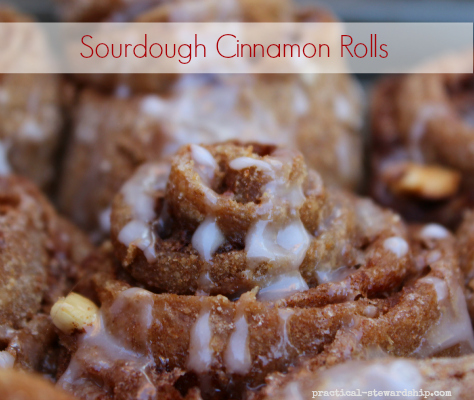 This is a great recipe to make for a holiday since you need to start the prep work at least the day before baking.  I often start my dough on day 1, then form the cinnamon rolls on day 2 placing them in the fridge, and bake them on day 3.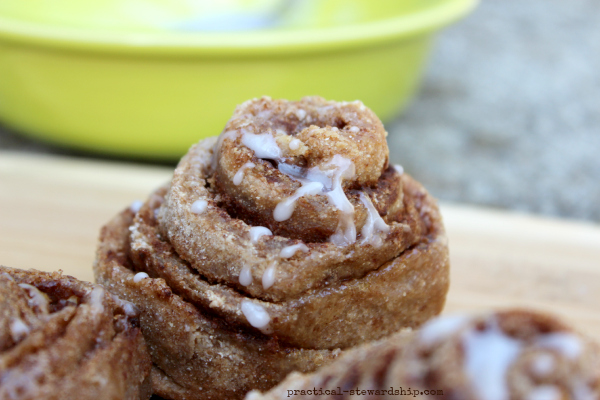 Sourdough Cinnamon Rolls, Dairy-Free Option, Egg-Free
Ingredients
1/4 cup sourdough start (which is the flour and water together: read here about how to make a sourdough start)
two cups of flour + more (I use white whole wheat flour from Trader Joe's; if you use white flour, use 3 cups of flour)
1 1/2 cups of water
1 1/2 t salt
1/2 cup + more to grease of melted coconut oil, olive oil for vegan, or butter
cinnamon
organic sugar (I use Costco's evaporated cane juice), could try honey

optional, 1/3 cup walnuts, or pecans chopped)
Instructions
Day 1

Combine 1/4 cup of your sourdough start with two cups of flour, 1 1/2 cups of water, and 1 1/2 teaspoons of salt.
Leave in a glass bowl on your counter (if it's a cold winter's night, you may want to leave it close to a heat source) for 16-17 hours covered with plastic wrap. I have used the dough after about 12 hours, and I really don't notice a difference, but may be it's less sour. It will look similar to a sponge. It should feel really wet to the touch.

Day 2

Add at least 1/2 cup of flour into your dough and work it in until it's not sticky to the touch. Use more flour if needed.
Place dough on a well-floured surface, and roll out into a rectangle.
Coat rectangle of dough with oil/butter.
Drizzle organic sugar, cinnamon, and nuts if you are using them over the rectangle of dough.
Roll the dough into a nice tube-like shape.
Cut the rolls roughly 1 1/2 inches to 2 inches apart with a butter knife or using floss.
Grease 9x13 pan, and sprinkle with additional sugar and cinnamon.
Arrange the cinnamon rolls onto the pan.
Cover the cinnamon rolls for 1 hour and let rise (by a warm heat source is best). If you will bake these a different day, refrigerate now.

Day 2 after rising or Day 3

Bake at 350 degrees for 25-30 minutes (approximately 40 minutes if making 1 big roll).
Cool for 15 minutes, frost if desired, and serve.
http://practical-stewardship.com/2012/12/13/sourdough-cinnamon-rolls-dairy-free-option-egg-free/
My family loves this frosting recipe, and I do too, but I need something dairy-free. I usually make a glaze with powdered sugar and water or almond milk.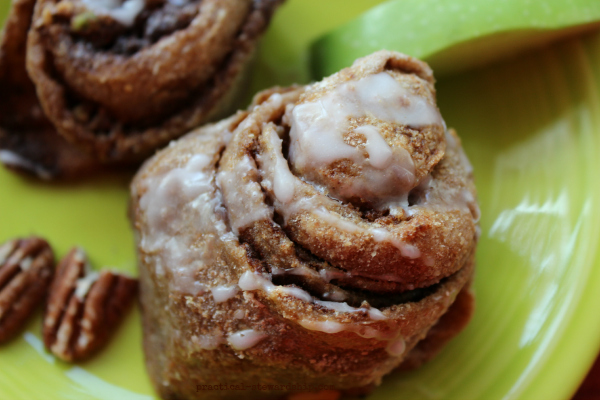 The Verdict: We have these maybe once a month, and I have been making these for about nine months.  I have experimented with butter, olive oil, and coconut oil.  I like the butter best, but since I am dairy-free, I used the olive oil for awhile, but it is heavier.  Then I switched to organic coconut oil, and I was surprised at how much sweeter I noticed the cinnamon rolls to be.
The entire family is in love with this recipe!
Want other sourdough recipes?
How about Sourdough Doughnuts?
Or want to try making the sourdough bread in the crock-pot?  Go here to see how…

For All Things Sourdough…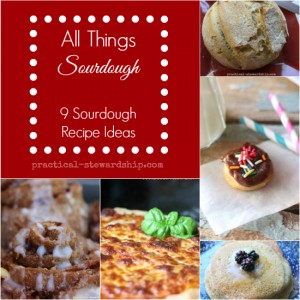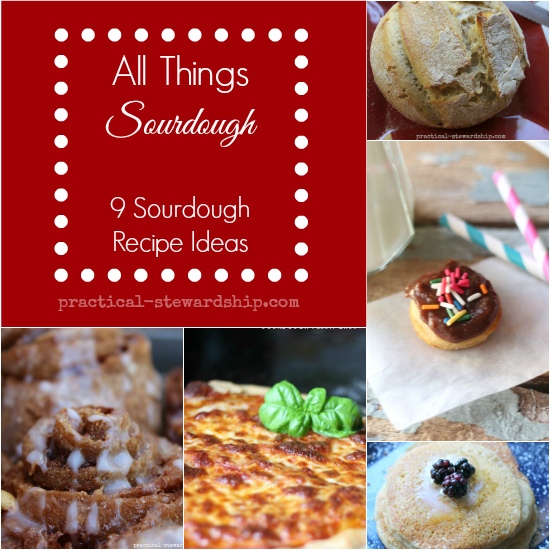 GO HERE FOR THE COMPLETE LIST OF RECIPES. 
THIS POST MAY CONTAIN AFFILIATE LINKS THAT COST YOU NO MORE MONEY, BUT SUPPORT OUR BLOGGING EFFORTS. THANK YOU!