I've never written about P90X before, but plenty of other people have. I just Googled "P90X Reviews" and got nearly 3.5 million results immediately, so it's clearly a hot topic. And to be fair, I've never done a single P90X workout, except for a bit of the yoga stretching program. But I don't need to do it to know of a few things. Read on if you want to know what I mean.
What's So Great About P90X?
I am not a P90X hater; there are a number of great things about it. For starters, P90X gets results, and generally speaking, I believe in what works…so long as it's safe. I know some of the cynics say that the primary reason P90X works is because of its frequency and duration. That is, if you work out for about an hour, five to seven days per week for thirteen weeks, you'll see results no matter what program you're on. Well, while true, that's not entirely fair to Tony Horton's program. He does some fantastic stuff with dumbbells, body weight movements, and varying muscle groups (for sake of what he calls "muscle confusion"), and that's good stuff that helps to minimize soreness and shorten recovery periods, so you CAN work out several days in a row. So it's not just about working out long and often, but there's a method to the madness.
Second, it's a plan. Many people don't get started because they don't have a plan. When it comes to exercise plans, we will only do what we know about, and most of the time, that's nothing.

So for a person looking for a script, a plan, something laid out before them with how-do demonstration videos to boot, P90X can be the ticket to fitness.
I can wake up tomorrow really hungry for chocolate chip cookies (yum!), but I don't know how to make them. So, I'll eat eggs. Hardly the same thing. Without a recipe, I'm sunk, and I'll default to what I know (in this case, eggs, when I want cookies). Without a recipe, most of us will jump on a treadmill, go for a walk, or maybe do some pushups and crunches. Woo-stinkin'-hoo. And when we don't see immediate results, we give up. Most of us want results like lean bodies, strong hearts and complete mobility. But the thing is, we don't know how to get such results, so Tony Horton has provided a recipe that – when followed – will get the results that most people are looking for.
So if it's so great, why don't I do P90X? Well, I'm glad you asked.
Why I'll Never Use P90X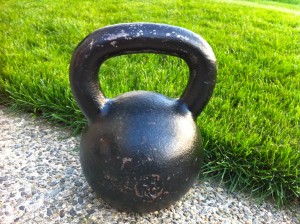 There are several reason why P90X is not for me, but I'll limit the discussion to three of them. Remember: these are my opinions, not objective facts. So take it all with a grain of salt then feel free to leave your own thoughts in the comment section below.
First, P90X is not sustainable. If you've spent much time here at PS.C, you're likely aware that we are convinced that good stewardship generally involves moderation and sustainability. P90X is short, intense, and over in ninety days.
Now, I've known dozens of people who have tried out P90X, and I'm aware of one – ONE! – who has actually stayed with the program with greater than 80% consistency for the full ninety days. And do you know what happened at day ninety-one? He was relieved. Very relieved. He "took a break" and never went back.
So, for most people, what happens when the ninety days are up? Then what? They quit (if they've managed to last that long to begin with), or they dial back their training to something they probably should have been doing all along: something moderate, fun and sustainable.
The second reason I'll never do it is related to the first. I don't have that kind of time to devote to exercise! I'm a busy guy, like most of you. I've got people to see and things to do. If I did have extra time, I would probably spend it with people, reading, or even sleeping, not exercising.
Far too many people cite a shortage of time as the reason they don't work out. I'm firmly committed to debunking that garbage excuse as emphatically and clearly as I can. The hardest workouts of my life have all been ten minutes or less, and I've experienced the metabolic benefits for hours or even days afterward. Ask someone who has done 200 kettlebell snatches in ten minutes if he's gotten a good workout in "just" ten spare minutes of his day. He'll be too winded to answer you. You rarely hear of anyone doing a forty-five-minute kettlebell workout, because that would be superhuman. If you're working out hard enough, you don't need to put in more than twenty minutes per session.
So, I can honestly say that I don't have time for P90X.
Third (and finally, for now), P90X is just not necessary. Short, intense and fun bodyweight and kettlebell workouts provide a formula that I believe I can stick with the rest of my life. They meet my needs and more. If you want to be able to handle and maneuver your own body, there's nothing like bodyweight movements. They're comparatively easy on the joints and many are relatively low impact (that means fewer injuries). If you want to pack on muscle and size and crank up the fat burning, introduce one or two kettlebells. But if you do, you won't be working out for an hour; you won't be able to.
So I am confident that I can meet my fitness goals (I'm not there yet!) using kettlebell and bodyweight exercises exclusively, which means I don't have to work out as long or frequently as P90X requires. That's good news. And for what it's worth, I believe that holds true for people who are out of shape, too. You have to be in decent shape to start P90X. Not so with bodyweight exercises.
By the way, the last time I saw Tony Horton on Dr. Oz, (he looks amazing for his age, by the way), he mentioned that he tries to exercise every day. Good for him. What does he use? Generally, the Ten-Minute Trainer that he markets as his most recent project. So, Tony Horton himself doesn't stick to the P90X program…not because he can't do it, or doesn't believe in it, but because he doesn't have time. And you could say that it's his job to work out, help others and market his product. Granted, he is in body-maintenance mode rather than body-repair mode at this point (so he doesn't have to work out as much as some of us), but you get the point.
So there you have it. My candid thoughts on why P90X is great, and why I'll never use it. What do you think? Have you tried it out? How does it compare with other things you've tried?
Funny Edit: While I was posting this, a P90X advertisement flashed across the PS.C home page! See, I told you it's great.
Have you read these posts?
Practical Stewardship 101: Keep it Sustainable