Overnight steel cut oats is simply one of the easiest recipes to make in the crock-pot.  It only required two ingredients.

It has been a few years since we have gotten away from eating cereal 6 days a week, and since Dr. Oz is such a proponent of steel cut oats, I thought I'd give it a try back then.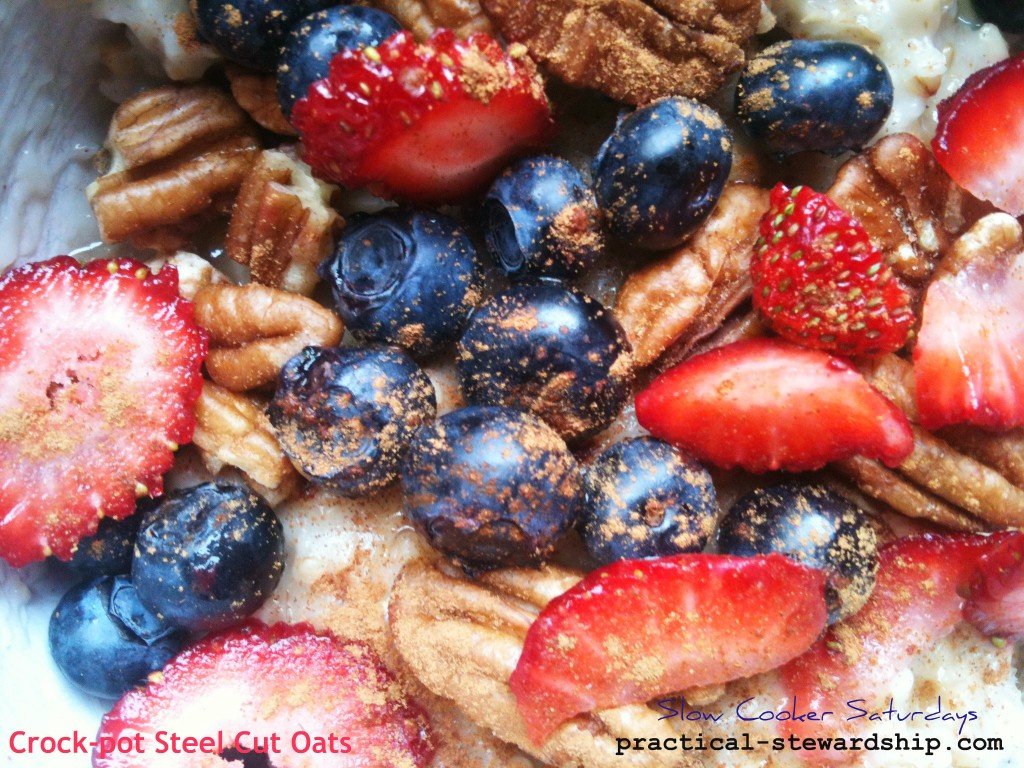 Steel cut oats have become one of our family breakfast staples.  I love that I can prepare the oats the night before, slow cook it overnight, and wake up to a hot breakfast without exerting any effort the morning of.

I've actually have never made steel cut oats on the stove, but have always made them in the crock-pot.  It's so easy to do, and takes less than five minutes of preparation the night before.

In addition, they are so quick to prepare.  I have even brought my crock pot on different trips and have been able to serve a hot, healthy breakfast for the masses.  Very cool!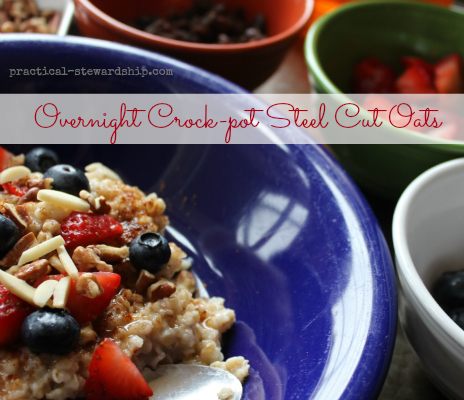 You could easily do a oatmeal breakfast bar for a large group.  I love serving this when we've had company, too.  Steel cut oats are so easy to customize because people can add their favorite toppings. And of course, for a patriotic flare, use strawberries, or strawberry jam (here is a 3 ingredient raw blender jam recipe that comes together in minutes), blueberries, and almonds.
Topping options:
walnuts
cashews
pecans
almonds
honey
maple syrup
agave
organic sugar
cranberries
raisins
cinnamon
bananas
blueberries
strawberries
blackberries
add your favorite here____________(the list is endless!!)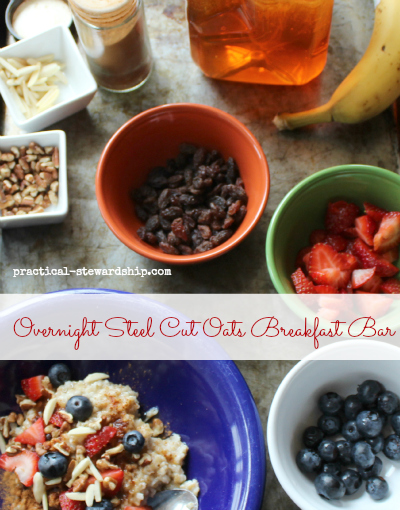 So are steel cut oats better for you than regular oatmeal?  YES, but they are very similar.  They are less processed than rolled oats, they have a lower glycemic index, and they may cause you to feel more satisfied for longer because they have more soluble fiber.  Plus, they hold up great in the crock-pot because they are so sturdy!
**Updated April 2012:  If you have a WinCo in your area, steel cut oats are $0.53/lb. at WinCo in the bulk section, so for pennies a serving, you can have a hardy meal.  For $0.27  I can serve breakfast for 5 people for 2 days with leftovers.  That's less than $0.135 a meal or $0.027 a person (less than $0.03/person)!!  Of course the toppings add more cost, but you get the picture.
The Recipe: Crock-Pot Steel Cut Oats Recipe
Crock-Pot Steel Cut Oats Recipe
Ingredients
2 cups steel cut oats
7-8 cups of water (we always use 7 cups)
optional, 3 T TriMix (1 T Wheat Germ, 1 T Wheat Bran, 1 T Oat Bran)
optional, flax seed
Instructions
Grease the bottom and sides of the slow cooker really, really well.
Place all of the ingredients in the slow cooker (I don't even stir it).
Cook on low for 8-10 hours on the lowest setting. My sister-in-law accidentally discovered that this cooks on "warm" overnight, too with SOME crock-pot that cook hotter, so that's what we do now because there is minimal oatmeal sticking to the sides. Clean up is much easier if you crock-pot burns hot.
Stir really well, and serve with your favorite toppings.
Updated 7/14. This serves our family of 5 with one more day's worth of leftovers.
What are your favorite oatmeal toppings?
Do you want another breakfast idea in the crock-pot?  You could try Overnight Crock-pot Breakfast Cobbler.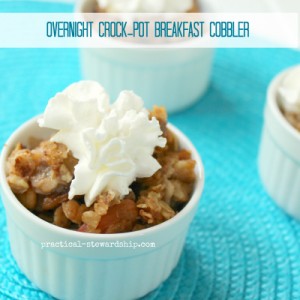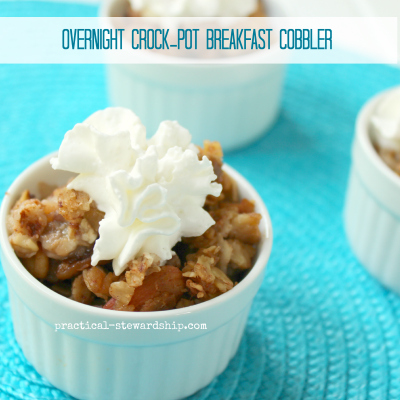 Are you planning to road trip soon?  Save money, and road trip your crock-pot.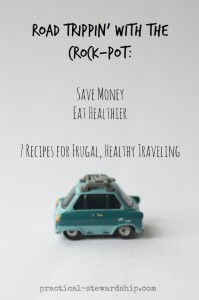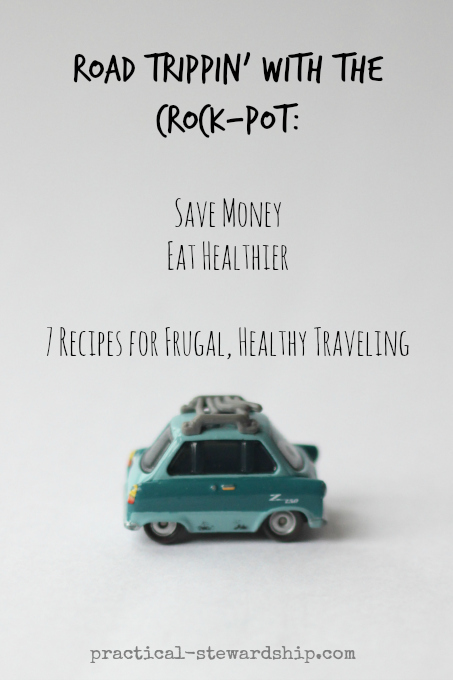 This post may contain affiliate links that cost you no more money, but support our blogging efforts. Thank you!