Road Tripping with the Crock-pot: Save Money and Eat Healthier

Thrifty Thinking
Have you been to some of those motels where the prepackaged oatmeal and watered down orange juice flavored drink just doesn't cut it?  Or maybe your motel doesn't offer any kind of breakfast at all.  Do you get tired of eating out EVERY. SINGLE. MEAL?  Want to save a little money on the road too, and feel better while you're at it?  Well then maybe you should consider bringing a crock-pot on the road.
Six months ago we had the opportunity to road trip from Washington State to Colorado and back in five days.  Yep!  About 3000 miles round trip.  Our family of five had a blast road tripping to attend the wedding of JSarr's niece. Our little three year old still gets excited when we talk about Colorado and even brought it up today and yesterday all on his own.  Anyway, we left at noon the week before Thanksgiving and got back the Tuesday before Thanksgiving.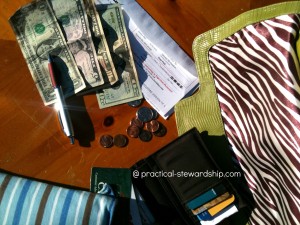 In order to keep the costs of the trip down and in order to eat healthier, we determined to bring our 2-quart crock-pot and cook a few meals in it.  I was all excited to bring it.  I planned ahead, made of list of the needed items/ingredients  for the different recipes, packed the car, and the first night realized I had everything but the crock-pot.  Oops!  That first night on the road we went to Walmart to buy a new $10 2-quart crock-pot.  So now I have a travel 2-quart crock-pot and stay-at-home 2-quart crock-pot.  Just call me Slow Cooking Sonja, I guess.
Anyway, buying the crock-pot on the road was totally worth the investment, because we figured eating even ONE meal in the crock-pot would justify buying it.  I figured here, it would cost about 13 cents to make one steel cut oats meal.  The additional fruit and nut toppings would cost more, so let's say it costs a total of $2 for the steel cut oats breakfast with fruit and nuts for the family of 5.  Let's compare that to the All-American choice of going to McDonald's for a breakfast.  If we bought 2 breakfast meals (approximately $3.50 each) and 3 Sausage McMuffins ($1 each) it would be $10.   Add in coffee and juice, and you are well over $15.  We ate steel cut oats at least twice on the trip saving us about $26 [(2 breakfasts x $15)-($2 x 2 breakfasts)], not including the cost of the crock-pot.  And that was just for breakfast.
One time overnight we cooked can-can chili in the crock-pot so it would be ready for lunch the next day.  We checked out of the motel that morning with the chili in crock-pot and the crock-pot in its box, so it kept the contents nice and warm.  When we got to some unknown rest area at lunchtime, voila!  A hot meal!  That saved us at about $15 since we would have spent close to $20 for a lunch out.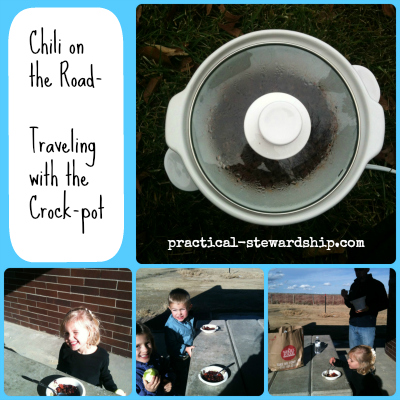 I hope this opens your eyes to the idea of using a crock-pot when out if you haven't thought of it already.  If you are close to a grocery store, are using a cooler, or will be staying at one particular motel/hotel for a couple of days, you can get even more creative with traveling crock-pot meals.  The challenge is to make the right amount without having leftovers if you are on the move.
Below I share what we did in a nutshell.  I did modify the original recipes a bit to make them easier or smaller.  These ratios are for a family of five: two adults, and 3 kids (ages 7, 5, and 3).  Then I share some other recipes that would be ideal traveling crock-pot meals.  Some of these ideas depend on how close you are to a grocery store, and how long you are at a particular motel.
On the road we brought:
the crock-pot (after we bought it on the road:)
can-opener
paper plates
paper bowls
paper napkins
steak knife
small cutting board
forks and spoons that we washed and reused
appropriate seasonings: oregano, garlic powder, sugar, cinnamon
nuts
fresh fruits like apples, bananas, and oranges
crackers/Pirate Booty
coconut oil to grease the crock-pot
When we were close to a grocery store for breakfast we would get juice and additional fruits to compliment our breakfast.
Breakfast:
If you don't have access to milk and cold cereal, or want to change it up a bit, steel cut oats offer the perfect motel hot breakfast.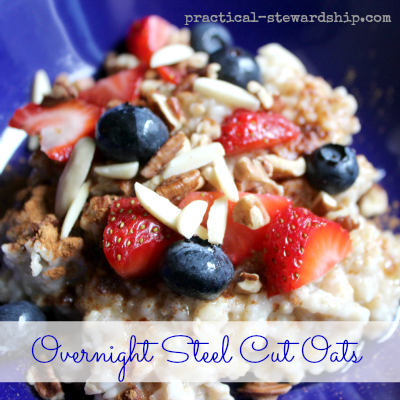 1 cup of steel cut oats to 3 1/2 cups of water.  Cover and cook overnight on your lowest setting.  I use the warm or low setting on the slow cooker.
Lunch and Dinner: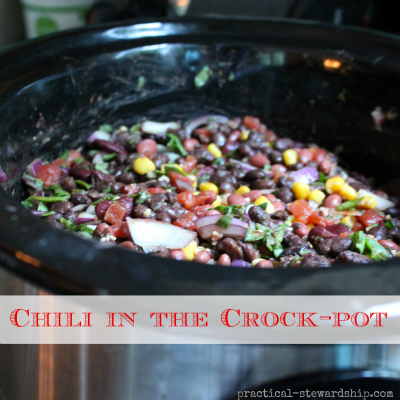 I used 2-3 cans of our favorite beans, with a can of tomatoes, and a can of corn to make this can-can chili.  Making it mostly from cans makes this a super quick meal to put together.  Then we brought a bit of oregano and garlic powder to flavor.
Here are a few other recipes that I would totally make on future trips.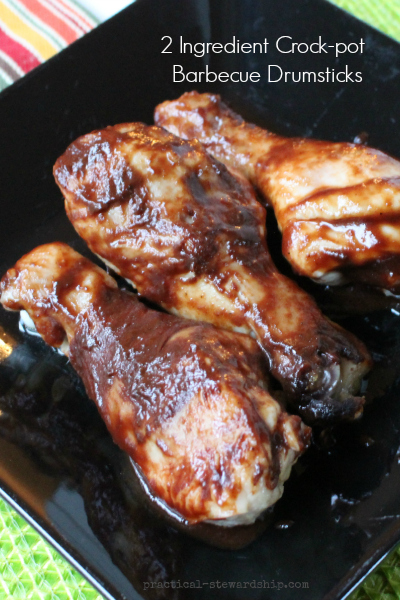 This crock-pot drumstick recipe only requires two items: chicken and barbecue sauce.  You can use any type of chicken you like, but I think drumsticks work the best.  They tend to be the most portable, too.
This two-item crock-pot idea uses barbecue sauce, too with franks: Barbecue Franks.  So easy, and the kids love them!  You could combine this with the chili, too.  Put it in a whole wheat hotdog bun.  Yum!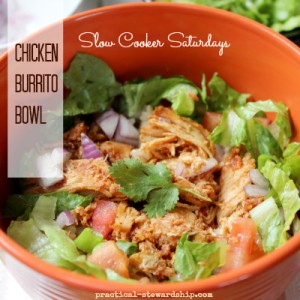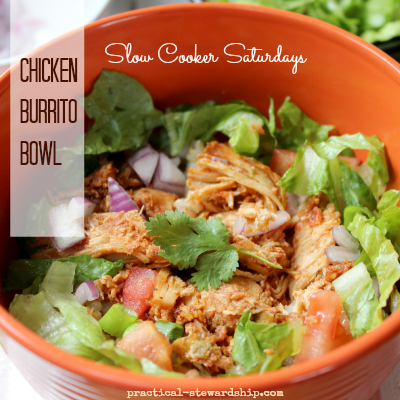 Here is another easy crock-pot recipe if you have close access to a store or are carrying chicken in a cooler using just chicken and salsa with the addition of a salad, the Chicken Taco Salad/Burrito Bowl. In a pinch you could omit the salad.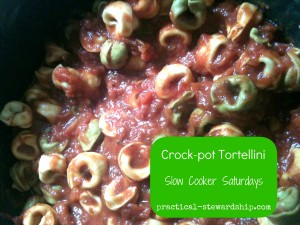 This crock-pot tortellini only needs two ingredients, too: spaghetti sauce and prepackaged tortellini.  We get the dried tortellini bags from Trader Joe's.  If you have access to cheese, even better!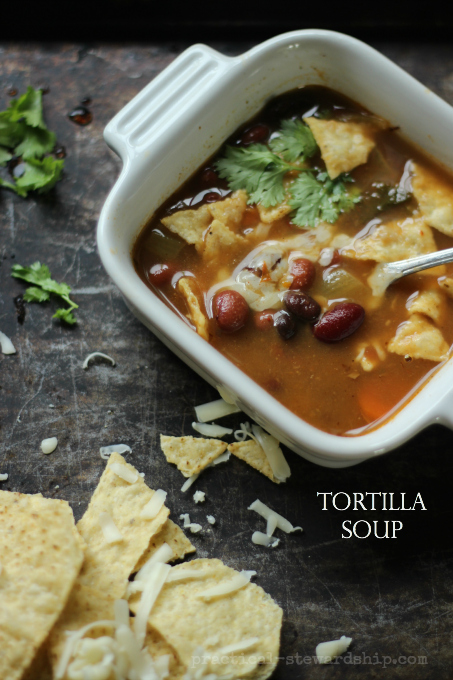 If you are feeling a little more creative, you could make Tortilla Soup, which can be made from cans, jars, and boxes of broth, tomatoes, corn, black beans, and salsa.  You can omit the meat and cheese, and top with tortilla chips.  Since this recipe uses salsa, there is enough flavor you don't even have to worry about seasonings. This is one of our most favorite family meals at home, and it's so easy!
If you are staying at least two nights in the same motel:
You could also make almost any soup you wanted at home before the trip, freeze it flat in a gallon Ziplock bag, and take it out of the cooler the night before to thaw.  Or if you have access to a refrigerator, thaw the soup in the refrigerator for up to 24 hours.  Then put the mostly thawed soup in the crock-pot all day on low, and you'll have a hot meal when you arrive to your hotel "home".  We've done this with a group of families we have traveled with before, and it works really well.
Some other ideas are to heat on low canned store-bought soups or refried beans.  You could make a bean burritos with tortillas, the warmed beans, and a little cheese if you want.  When I think about how many possibilities are out there, the ideas really are endless.
Well, if you are road tripping this summer or any time of the year, I hope you will at least consider bringing your crock-pot along.  It will save you time, money, and you'll feel better, too!
Do you have any crock-pot meals that would travel easily?  If you have a blog, feel free to comment and link your easy traveling crock-pot recipes here.
This post may contain affiliate links that cost you no more money, but support our blogging efforts. Thank you!