A few months ago I was overhauling our recipe box, which I have had for fourteen years, and stumbled upon this crock-pot breakfast cobbler recipe.  I was trying to get rid of clutter and recipes that we know we wouldn't make, and in the process found many interesting recipes we have yet to try.
If you haven't gone through your recipes in awhile, you may want to do it soon.  I couldn't believe how many recipes I was able to get rid of and lighten our load.  I am on a bit of a purging kick now, trying to reduce clutter.  Too much stuff can equal stress.  I digress.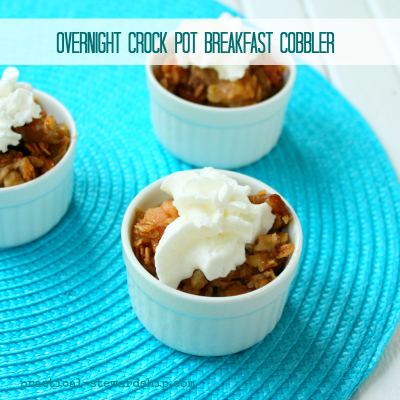 Anyway, through the purging process, when I found this crock-pot breakfast cobbler recipe I knew I had to make it right away.  It is credited to no source as the recipe was typed into someone's computer and printed it out.  The only real change I made was to make it dairy-free by using coconut oil instead of butter, but feel free to put the butter back in.  I bet the breakfast cobbler would be fantastic with butter.  I am just not willing to try it for myself now.  I have also left on the apple peel, and I have also made it without the peels.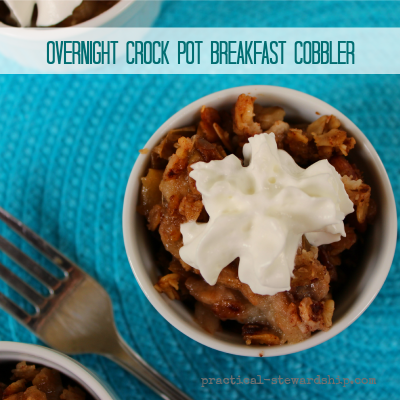 This is much like an apple crisp except it uses granola instead of plain rolled oats which is nice because depending on the granola, it brings in the nuts and dried fruits normally not associated with a crisp.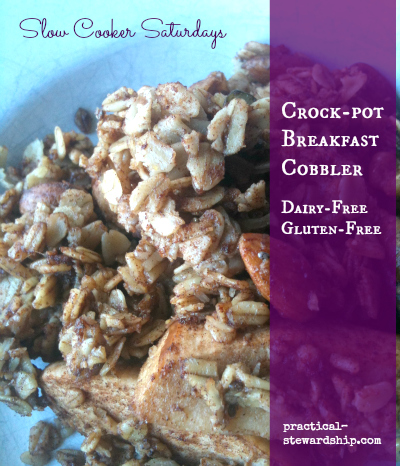 The Verdict: Our kids think this is dessert for breakfast!  This crock-pot breakfast cobbler recipe comes together so fast and easy, too.  It's nice to have a hot meal ready for breakfast without doing any of the prep work in the morning.  Also, this is a great recipe to make if you have apples to use up that aren't totally crispy.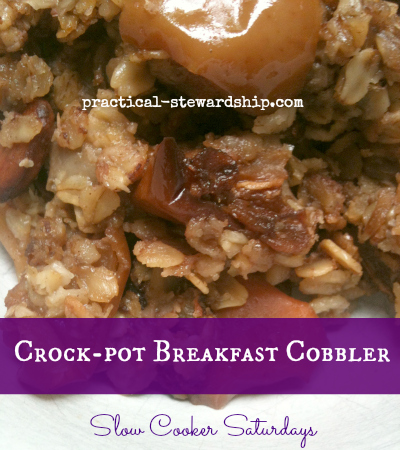 Above is a picture of the breakfast cobbler with the skins left on the apples.  I leave the skins on because it cuts a step out (saving time), leaves more antioxidants, minerals, and fiber in, and the texture doesn't bother us.  Feel free to peel your apples.
Crock-pot Breakfast Cobbler, G-F, D-F options
Ingredients
4 apples, sliced, and peeled if desired (I have made it both with the peels on and off)
2 cups granola (gluten-free if needed)
1/4 cup honey
2 T melted coconut oil (can substitute butter)
1 t cinnamon
Instructions
Grease the crock-pot.
Place the apples in the slow cooker.
In a medium mixing bowl combine the granola, honey, coconut oil and cinnamon, and stir until combined.
Top the apples with the granola mixture.
Cover and cook on low overnight about 7-9 hours (alternatively, cook on high for 2-3 hours).
Have you made Slow Cooker Breakfast Egg & Vegetable Casserole?
Or have you tried Overnight Steel Cut Oats?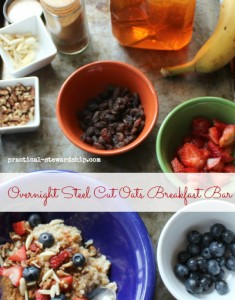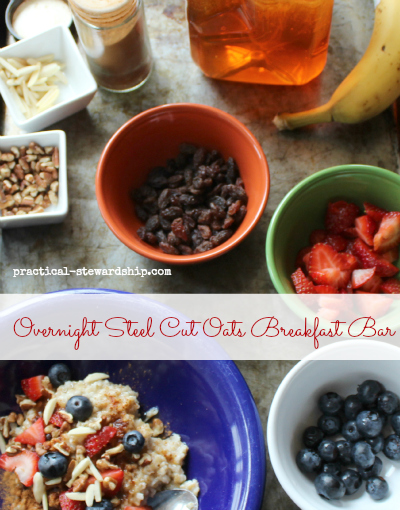 Follow our Cookin' with the Crock-pot Board on Pinterest by clicking below: