Homemade Pizza in less than an Hour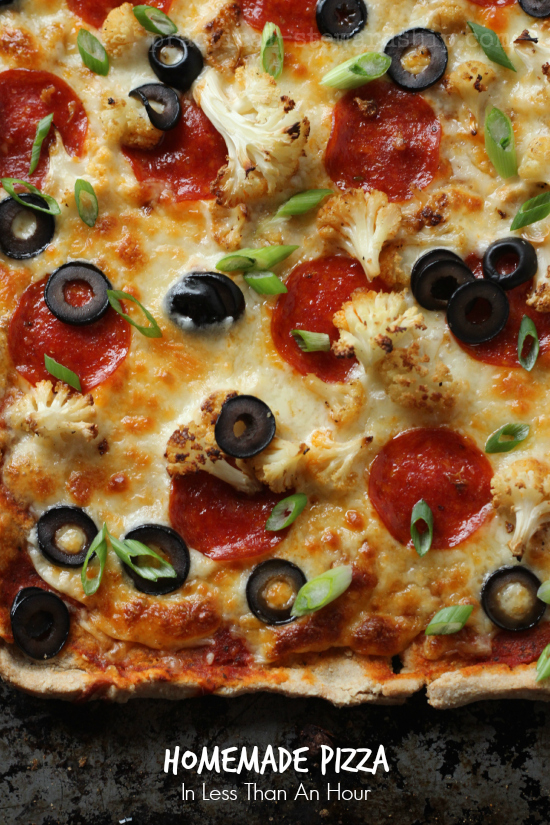 I found a recipe for a 4 ingredient pizza crust at the Heavenly Homemakers REALLY wanted to try it because it involved yogurt, and it's made with 100% whole wheat flour. I did make a few changes that I thought would ease the process. I love to find recipes that are easy without compromising quality, nutrition or taste.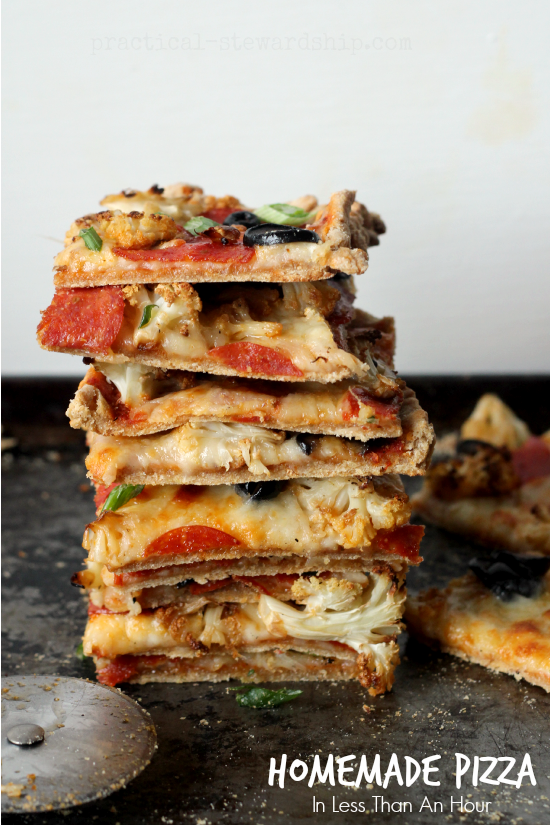 The first time I made this, when all was said and done, I couldn't believe that I started the process at 5pm in the evening, and by 6pm, dinner was on the table, ready to be devoured. Abbie helped me make mini pizzas for each of the kids, too. The kids love getting their own pizza, and they are so easy to customize. We all loved it!! This is my new go to pizza crust. I do still like the bubbly, yeasty Papa Murphy's and Papa John's crust, but this is great, especially for a thinner, homemade crust.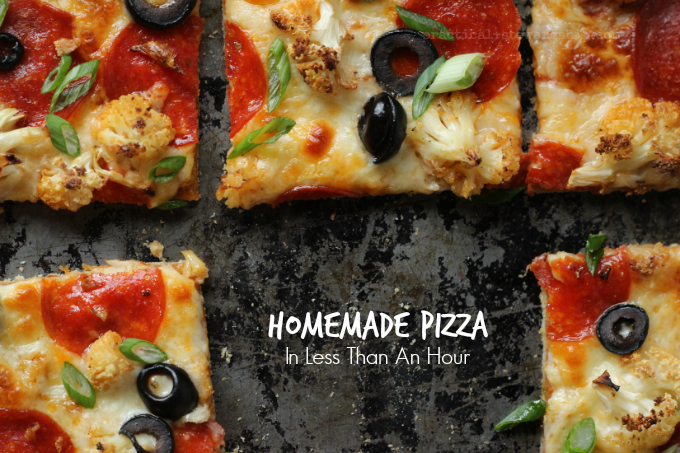 This rustic crust is one of the easiest I've ever made, and it's so tasty! When I know I won't have a lot of time, or I want to prepare the dough ahead of time to make prep even faster, or I want my dough to be soaked, I just leave it on the counter up to 24 hours covered. Have you heard that soaking, sprouting or fermenting your food makes the food healthier for you and more digestible for you? If you've never soaked your dough, it might feel weird the first time, but it won't make you sick. I promise. It doesn't go bad because it contains yogurt.
The Pizza Ingredient Ideas:
pizza sauce like spinach pesto, basil pesto, cilantro lime pesto, barbecue sauce, or red sauce
cheese like mozzarella, feta, cheddar, Parmesan or your favorite cheese
meat of choice like pepperoni, sausage, ground beef, shredded or cubed chicken (or go veggie)
veggies like cauliflower, zucchini, onions, bell pepper, olives, tomatoes, asparagus (I like to roast some of the veggies the night before, but they can be raw before baking the pizza if you desire like bell peppers and onions)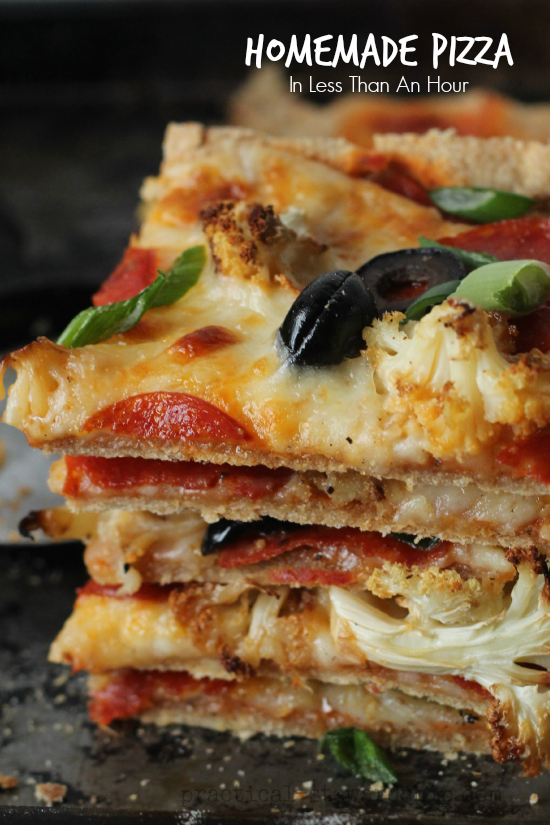 We have made the dough several times since. And if you can believe this, the dough is the same one I use to make Homemade Pop Tart-Inspired Toaster Pastries, which my kids would claim I don't make nearly enough! Updated 2/15.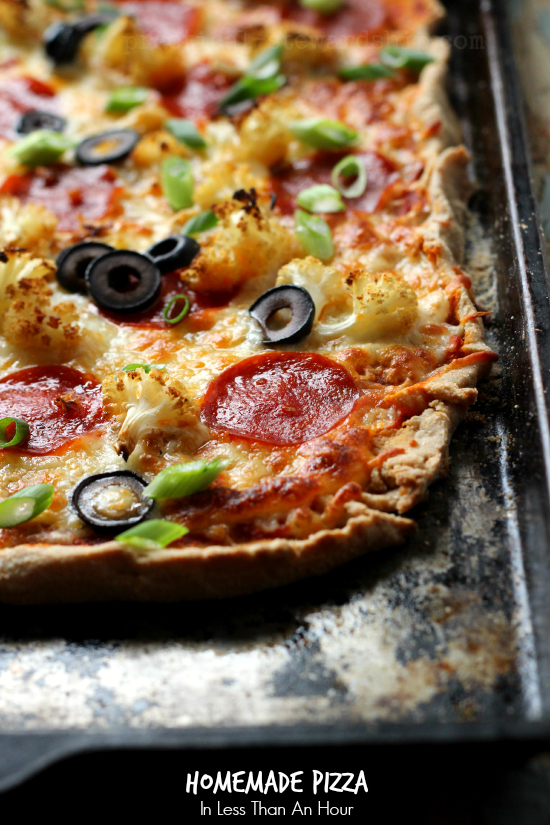 Homemade Pizza in less than an Hour
Ingredients
The Crust Ingredients (makes crust for at least 2 good sized pizzas & can be soaked-left on your counter overnight for better digestion):
3 1/2 cups whole wheat flour
1 t salt
1 cup plain yogurt
1 cup butter, melted (sometime I use as little as 3/4 cup butter)
Instructions
Preheat oven to 425 degrees (if using a baking stone, I insert it in the oven at this time).
Combine all crust ingredients into a ball.
Roll the dough on a floured surface.
Place the pizza dough on a floured pan or baking stone.
Pre-bake the dough only for about 3-5 minutes.
Take out the dough, and add your favorite toppings as suggested in the pizza ingredient ideas.
Bake until the cheese melts and browns a bit, about 12 minutes.
Have you tried the Roasted Vegetable Medley?

THIS POST MAY CONTAIN AFFILIATE LINKS THAT COST YOU NO MORE MONEY, BUT SUPPORT OUR BLOGGING EFFORTS. THANK YOU!