Turkey Feta Burgers are a great grilling summer treat or a great skillet-cooked burger anytime of year!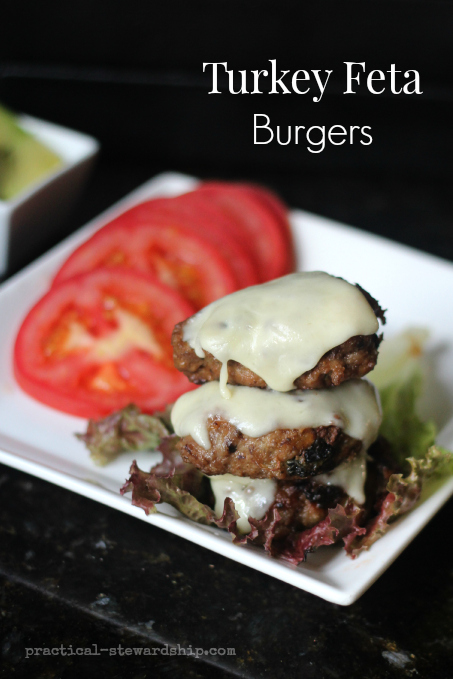 My Great Aunt Fran had us over for a lovely lunch and conversation a few weeks ago.  It's always fun to go over there, because I learn so much from her.  She's the one that really got me to start sewing.  She raised six kids, and was a Home Economics Teacher for twenty-five years!  She has a lot of tricks up her sleeves for frugal living and tasty treats.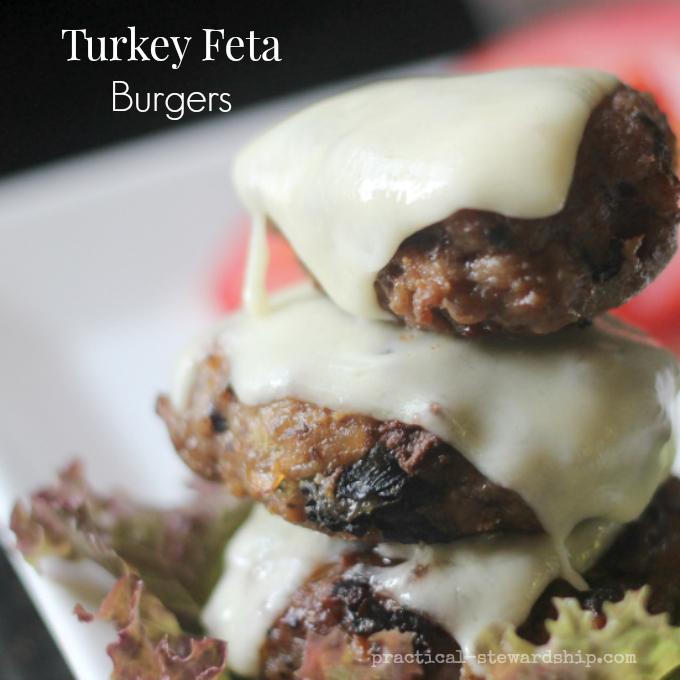 For the main course of our lunch Aunt Fran served a Turkey Spanakopita Burger.  I had to look Spanakopita up in the dictionary because I had no idea what that meant.  Spanakopita is a Greek pie made of phyllo (pastry that is flaky and layered) that consists of feta cheese, spinach and seasonings.  I called it a turkey feta burger because that's what it is, too, and ours wasn't baked in a phyllo.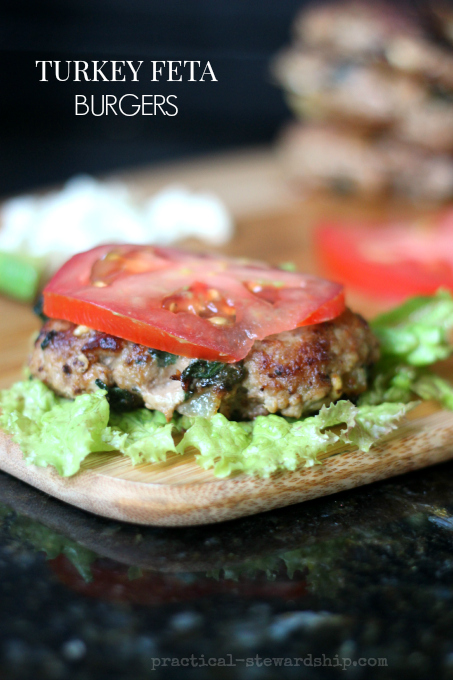 The Verdict: What a great mix of flavors.  We have made this at home and served with our own guests, too.  I like serving it wrapped in lettuce and covered with a slice of raw milk cheese best.  The kids like to add mustard to it.  Thanks Aunt Fran, for sharing!!!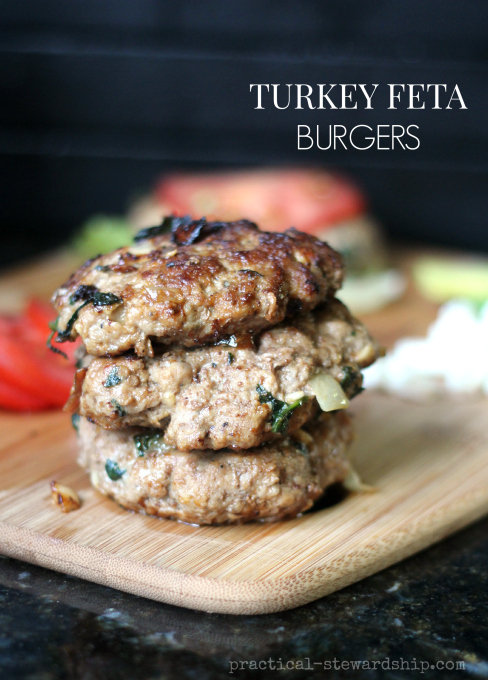 Turkey Feta Burgers
Ingredients
3 cloves of garlic, minced
2 handfuls spinach, chopped
1/2 red onion, chopped
1/4 cup feta cheese crumbles
2 tsp oregano
1 1/3 lb. ground turkey
1 tbsp grill seasoning (Montreal Steak Seasoning by McCormick is what my Great Aunt and I used)
Instructions
Saute spinach, and onion in olive oil for about 5 minutes. Add garlic in the last 2 minutes.
Let cool.
Add sautéd vegetables to remaining ingredients.
A little of olive oil can be added if you wish.
Shape into patties and grill, fry or freeze uncooked.
Serve with 1 1/2 cup Greek yogurt mixed with juice of 1/2 lemon, 1 cup shredded arugula.
Optional, garnish with onion and slices kalamata olives.
THIS POST MAY CONTAIN AFFILIATE LINKS THAT COST YOU NO MORE MONEY, BUT SUPPORT OUR BLOGGING EFFORTS. THANK YOU!