Lemon Blueberry Yogurt Bread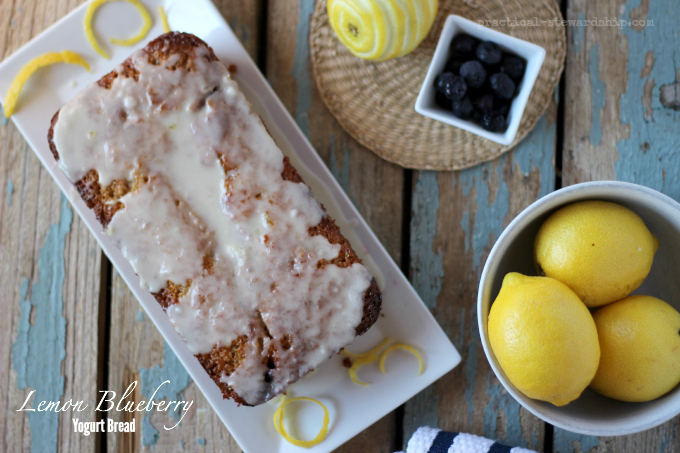 Looking for an unique yet scrumptious bread recipe?  Something different than banana bread, zucchini bread or pumpkin bread? Here is something for your consideration. Lemon Blueberry Yogurt Bread! Don't you think that lemon and blueberry sounds like such a wonderful pairing? The naturally sweetened blueberries temper the tart of the lemons and make for a marvelous partnership. Lemons + blueberries= bread love.
I took this Lemon Yogurt Cake Recipe and healthified it. I modified this before I went dairy-free, although you could use coconut yogurt to make it dairy-free. Looks like next month I'll be able to add some dairy back!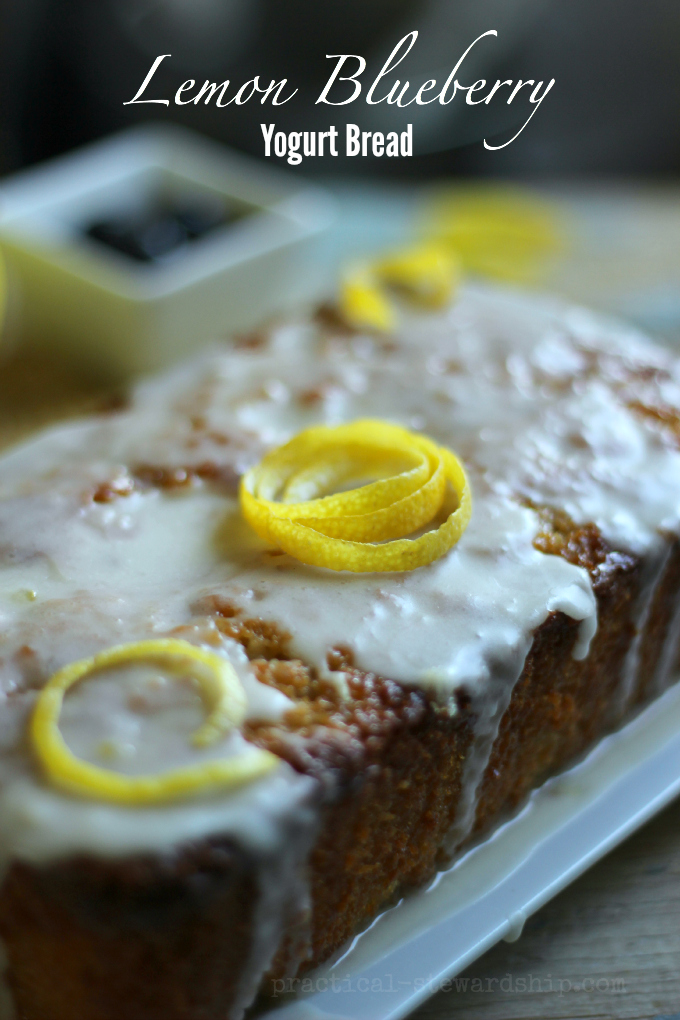 This is such a moist and scrumptious bread.  So good!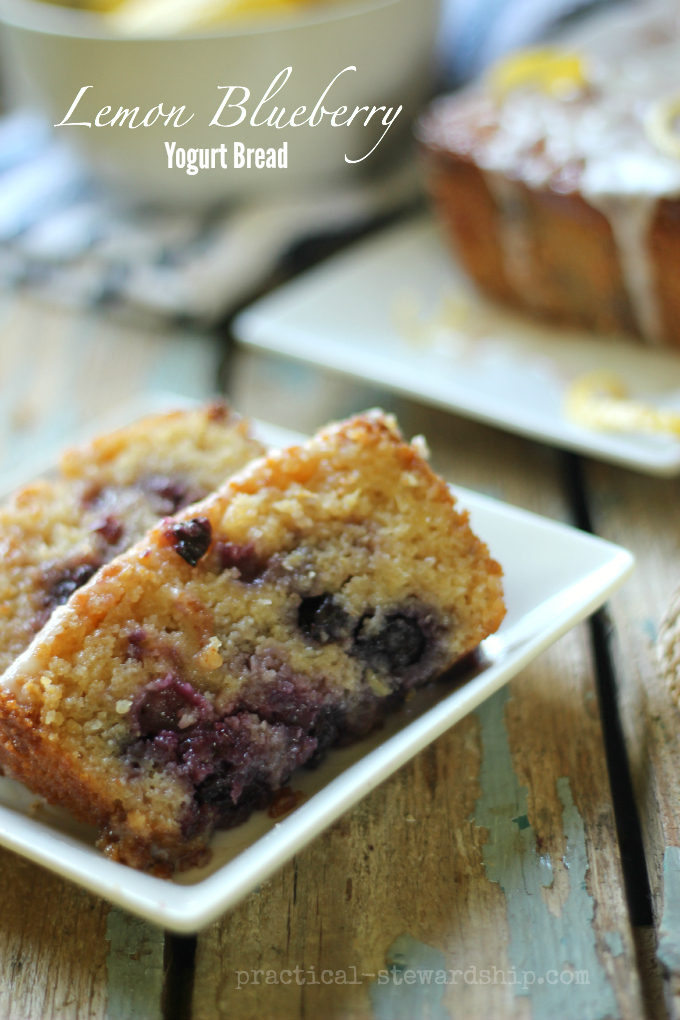 The Verdict: My husband asked me, 'did you make this?', as he thought I got it from a bakery.  I always consider that a compliment.  We gobbled this up so fast and enjoyed it immensely!
You can also make it without the glaze or lemon syrup if you want to make it less moist or if you want to reduce the sugar content. The bread stands on it's own.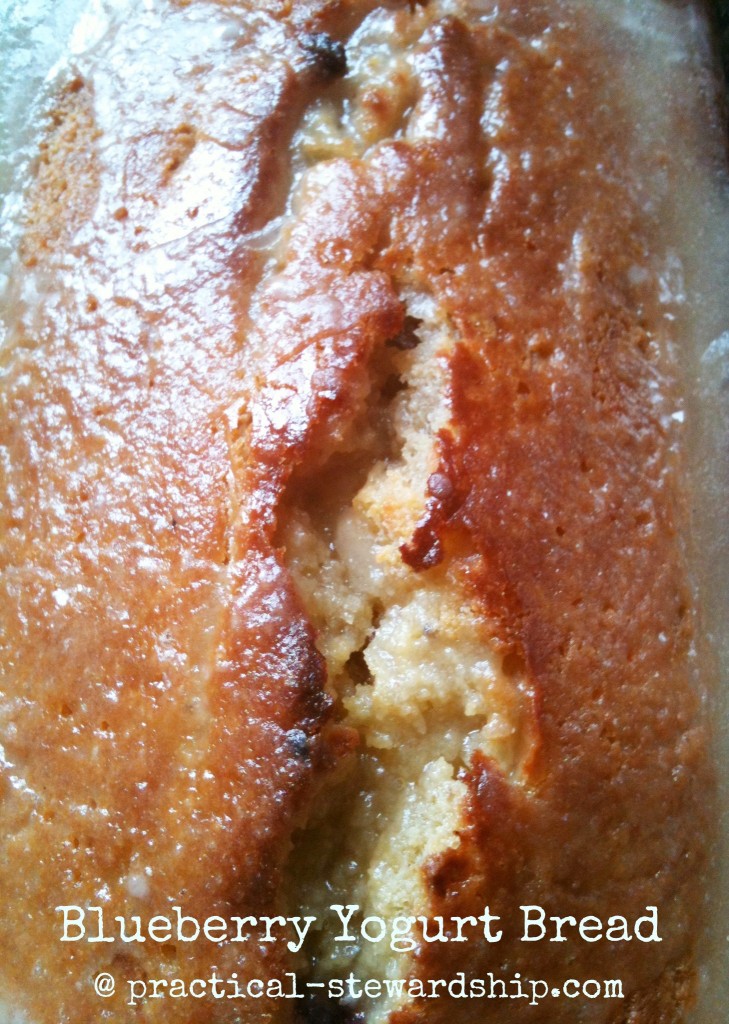 Updated 1/15.
Healthified Lemon Blueberry Yogurt Bread
Ingredients
1 1/2 cups + 1 tablespoon whole wheat flour, divided
2 t baking powder
1/2 t sea salt
1 cup plain yogurt
1 cup organic sugar (I used Trader Joe's evaporated cane juice)
3 large eggs
2 t grated lemon zest (approximately 2 lemons)
1/2 t pure vanilla extract
1/2 cup coconut oil, melted
1 1/2 cups blueberries, fresh or frozen, thawed and rinsed
For the Lemon Syrup:
1/3 cup freshly squeezed lemon juice
1/3 cup organic sugar (I used organic evaporated can juice from Trader Joe's)
For the Lemon Glaze:
1/2 cup evaporated cane juice that has been blended into powdered sugar (you can also use organic powdered sugar)
2 to 3 T fresh lemon juice
Instructions
Preheat the oven to 350 degrees F.
Grease a 9 x 5-inch loaf pan.
Mix flour, baking powder and salt together, and then set aside.
Whisk together the remaining wet loaf ingredients minus the blueberries.
Combine dry and wet ingredients to form a batter.
Combine blueberries and 1 T whole wheat flour.
Carefully fold the blueberry mixture into the batter.
Pour the blueberry batter into the baking pan.
Bake 50 to 55 minutes, checking to see if a toothpick will come out clean when poked in the center of the loaf.
As the loaf cools, stir together your lemon juice and organic sugar in a sauce pan over medium heat until the sugar dissolves. Stir together for another three minutes as it cooks.
Set your lemon juice sugar syrup aside.
Poke tiny holes into the loaf and sides of the bread with a toothpick .
Brush the syrup onto the loaf. Repeat until the syrup is gone.
As the bread completely cools, make the lemon glaze by whisking the powdered organic sugar together with 2 to 3 T of lemon juice. The glaze needs to be thick, yet pourable. If needed, add more lemon juice to the glaze.
When the bread is cooled completely, pour the glaze over the loaf.
After the glaze is hardened (approximately 15 minutes), serve and enjoy!
THIS POST MAY CONTAIN AFFILIATE LINKS THAT COST YOU NO MORE MONEY, BUT SUPPORT OUR BLOGGING EFFORTS. THANK YOU!