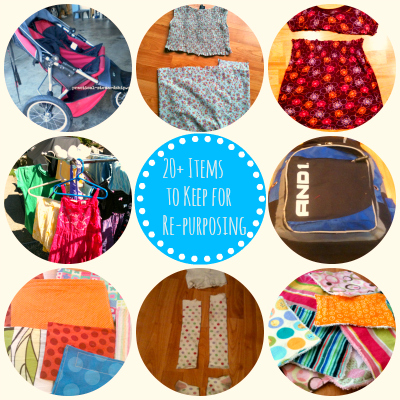 What do you do when you are done with your clothes, when they no longer fit anymore?  Do you give them away?  What if an article of clothing has a hole in it?  Do you try to donate it to the Salvation Army?  Do you just throw old clothes in the garbage?  I know to everything there is a season, and sometimes a trip to the garbage is in order.  But not so fast…not always…There may be a new life, a new purpose for that garbage of yours.
First, I will say I am not a hoarder.  I don't have piles and piles of clothes to re-purpose.  I do have one pile.  And I do throw things in the trash, too.  I just might be as quick as others to do so.  Especially if I like the pattern, I want to give the item a different purpose.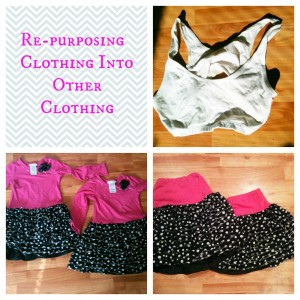 Here is a list of things that I keep to use for re-purposing in bold, and following that some items you may consider making from them.  This list is by no means, exhaustive.  I would love to hear your input of things you keep to re-purpose and items that can be made from the re-purposed materials, as I would love to add your wisdom to this list.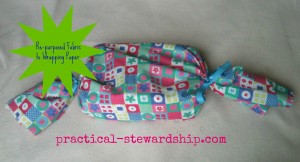 t-shirts-no-sew bags, skirts, rags, infinity scarves, pillow, quilt, wrapping "paper", braided dog chew toy

fleece-ear warmers, scarves, doll clothes
elastic from sweatpants, pajama pants, boxers, leggings–skirts, kids' pajama pants, doll clothes, scrunchies
buttons-use to decorate clothes and accessories, keep to have on hand, stuffed animal eyes, doll clothes
zippers-keep to have on hand (I have have kept a few but haven't used any yet), good for practicing sewing a zipper, cosmetic bags, pillows

cotton–scrunchies, reusable napkins, doll clothing, quilt, book marker, artwork, wrapping "paper"

flannel–reusable napkins, reusable baby wipes, doll clothing, scrunchies, feminine products, wrapping "paper"

raincoat-reusable lunch bag
socks-rags (I keep them under every sink I have for easy access for cleaning EVERYTHING), puppets, monkeys, feminine products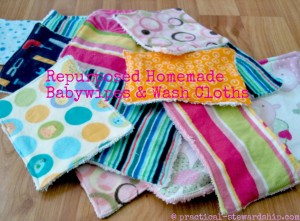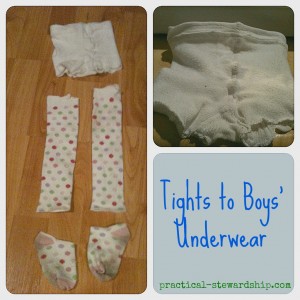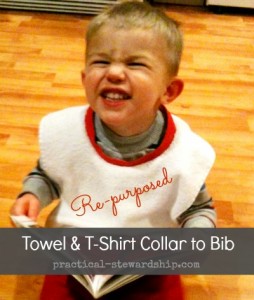 sports watch–reusable snack bags, reusable lunch bags

ties–boys' tie, Father's Day Banner, belt, skirt, bow tie

sweater-pillow cover, vest (I have one sweater that's been waiting a few years for this), leg warmers, hat, mittens, stuff to make a toy snake
lining of nice dresses-lining for snack bags

dresses–skirts, scrunchies, quilt, book marker, artwork, apron (I have a skirt waiting to be made into an apron now)

backpack–reusable snack bags, reusable lunch bags
jeans-purse, stuffing for pot holders, denim quilt, keep for patching other jeans, shorts, stuffing for place mats
pants-shorts, doll clothing, scrunchies,
lawn chair, jogging stroller material–reusable lunch bags
My girls also have a bag of scraps from all of this so they can practice cutting and making clothes.
Is there anything I am missing?  Anything that you can add to this list?  Thank you for visiting!