You don't have to be dairy-free or egg-free to enjoy this Caesar Dressing, although this is a vegan recipe.  I was inspired by Dr. Joel Fuhrman's Cashew Caesar Dressing that is included in his book, 3 Steps to Incredible Health, Volume 2 Relish It in Your Kitchen.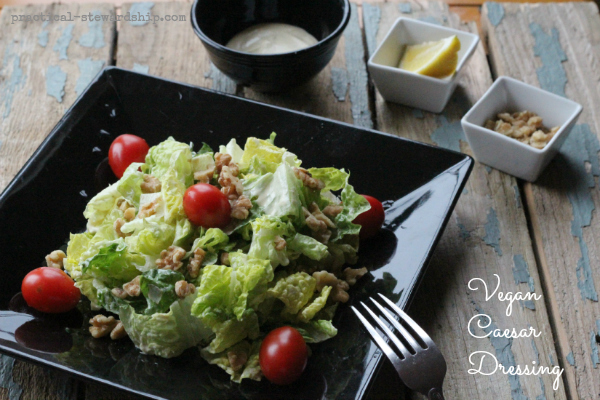 Before I made this Caesar dressing at the beginning of the year, I had this recipe on my mental "to do list" for a year.  I am a big fan of a lot of what Dr. Fuhrman has to say, as he supports a whole foods, plant-based lifestyle.  He is not strict vegan, but he has a lot of vegan recipes and is a proponent of a vegetable dense diet.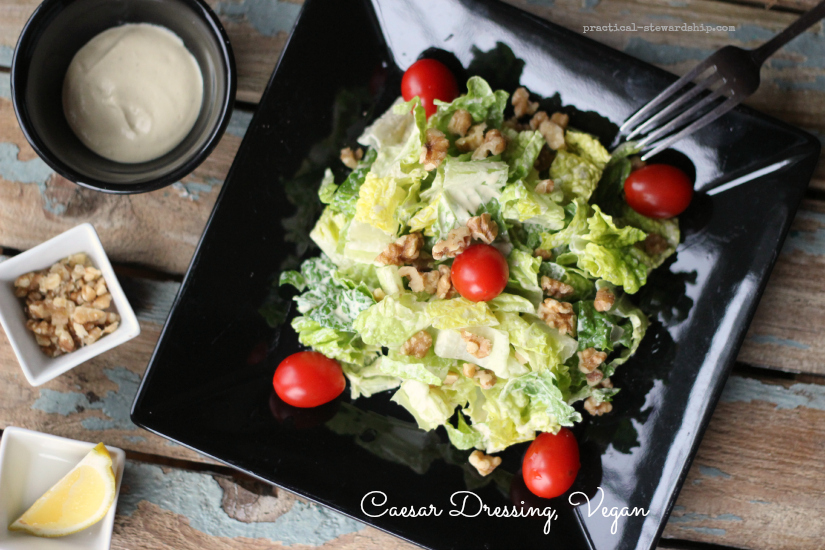 By the way Dr. Fuhrman is the same doctor who monitored the health of Joe Cross, one of the men in the documentary and the brains behind  Fat, Sick, and Nearly Dead.  By the way, if you haven't seen Fat, Sick, and Nearly Dead, it is worth the 97 minutes.

The Verdict: It took me a few tries to get the right combination of flavors, since I thought the original recipe was dominated by the Dijon flavor (maybe it's just the brand I was using) and was in need some salt.  If you like Dijon mustard, feel free to add more.  I really appreciate the balance of flavors in this dressing and love this as a dairy-free alternative to the traditional Caesar Dressing.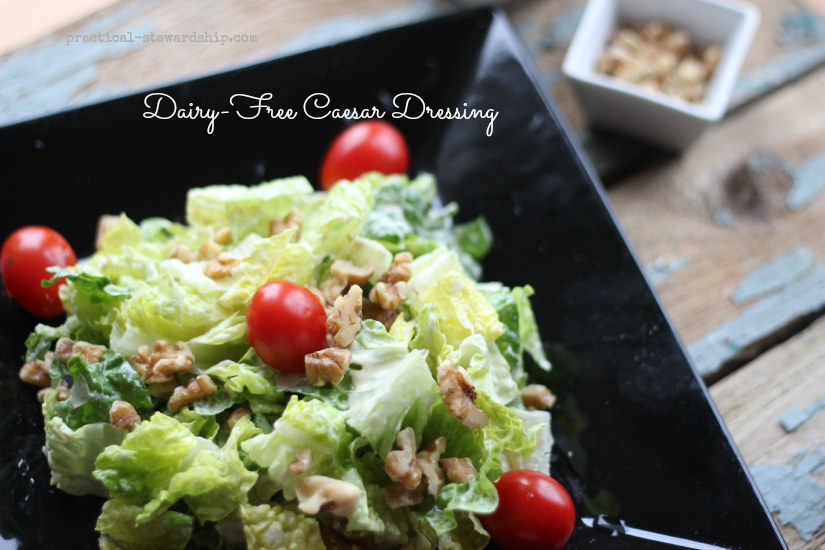 Homemade Caesar Salad & Dressing, Dairy-Free
Ingredients
2/3 cup raw cashews
1/2 cup unsweetened coconut milk or almond milk
4 garlic cloves, roasted (go here to see how to roast them easily in the crock-pot), I have used raw before, too
4 T nutritional yeast
3 T fresh lemon juice
1 t Dijon mustard
black pepper, to taste
Himalayan Pink Salt or Sea Salt, to taste
Instructions
Blend or food process all ingredients until smooth.
Enjoy on your favorite greens.
Store any leftovers in the refrigerator for up to 4 days.
THIS POST MAY CONTAIN AFFILIATE LINKS THAT COST YOU NO MORE MONEY, BUT SUPPORT OUR BLOGGING EFFORTS. THANK YOU!
Do you need any other dairy-free recipes?  Have you tried creamy dairy-free ranch dressing?