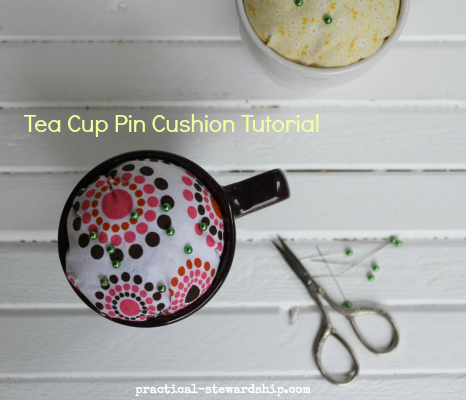 Here is a super fast no-sew tutorial that you could put together in under five minutes, the tea cup pin cushion tutorial.  This would be a great project even for a preschooler to make, since it would make a lovely gift with little effort.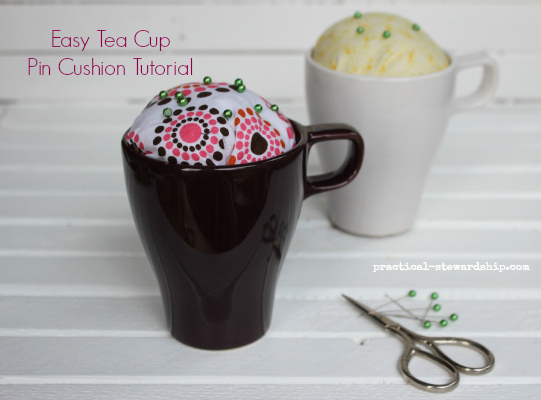 What You Will Need:
tea cup or mug
square scrap of fabric (can use re-purposed old clothes), approximately 7"x7"-depends on size of cup
fabric scissors
rubber band or hairband
batting or re-purpose other material for stuffing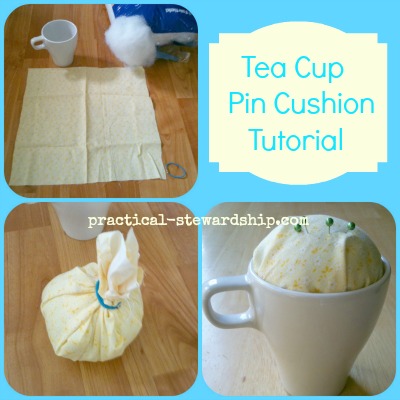 The How-to:
Place batting or stuffing on the back side of the fabric (or the wrong side of the fabric), and gather the fabric together.
Secure the rubber band around the base of the fabric.
Cut excess bulk fabric off if desired, and place batting-stuffed fabric in the tea cup.
Enjoy, use it, or gift it away!
The Verdict: This is an amazingly fast tutorial comes alive rapidly.  The tea cup pin cushion would make a great Mother's Day or Teacher Appreciation Day gift.
Have you tried making a mason jar pin cushion?