Sourdough Pancakes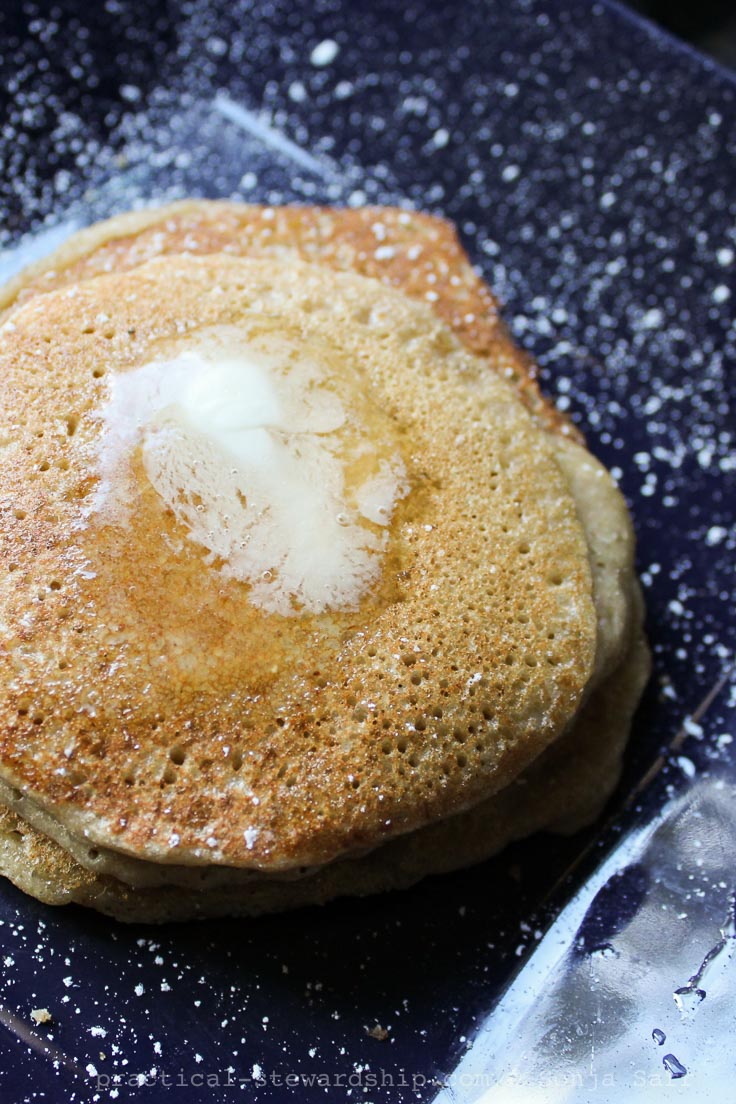 We love a hot breakfast together as a family on Saturday mornings, and sourdough pancakes is one of the hot breakfasts on our short list that we make now that we've been working more with sourdough.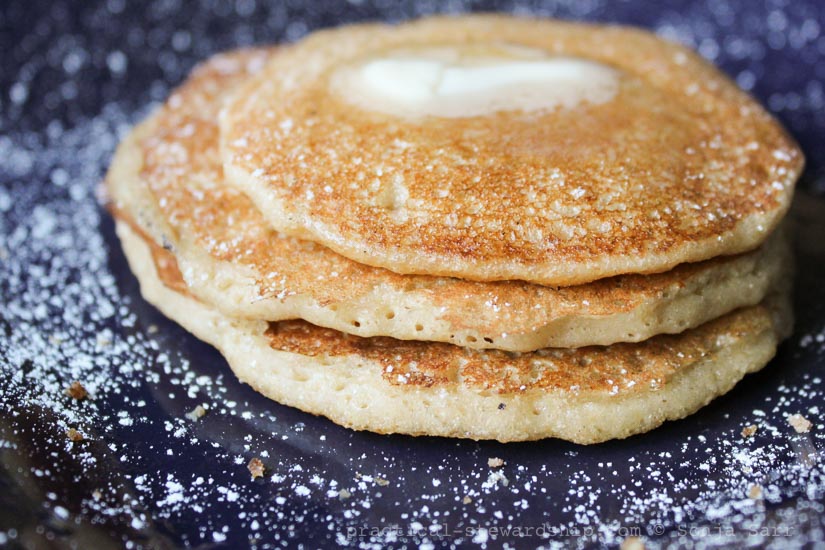 Since we discovered how easy sourdough is to start (you have to understand that I don't have a cooking background) at the beginning of 2012, we have been making all sorts of things with sourdough like doughnuts, bread, waffles, cinnamon rolls, pizza dough, baguettes, rolls and the like since sourdough is so much easier to digest because it is soaked. Pancakes was one of the first meals we tried after making bread.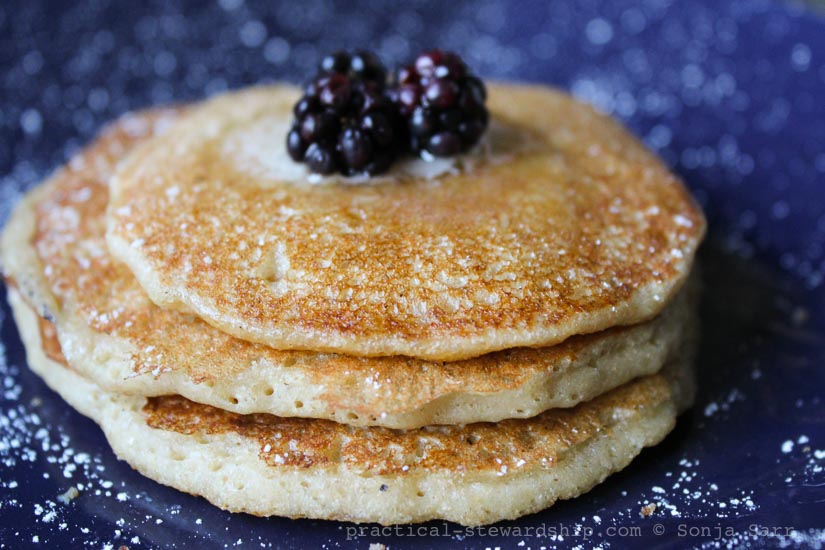 If you have never made anything with a sourdough start, it might feel weird the first (and second) time just leaving something on the counter overnight to ferment and capture wild yeast. It goes against the grain of our society: refrigerate everything. I am getting more comfortable with preparing food more traditionally by leaving food like this out overnight when it has a sourdough start or acid medium. This reminds me when I first started making homemade yogurt and leaving it overnight. I was wondering if I was poisoning my whole family as we ate the yogurt at lunch all together that first time. We all enjoyed it, and we are still here:) All that to say, leaving the sourdough pancake batter overnight to ferment and soak is completely normal.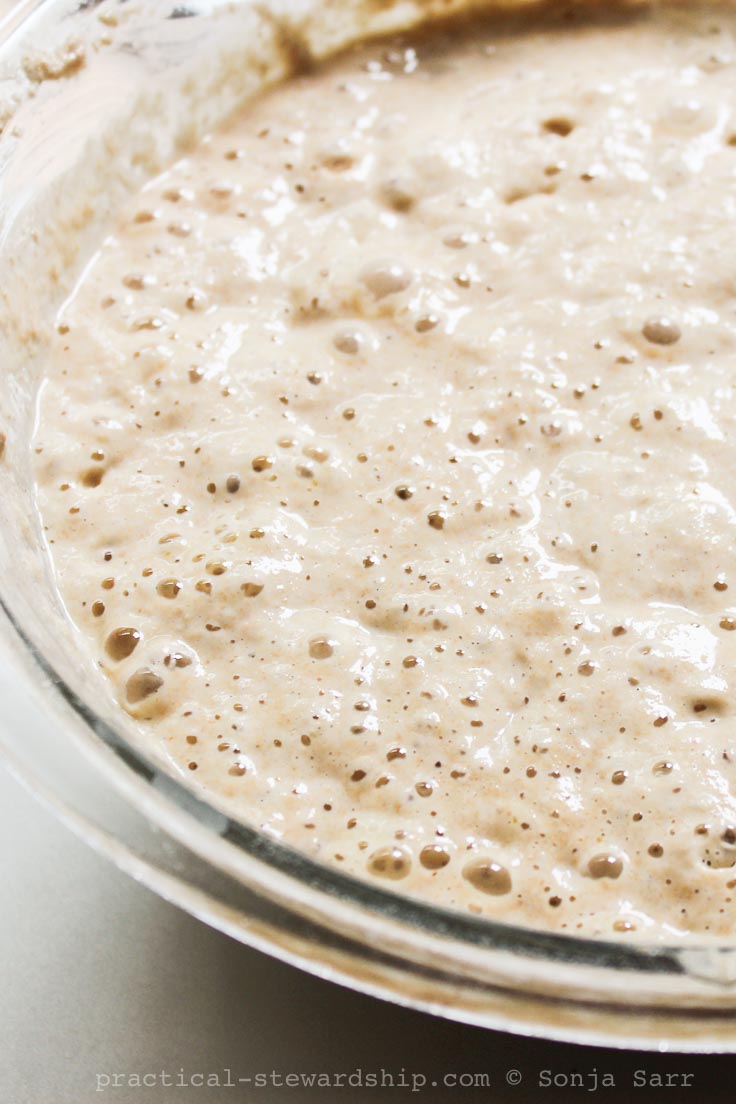 Even though these sourdough pancakes are egg-free and made with whole wheat flour, the pancakes still come out nice and light.  They never feel dense. This summer, sourdough pancakes has become one of our favorite loves!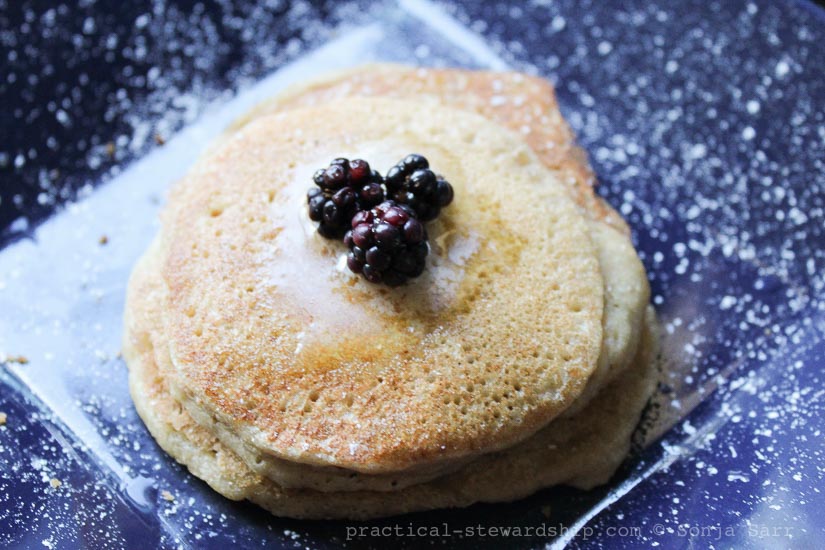 We like topping these pancakes with butter (can use vegan if needed), 3 ingredient raw blender jam, peanut butter, fresh fruit like blackberries, strawberries, raspberries, and or real maple syrup.
This recipe is adapted from Food of Our Lives to be dairy-free and egg-free.
Sourdough Pancakes
Yield 30 medium size pancakes
Ingredients
1/2 cup sourdough starter (just flour and water-go here to read about how to make a start)
1 1/4 cups filtered water (plus an additional 1/2 cup water later)
2½ cups whole wheat flour (your choice, I use spelt or hard red wheat)
1 cup almond milk (or milk of choice)
2 T organic sugar (I use evaporated cane juice)
2 T coconut or olive oil
1 t baking soda
1 t salt
Instructions
Mix together sourdough start, 1 1/4 cups of filtered water, flour, and milk in a non-metalic bowl until it is just combined.
Cover with a towel or plastic wrap, and leave on the counter overnight.
In the morning mix together the additional 1/2 cup of water, sugar, oil, baking soda, and salt in a different bowl (it doesn't matter if this bowl is non-metallic).
Add the sugar water mixture to the sourdough start bowl, and mix until combined. If the dough is too thick, add almond milk or water by the tablespoon until you reach a desired pourable consistency.
Heat griddle with oil, and pour a shy 1/3 cup of batter per pancake (or make them your desired size)
Cook until you see bubbles, and then flip to cook the second side.
The second side cooks faster than the first, so check the bottom of the pancake frequently until the pancake is golden brown.
Go here for the complete list of recipes.
Want other sourdough inspiration?