Crock-pot Bacon-Wrapped Hot Dogs are a special treat all of your meat-eating friends will be sure to love! Isn't anything better wrapped with bacon? Plus, this is only three ingredients!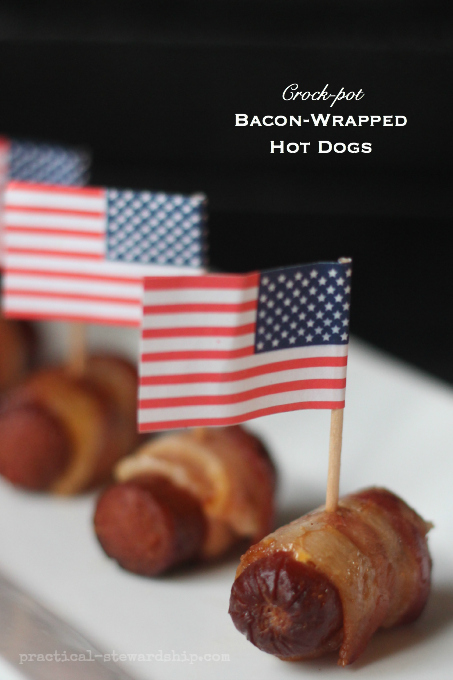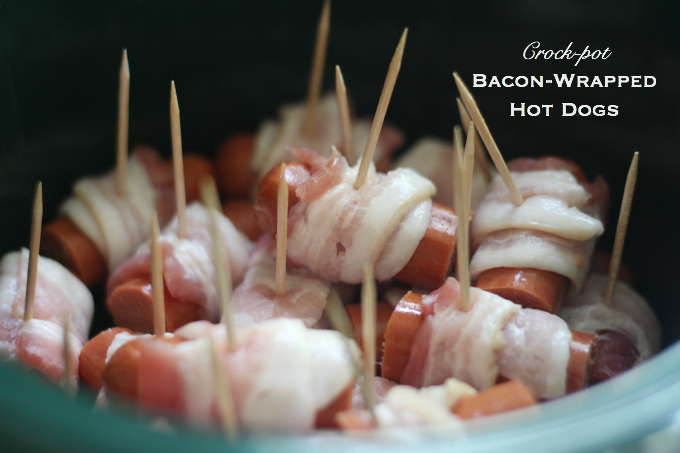 If you want a recipe to make your house smell scrumptious, this is the one! My family LOVES the smell of our house when I make these bacon-wrapped hot dogs. The aroma of the maple marrying the bacon will have everyone clambering for more, more, more!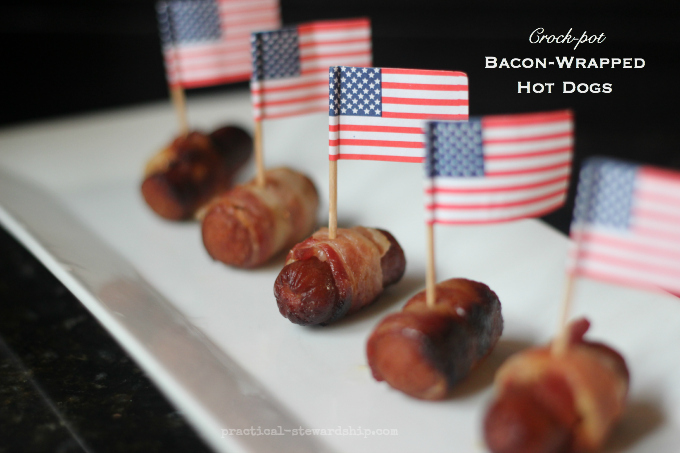 You can also wrap little smokies with the bacon, but I haven't found a healthier brand. That's why I opted for a healthier hot dog. Let me know if you have found a healthier brand of little smokies in the comments.
This is definitely not a recipe I make all the time. Try maybe once a year. It's really is a special treat.
Wrapping the hot dogs doesn't actually take that much time. I cut my standard-sized hot dogs into thirds and wrap about a third of a piece of bacon (stretching the bacon as I go) around each hot dog piece and secured it with a toothpick. If you think about it, make them seam side down, but I don't always think about it, either. Oops! It's just for aesthetics, though. They will have your mouth watering and leave you wanting more even if you cook them with the seam side up. Note: I didn't cook the flag toothpicks in the crock-pot; I just switched the toothpicks out at the end of cooking for a more patriotic flare.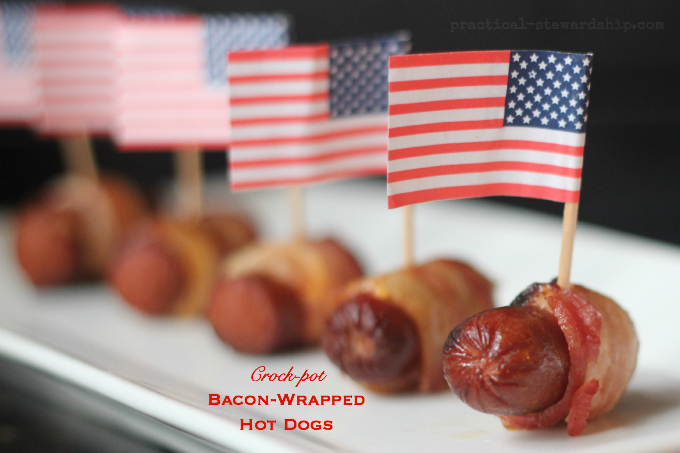 **You may par-cook (partially cook) the bacon alone to crisp it a bit before wrapping it around the hot dog, but you have to let the bacon cool, the bacon won't stretch, and it might crack if you cook it for too long. In the pro-par-cooking category, it does speed up the total cooking time if you are looking for a time saver, and it gives the bacon a crispier texture. You could also bypass the crock-pot and just cook the entire bacon-wrapped hot dogs in a cast iron skillet. If you are transporting them, you could use a crock-pot to keep them warm at a gathering. In these pictures, I cooked some of the bacon-wrapped hot dogs on my cast iron skillet for a few minutes before cooking them in the crock-pot with the toothpicks and everything. If you look closely at the cooked pictures, you can see where some of them are darker on one side. There is flavor in the brown, peoples, flavor in the brown, yes!
Inspired by Moms with Crock-pots.
Crock-pot Bacon-Wrapped Hot dogs
Ingredients
2 packages of standard sized hot dogs (we use the healthiest we can find)
one 12 oz. package of nitrate-free bacon
maple syrup or honey (about 1/4 cup, give or take)
enough water to cover the bottom of the crock-pot
Instructions
Place 2 T of maple syrup and water in the bottom of a 2-4 quart crock-pot, swirling it around to mix.
Cut hot dogs into thirds.
Take a piece of the cut hot dogs and one piece of bacon. Stretch and wrap the bacon around the piece of hot dog, securing it with a toothpick. Cut off the excess bacon. I can wrap about three pieces of hot dogs with one piece of bacon by stretching it.
Repeat with the remaining hot dogs and bacon.
Carefully place the bacon-wrapped hot dogs in the bottom of the crock-pot. You can stack them if needed as I have shown above. Pour desired amount of maple syrup over the top.
Cover and cook on high for 2-3 hours, or on low for 4-5 hours, or until bacon is thoroughly cooked and hot dogs are completely warmed. **For more cooking tips on this recipe, see notes above.
THIS POST MAY CONTAIN AFFILIATE LINKS THAT COST YOU NO MORE MONEY, BUT SUPPORT OUR BLOGGING EFFORTS. THANK YOU!