For a slightly different twist on a classic, here is a Crock-pot Coconut Chicken Curry.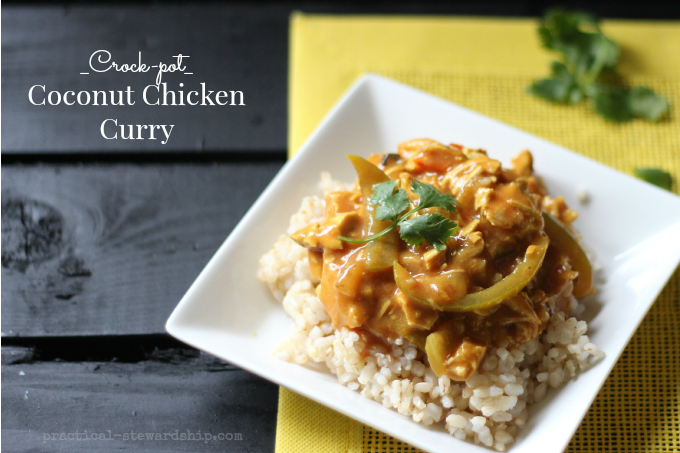 My husband loves chicken curry and EVERY. SINGLE. TIME. we go out for Thai, he always orders the yellow chicken curry. Being the intuitive wife that I am  I desire, I figured after years of his Thai ritual I would have to try to make some on my own.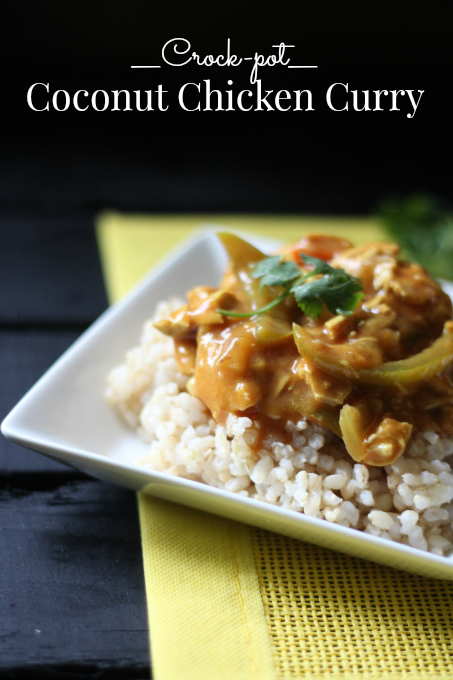 There's no good reason to not recreate take out meals at home (unless you want it for the sheer convenience-okay maybe you want a break from cleanup once in awhile. I understand. I understand). Homemade "take out" is way cheaper, the ingredients are better, and the food is tastier (hopefully:).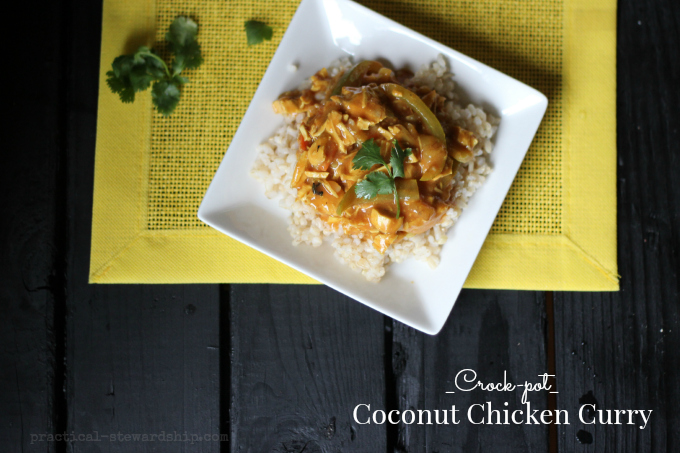 This Coconut Chicken Curry can totally be made on the stove top. But since I love my crock-pot and love being able to prepare dinner hours ahead of time, I made a Crock-pot Coconut Chicken Curry.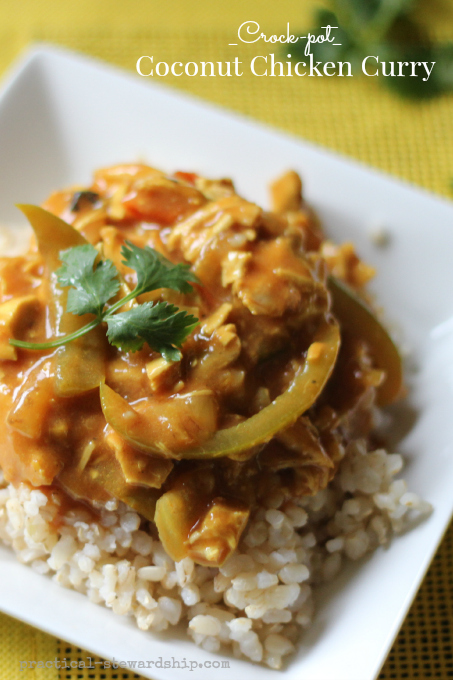 The last time we made this, I wanted to test out my new Veggetti Spiral Vegetable Cutter that I had been eyeing for months and finally broke down and bought at a local kitchen store (it's cheaper on Amazon, by the way). So we served it on a bed of zucchini noodles or "zoodles". It made the dish totally gluten-free, and I couldn't believe how much the texture was the same as real "pasta". Plus, the kids gobbled it up and asked for more! Crazy! Just make sure you watch your fingers when you get to the end of the zucchini! Totally worth the money!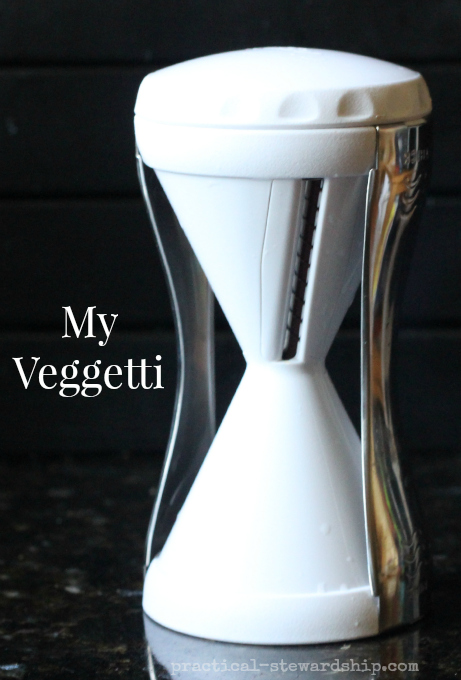 Here is Abbie with a zoodle that's over 4 feet long. I think that's blackberry juice on her nose…and cheek. Like her new glasses?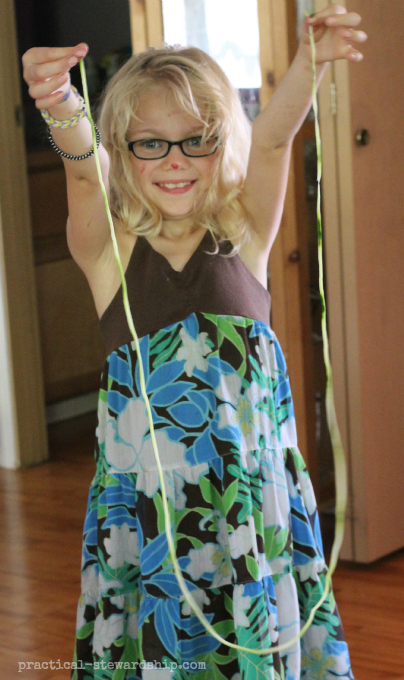 Adapted from Sweet Treats and More.
Coconut Chicken Curry
Ingredients
2 lbs. boneless skinless chicken breasts or chicken thighs, cut into cubes
3 large carrots, peeled and diced
1 medium onion, peeled and chopped
5 garlic cloves, minced
1 (14 oz) can coconut milk
1 (5 oz) can tomato paste
1 1/2 t salt
1 T curry powder
1 t tumeric
1 t fresh ginger, grated
1 large bell pepper, seeded and chopped
2 T water
1 1/2 T cornstarch
1 t crushed red pepper flakes
optional, cilantro, to garnish
Instructions
Optional, sauté carrots, and onions in 2 T of grape seed or olive oil on medium heat for 5 minutes. Turn off skillet, and add garlic. Stir and let sit there for about 3 minutes.
In the crock-pot stir together the coconut milk, tomato paste, carrots, onions, garlic, salt, curry powder, turmeric, and ginger.
Stir cubed chicken breast into the crock-pot.
Cover and cook on high for about 3 hours or on low for 6-8 hours, or until the chicken is fully cooked.
In a small bowl whisk water and corn starch together, and then stir them into the crock-pot. Add bell pepper, and cook for an additional 15 minutes.
Garnish with fresh cilantro and red pepper flakes, and serve on a bed of rice or noodles.
For more slow cooker inspiration, check out my Cookin' with the Crock-pot Board on Pinterest.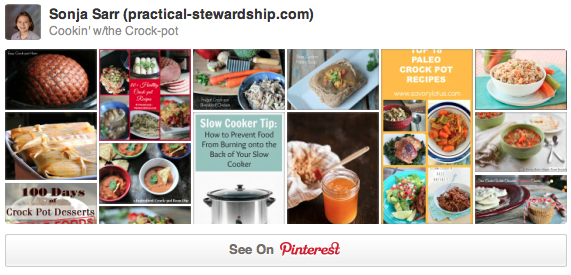 Have you ever made rice in the crock-pot?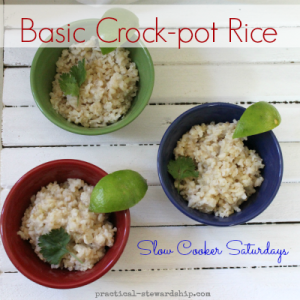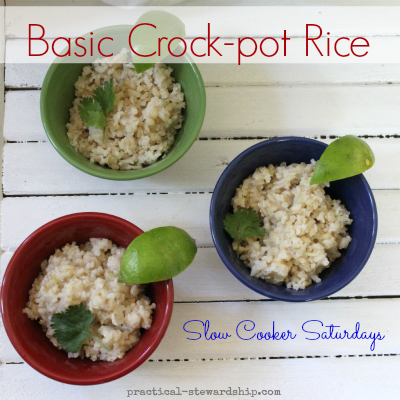 Or ever tried Crock-pot Thai Peanut Chicken?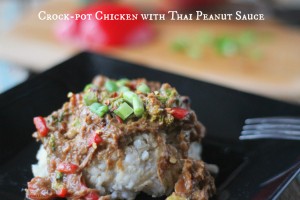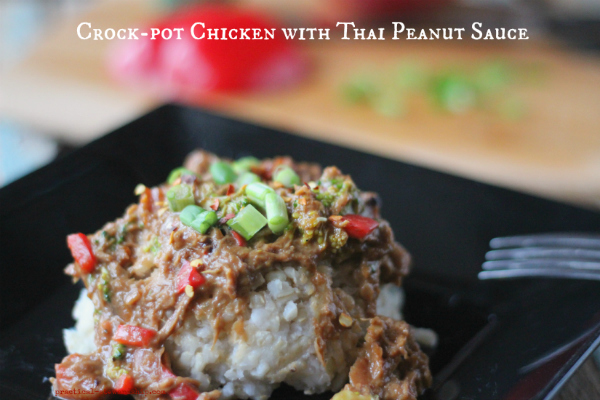 THIS POST MAY CONTAIN AFFILIATE LINKS THAT COST YOU NO MORE MONEY, BUT SUPPORT OUR BLOGGING EFFORTS. THANK YOU!