I was first introduce to Thai peanut sauce from my Great Aunt Fran.  I've talked about Aunt Fran before here on the blog.  She introduced me to Spanakopita, and guided me through some of my first sewing projects, making potholders and pillowcases.  She has shared multiple perennials with me, helping me populate my backyard hill with hardy plants.  I have learned so much from her in so many areas of life, and I am grateful to be able to call her family.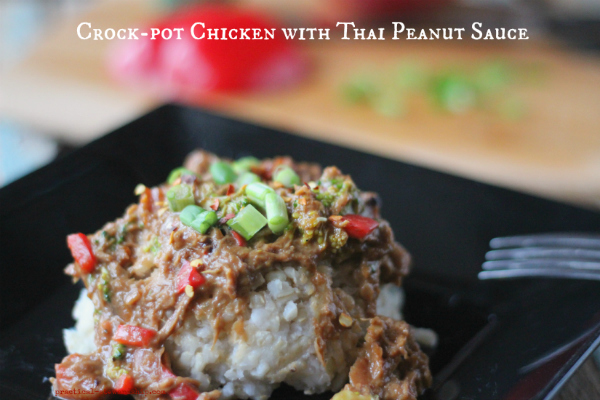 Aunt Fran served this dish to us when we were visiting one day.  It was the first time I had eaten any kind of homemade Thai-inspired food.  We never have the same main dish when we visit Aunt Fran.  She has a lot of tricks up her sleeves.  Anyway, this Thai peanut sauce only has 6 ingredients.  I love recipes with minimal ingredients because they seem accessible.  I am much more willing to dive into a new recipe if I am I not burdened by the thought of digging out multiple ingredients.  This is partially why I have been reorganizing my kitchen so what I need to use is more accessible.

The Verdict: We've been enjoying this recipe for years! We had this recipe in our informal meal rotation for over five years. You can make it on the stove top, too, by cooking up the vegetables in oil, and then the chicken, coating the dish with the peanut sauce. Cook until the peanut sauce comes to a boil.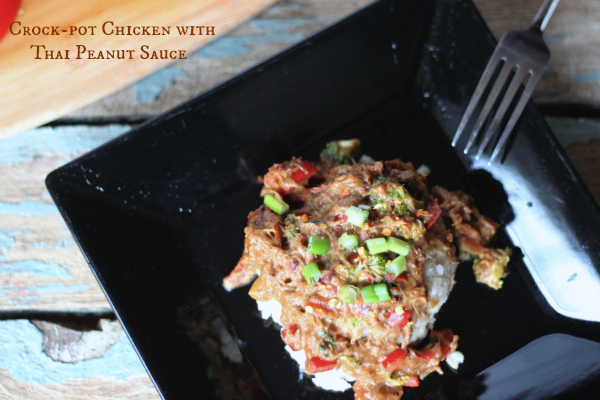 This particular time I made it, I bought bone-in thighs and left the bones in the crock-pot for more flavor.  I do prefer to buy chicken with bones as the bones add more flavor and then you can use them to freeze and make a "free" bone broth with your scraps.
This recipe is adapted for the crock-pot from my Great Aunt Fran. **Pictures updated 2/14.
Crock-pot Chicken or Veggies with Vegan Thai Peanut Sauce

Ingredients

1 onion, minced
1-2 T olive oil
1 lb. of free-range chicken if possible (I use thighs, but many like breasts), cubed (If you are making this vegan or vegetarian, substitute the chicken with a pound of your favorite stir fry vegetables)
2 carrots, chopped
VEGAN THAI PEANUT SAUCE
1/2 cup natural peanut butter (can use chunky peanut butter)
1/2 cup soy sauce or liquid amminos
1/2 cup water or broth-use vegetable broth for vegan
2-5 garlic cloves, minced
1 inch of fresh ginger, peeled & grated
1/4 t red pepper flakes, or to taste
ADDITIONAL VEGETABLES
2 cups broccoli, chopped
1 bell pepper, chopped
3 green onions, chopped

Instructions

Optional, sauté onions in 1-2 T olive oil until translucent.
In a medium mixing bowl combine the 6 peanut sauce ingredients, and stir until combined. Don't worry if the sauce has separated a bit. It will melt and come together in the crock-pot.
Place onion, cubed chicken (or vegetable substitute), and carrots in the crock-pot.
Coat the chicken mixture with the peanut sauce.
Cover, and cook on high for 3-4 hours, or on low for 5-6 hours, or until the chicken is thoroughly cooked.
In the last 20-30 minutes of cooking, add the additional vegetables. You can wait to add the green onion if desired and use it to garnish the dish when serving.
Serve with rice (I cook my rice in the crock-pot) or on a bed of your favorite 100% whole grain or gluten free noodles.
Go here for the complete list of recipes.
Have you tried Crock-pot Sweet & Sour Chicken?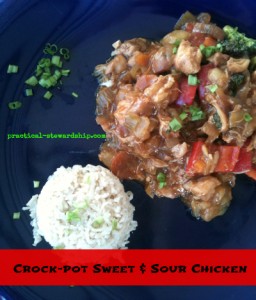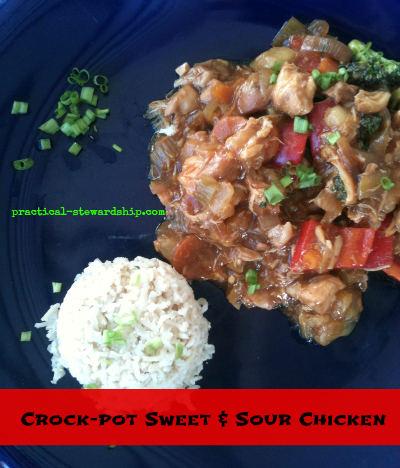 Or how about Crock-pot Orange Ginger Chicken?