Crock-Pot Cooking and Cleaning Tips and Tricks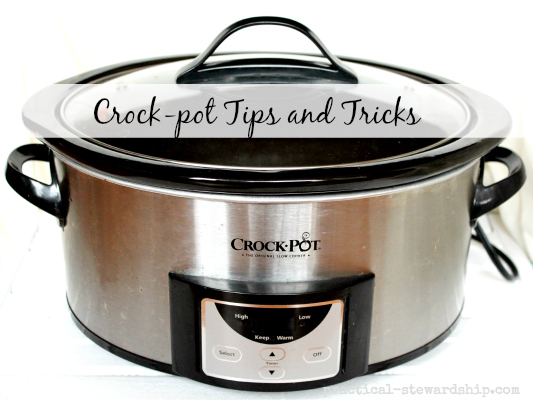 I have been posting Slow Cooker recipes here for over two years now.  Here are a few Crock-Pot Cooking and Cleaning Tips and Tricks that I thought might be interesting to some of you who are new to the crock-pot or to those of you who feel fluent in crock-pot.
Back in 1999 I got my first crock-pot as a wedding gift; actually I got two crock-pots, and we kept them both.  I am glad we didn't just give one away since we didn't know what in the world we were doing back then (and I am not saying we have it altogether today, but I do know that I believe in owning multiple crock-pots now).  The crock-pots were from two different people and in two different sizes, yet they were matching.  I have been crock-pot cooking fourteen years.  My 2 quart still works, but my other larger crock-pot of an unknown size broke years ago.  I have since replaced it, and we have been a 2 crock-pot family most of our marriage, until the last 2 years where we went from 2 crock-pots to 6 crock-pots. 
Here are my Crock-Pot Cooking and Cleaning Tips and Tricks. I plan on adding to this list as you give me ideas of things I may have left out or as ideas come to me.  Here we go.
When making crock-pot breads, overnight oatmeal, casseroles and the like, grease the crock-pot VERY well.  I use organic olive oil or organic coconut oil.  This will help in the clean up process immensely.
When cooking the crock-pot should be filled at least half way, but no more than 3/4 of the way full.  This will help to ensure even cooking.
If you are making a soup or anything that calls for onions and garlic cloves, the flavor is much more robust if you sauté them first (this is best in a cast iron skillet) before adding them to the crock-pot, although this adds a step.
It's best when using fresh herbs to place them in the slow cooker at the beginning of cooking since they tend to hold their flavor.
When using dried herbs it is best to place them in the slow cooker during the last hour of cooking since they tend to lose their flavor over the slow cooking process.
Carrots and potatoes take the longest in the crock-pot to soften so cut them small, and ALWAYS put them in at the beginning of cooking.
Milk products tend to separate in the crock-pot, so add them in the last hour of cooking.
If you find that your sauce is too thin, cook your dish on high with the lid off for approximately 30 minutes to thicken it up.
Pasta can become very mushy if it is placed in the crock-pot too soon.  So either slightly under cook pasta on the stove top and add it to the crock-pot in the last 10-20 minutes of cooking, or place dried pasta in the crock-pot in the last 30-60 minutes of cooking-checking it after 20 minutes.  The exception to this rule is crock-pot lasagna.  The dry lasagna noodle tend to hold up very well.
Rice is also a good food to cook on the stove-top and add in the crock-pot the last 10-20 minutes of cooking, unless you are using your slow cooker as a rice cooker (which works fabulously).  I often times have two slow cookers going, one with the main dish and one with the rice.  I have had success with crock-pot risotto, though.
Clean your crock-pot as soon as you can.
If the crock-pot is still warm when trying to clean it, don't use cold water! Always use hot water to prevent cracking the stoneware.
If your crock-pot looks like it won't come clean, soak it overnight in at least water.
One of my crock-pots has white stoneware, and to keep my white, white, I sprinkle baking soda on damp stoneware, making a paste.  Depending how stubborn the stain is, I have to leave the paste on for a few minutes or a few hours.  Sometimes I have to repeat this process a few times depending on how grimy the slow cooker is.  Baking soda is a working wonder, if you have never used it to clean before.
You can try using equal parts of vinegar and water to remove the white residue that can build up.
Are there any crock-pot cooking tips or cleaning tricks that I missed?  Anything you can add to this list?
For more slow cooker inspiration, check out my Cookin' with the Crock-pot Board on Pinterest.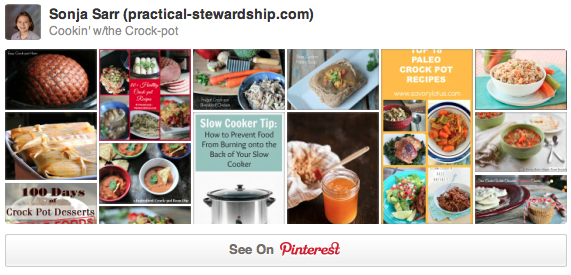 Have you tried any unusual crock-pot recipes?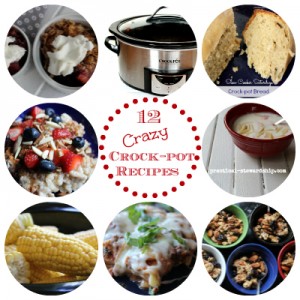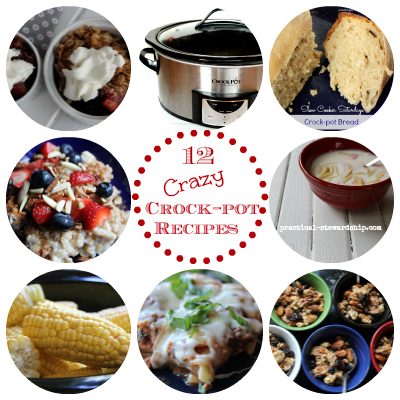 THIS POST MAY CONTAIN AFFILIATE LINKS THAT COST YOU NO MORE MONEY, BUT SUPPORT OUR BLOGGING EFFORTS. THANK YOU!