Turkish Garbanzo Salad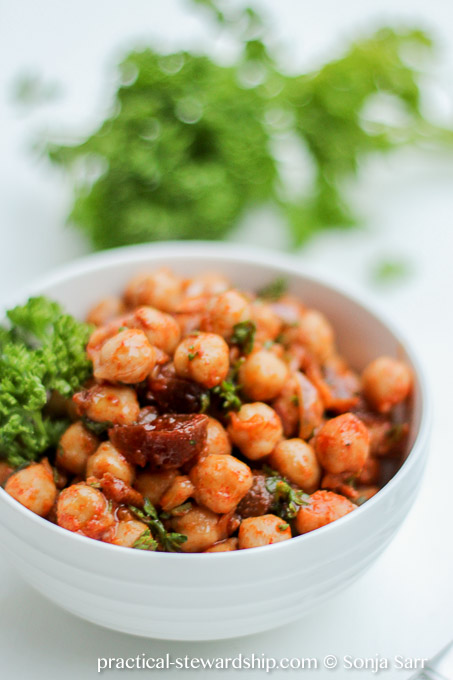 It's light, yet filling. Savory, and sweet. It's fresh, but it can be made ahead. These are just a few of the many reasons we love this salad. This is one of those recipes that doesn't mind sitting all day in the fridge or overnight to meld all those delicious flavors together. With those beans just throw some herbs in here, and some oil and vinegar there. Top with some chopped apricots, and decorate with some fresh parsley…or cilantro.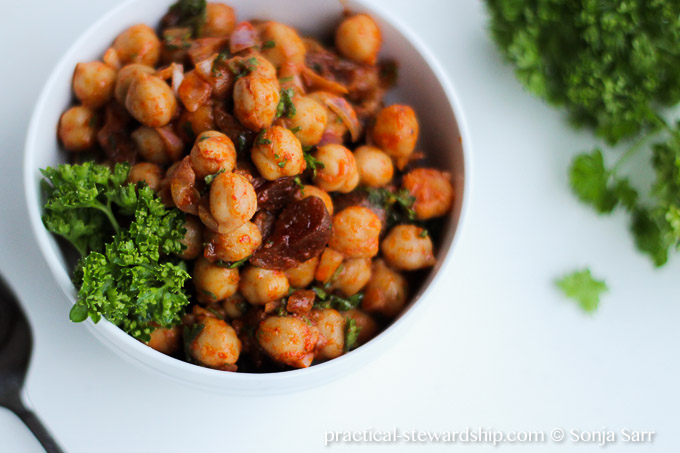 This is a perfect recipe to bring to a potluck as a side or serve it as a main dish. No mayo to worry about. I like to throw in some shredded chicken for some extra protein and stick-to-your-ribs-ness to transform this from a side into a meal.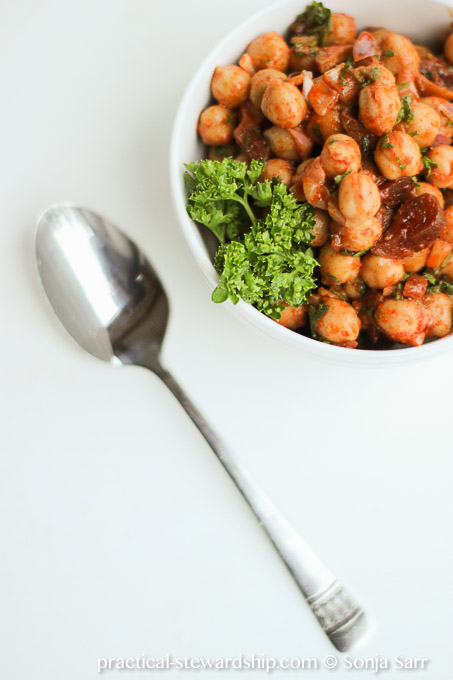 Jonathan was so intrigued by the salad, he asked where I got this recipe. My kids and I had a sample of it at my sister's local co-op when we were visiting her early spring. And they provided the recipe. Score! I ended up tweaking the recipe here and there because that's how I roll. The original recipe calls for parsley, and the first time I made it, I only had cilantro. That was another score! I've used powdered garlic and freshly chopped cloves of garlic…but not at the same time. That MIGHT not be a good idea. I omitted the safflower oil in favor of increasing the olive oil (also because there is no safflower oil in my pantry to be seen). I love olive oil, but not olives, so the family has never seen them in this salad as originally intended. But throw them in. Have an olive party! So many alterations you can make. I bet raisins would be a fabulous substitution for the dried apricots, too.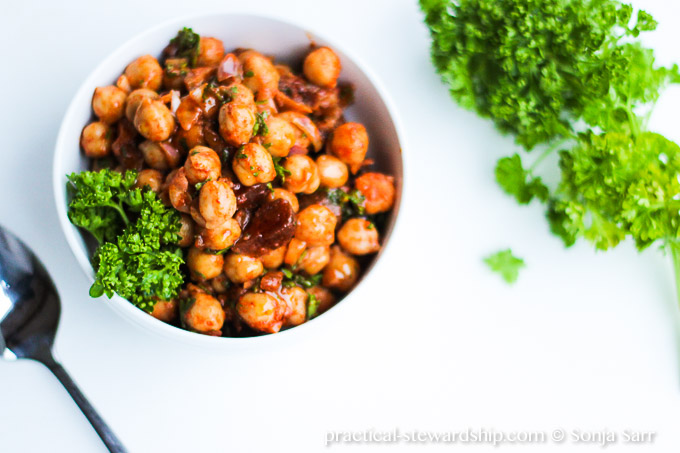 Anyway, so there are some ideas. No major allergens. Gluten-free, vegan, fresh. What's not to love?
Turkish Garbanzo Bean Salad
Yield 3 cups
Ingredients
For the Salad
3 cups cooked garbanzo beans (2 cans)
1/4 cup fresh parsley, chopped (can sub cilantro for a different flavor)
1/4 cup red onion, chopped
1/4 cup dried apricots, chopped
For the Dressing
1/2 cup olive oil
1/4 cup red wine vinegar
1 t Dijon mustard
1/2 tsp garlic minced, or 1/8 tsp garlic powder (or to taste)
1 tsp Italian seasoning
1 tsp paprika
1 tsp salt
1/2 tsp black pepper
dash of tumeric (for its anti-inflammatory properties)
Instructions
In a small bowl combine all sauce ingredients, and mix well.
In a medium bowl combine the salad ingredients, and mix well.
Pour dressing over bean salad, and stir to thoroughly combine.
Serve immediately, or you can make ahead and refrigerate until ready to serve. In fact, it's best this way!
What is your favorite dish to bring to a potluck?
THIS POST MAY CONTAIN AFFILIATE LINKS THAT COST YOU NO MORE MONEY, BUT SUPPORT OUR BLOGGING EFFORTS. THANK YOU! 
SHARING AT WEEKEND POTLUCK AND SOME OF THESE 

GREAT LINK PARTIES

.