Dairy-free Dark Chocolate Brownies, Vegan, Gluten-free Option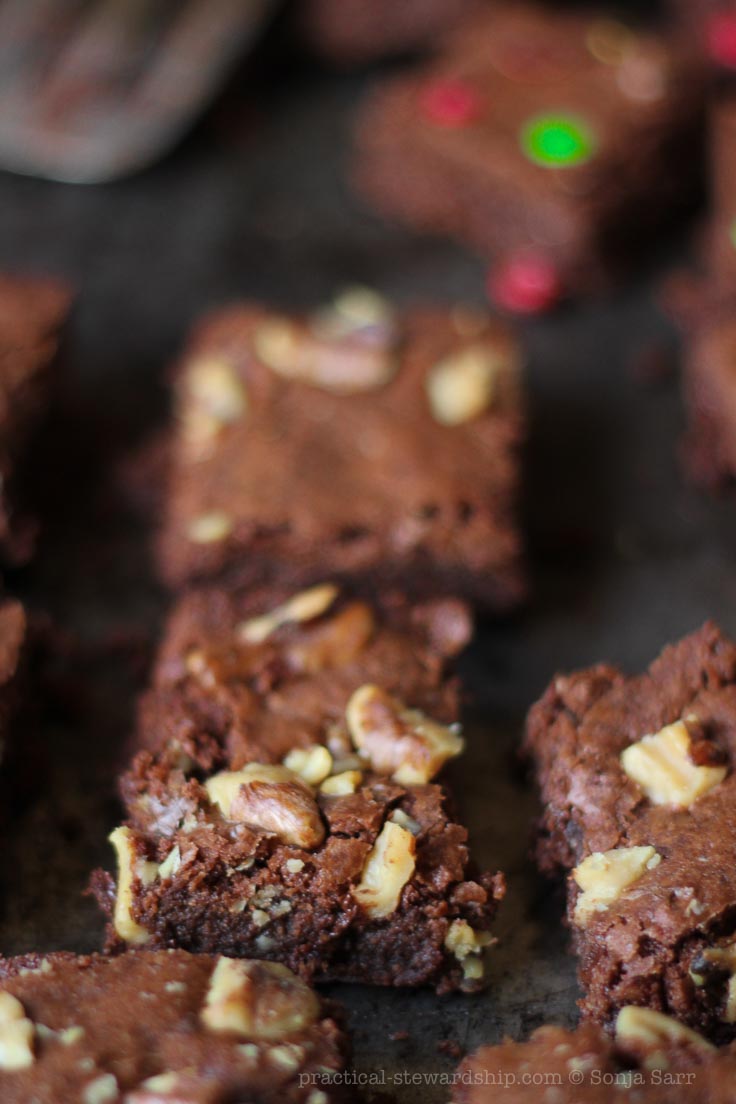 We had some new neighbors over a while ago, and I wanted to make something that my husband wanted. His request: brownies. Since I didn't know how my neighbors would feel about me making brownies out of black beans, and I didn't want them to think I was completely weird (maybe just a little weird), I figure I'd play it safe and go with a Pioneer Woman version of brownies. But Pioneer Woman=LOTS OF SUGAR AND BUTTER. I love watching the Pioneer Woman, don't get me wrong, but it's always over the top.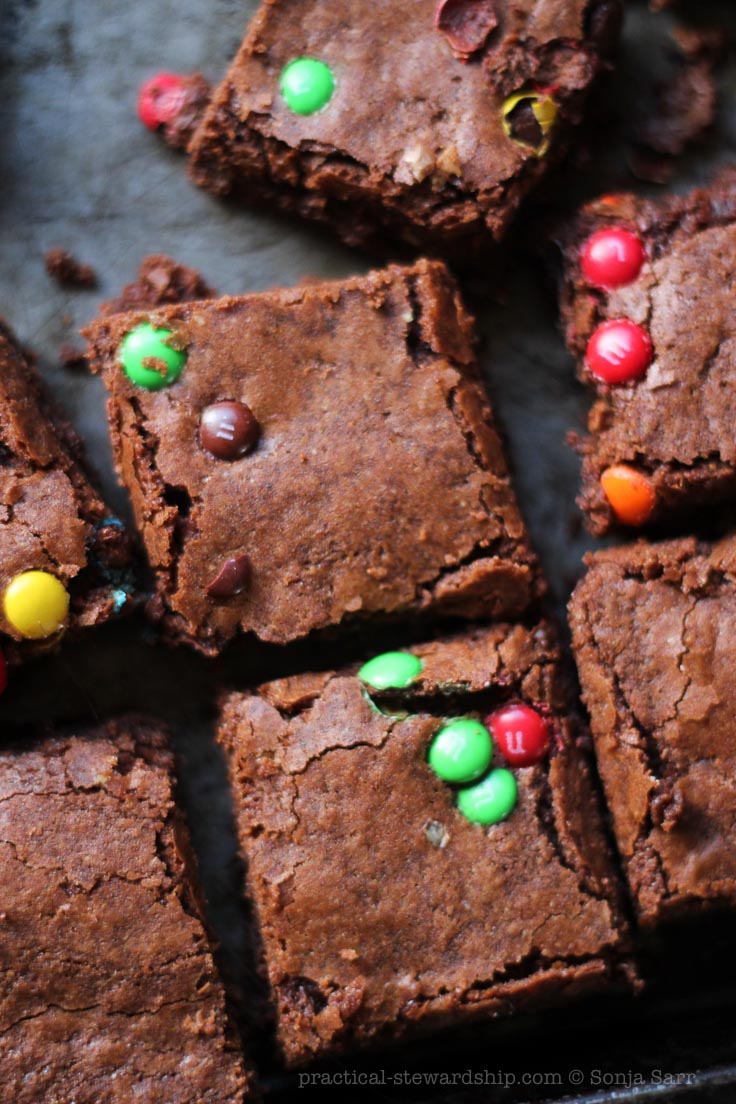 Being the healthifying foodie I am, I did a little tweaking. I usually use white whole wheat flour (and I've also used a gluten-free flour blend with success), substituted the butter for coconut oil (reducing the amount), and REDUCED the 2 CUPS OF SUGAR into 1, simply because the brownies are fabulous without all the granulated sweetness (I incrementally brought it down to 1 cup). Plus, when the amount of sugar outweighs the amount of flour, you know the amount is outrageous. I also used coconut sugar, because that is our healthier sugar of choice-I gotcha. I know it's still a form of sugar though. I have also tried this recipe egg-free using chia-egg substitutes at the same time using the gluten-free flour blend. So you can totally make this gluten-free vegan if needed. Nothing is compromised! Chewy. Moist. Delicious. They don't even need frosting. So, so good.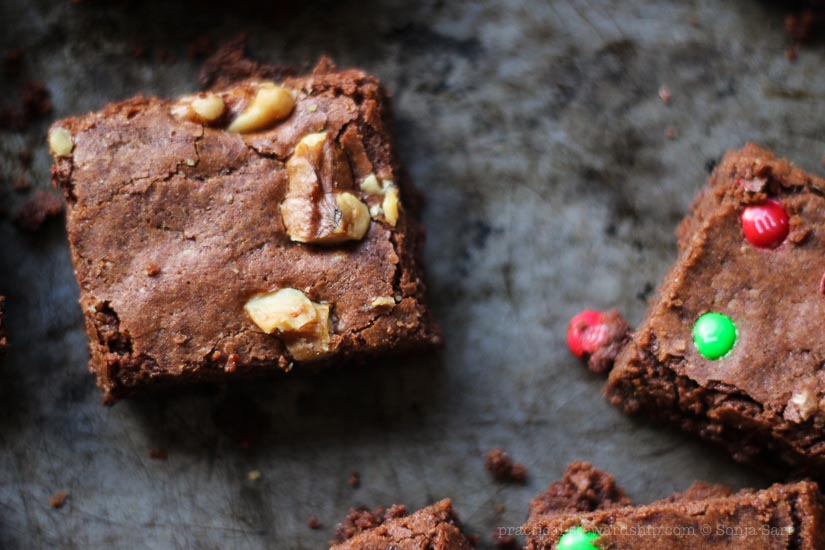 I asked my daughter to decorate this particular batch of brownies with walnuts and m&ms (which aren't dairy-free), so they aren't completely balanced. But it's real life. And real life usually isn't balanced.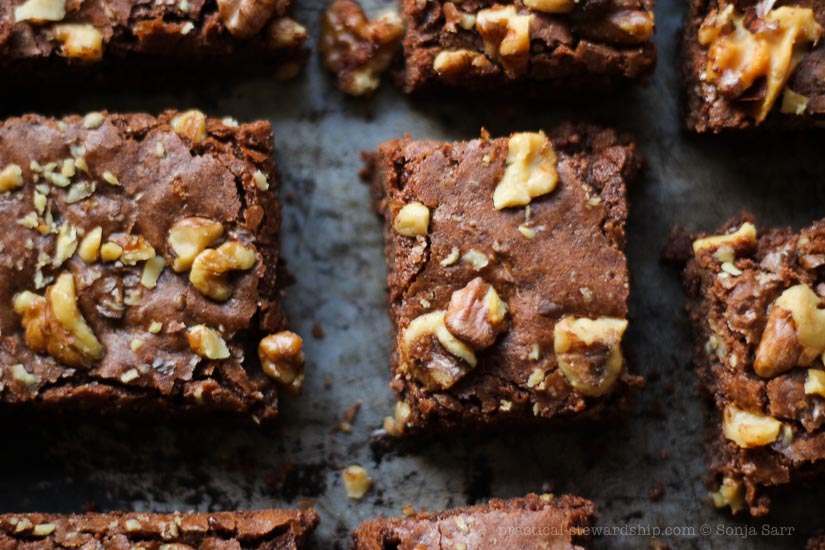 These are actually my first brownies on the blog with flour. Besides black bean brownies, I've also made brownies in the crock-pot with almond butter, and raw chocolate peanut butter brownies sweetened with God's natural sugar, dates. We love brownies around these parts here. Even without dairy they taste like they are full of sweetened condensed milk…but they don't. In fact, my Ellie-girl chose these as her birthday treat this year. I've even memorized the recipe, I've made them so much (which is hard for this aging brain to do these days). Bring on the brownies!
Dark Chocolate Brownies
Ingredients
shy 3/4 cup Coconut Oil (1 Tbs less than 3/4 cup)
5 ounces, weight Unsweetened Chocolate or substitute with 3/4 cup Semi-Sweet/Dark Chocolate Chips
1/4 cup Unsweetened Cocoa Powder
1 cup Coconut Sugar or Granulated Sugar of choice
1 Tablespoon Vanilla
3 Eggs or 3 Chia-Eggs (9 Tbs water mixed with 3 Tbs chia seeds)
1-1/4 cup White Whole Wheat Flour (G-f if needed)
3/4 cups Semi-Sweet Chocolate Chips (make sure they are dairy-free if needed)
optional, top with a sprinkle of nuts or topping of choice
Instructions
Preheat oven to 350 degrees.
In a large microwave safe bowl, melt the coconut oil in microwave, about 1 minute. Stir in 5 ounces unsweetened chocolate until melted. Microwave another 30 seconds and stir again if chocolate is not yet melted. Stir until you get a smooth melted chocolate mixture (alternatively, melt the coconut oil together with the chocolate in a large saucepan over low heat on the stovetop). When mixture is smooth, add cocoa powder and whisk to combine. Remove from heat and set aside to cool for approximately 5 minutes.
After mixture is cooled a bit, stir in sugar and vanilla until just combined And then stir in the eggs or chia-eggs, one at a time.
Next add flour and stir until halfway mixed, add chocolate chips stirring until just combined.
Pour batter into an un-greased 8 x 8 baking pan, sprinkle with nuts if desired, and bake about 40 minutes or until the edges are just browning and a toothpick comes out mostly clean. Brownies may look a little oily at first, but the brownies will absorb the oil.
For other chocolate inspiration…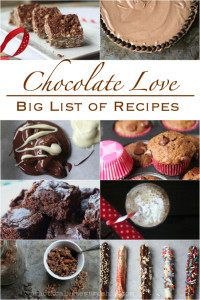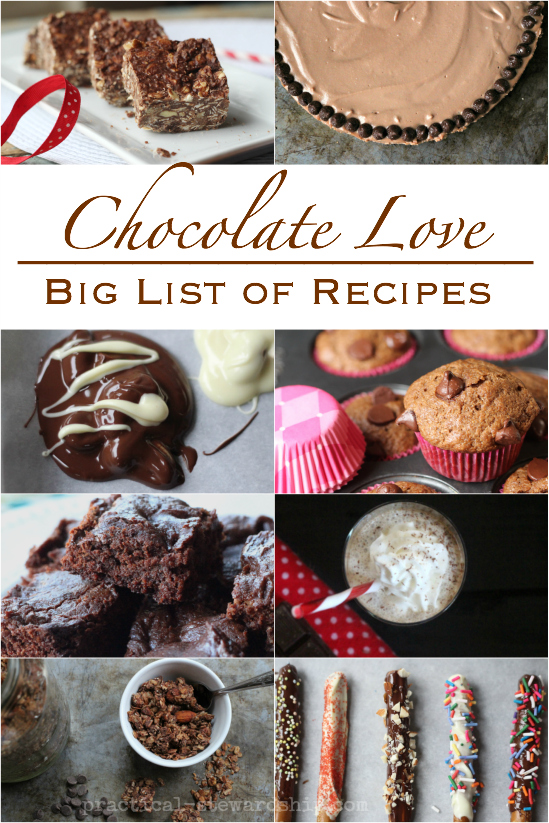 THIS POST MAY CONTAIN AFFILIATE LINKS THAT COST YOU NO MORE MONEY, BUT SUPPORT OUR BLOGGING EFFORTS. THANK YOU!