Reece's Peanut Butter Bars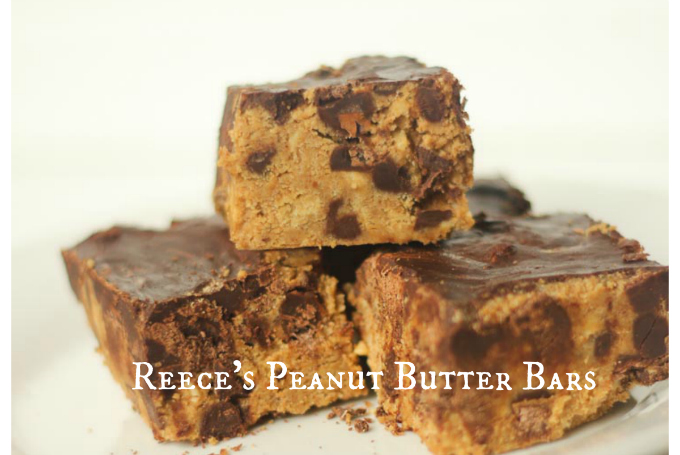 Anyone who knows me, knows that I'm faithful to desserts pretty much daily. And a day without chocolate is almost incomplete in my book. AND my favorite candy bar back in the day was the beloved Reece's Peanut Butter Cup. When I was a teenager I once ate a whole bag of the miniature cups. That thought makes me cringe now…all of that sugar and processed junk.
Anyway, I've made healthier copycat recipes of the Peanut Butter Cup here, and then an easy three ingredient peanut butter cup here. Knowing my love for the perfect marriage of chocolate and peanut butter, it shouldn't have surprised me at all to realize that I've actually shared 8 different chocolate peanut butter recipes here. Well, this past year I've been going through my recipe box and healthifying some oldies that needed a little dairy-free updating for me. This is one of my favorites given to me by a dear friend, Merri, the Reece's Peanut Butter Bars. I had to ditch the butter, and I wanted to reduce the three cups of powdered sugar by a cup. But trust me…these bars will still entertain the taste buds.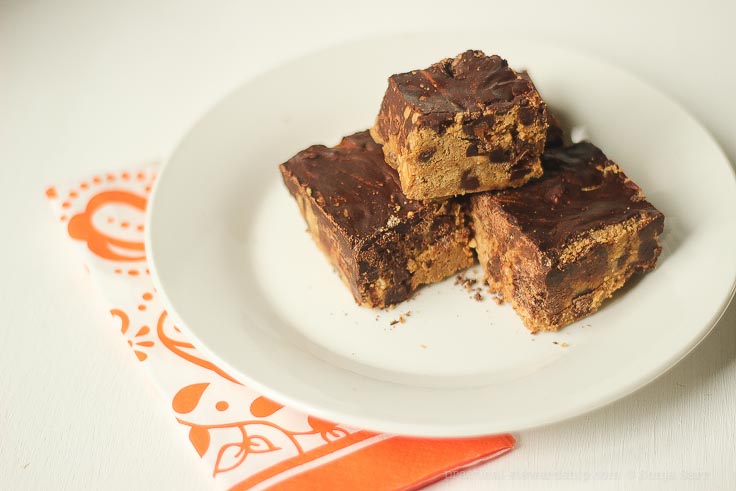 So here is a little variation on a theme. Chocolate and peanut butter come together in perfect harmony made creamy by the coconut oil, and sweetened by the coconut powdered sugar. And then there is the secret ingredient. The secret ingredient augments the one element that the classic peanut butter cup is lacking in my opinion. Crunch. Any guesses to what would elevate these almost-perfect bars into the realm of spectacular… it's the graham cracker. In fact, I don't even finely mash up the crackers. I want big pieces to sink my teeth into. And I love how a few of those chocolate chips descend into the peanut butter adding to the texture.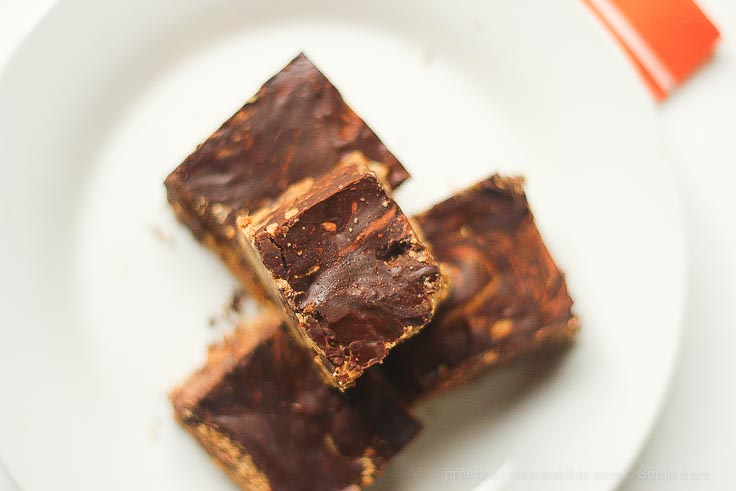 And for those of you who don't have powdered coconut sugar (which isn't really a thing, but I'm now officially making it one), no worries. Either use regular powdered sugar or blend up some coconut sugar until fine. Seriously, it's just that easy. And if you need gluten-free graham crackers
, those are available now, too.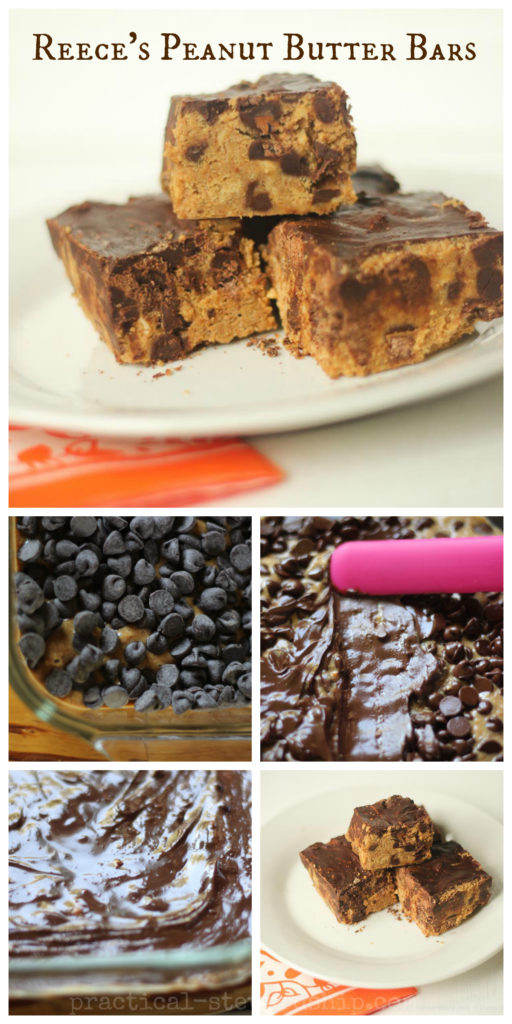 I recently made these for my sister, and she asked for the recipe, so this one is for you, Kim.
Reece's Peanut Butter Bars
Ingredients
2 Cups (1 Envelop) Graham Crackers, smashed (use g-f if needed)
2 Cups Coconut Sugar-blended to make powdered sugar, or use regular powdered sugar
1 Cup Natural Peanut Butter
3/4 Cups Coconut Oil, melted
2 Cups, or less Chocolate Chips (use dairy-free if needed; the darker the chocolate, the healthier)
Instructions
Preheat oven to 250 degrees F.
Combine coconut oil with smashed graham crackers (I like them coarsely smashed), peanut butter, and powdered sugar.
Stir until combined, and place into a 9x13 or 7x11 pan (they will be thicker in a smaller pan).
Sprinkle chocolate chips on top of peanut butter mixture.
Place in oven, and allow chips to melt, about 4 minutes or until chocolate chips are melting and are spreadable.
Spread chocolate, and refrigerate until hardened, about three hours.
Take out of the refrigerator and leave out on a counter for 10 minutes, and then cut into bars.
Store in an airtight container in the refrigerator.
For other Chocolate PB inspiration…
No Bake Chocolate Oatmeal Cookie Bars, D-F, G-F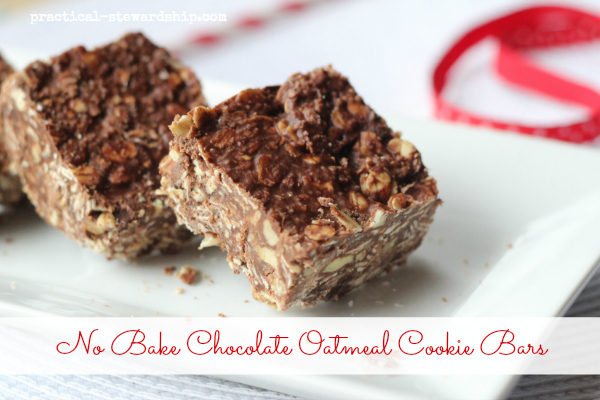 Chocolate Peanut Butter Banana "Ice Cream"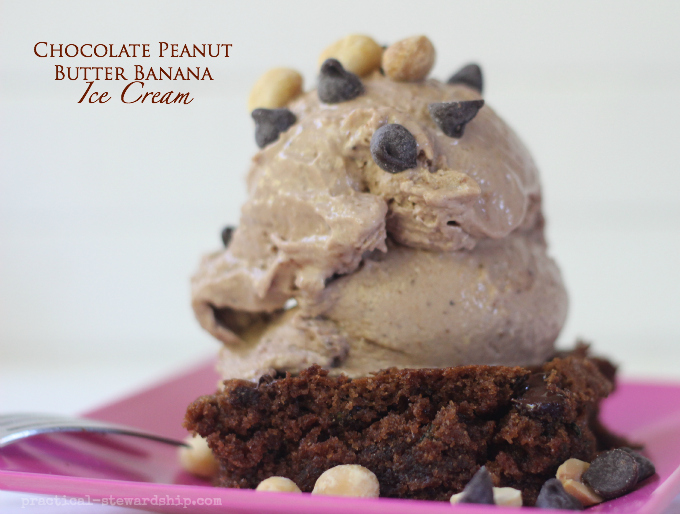 THIS POST MAY CONTAIN AFFILIATE LINKS THAT COST YOU NO MORE MONEY, BUT SUPPORT OUR BLOGGING EFFORTS. THANK YOU!