Dairy-free Chocolate Banana Bread
All year long I keep the house stocked with a couple bunches of bananas. Bananas are the perfect portable snack, not requiring any equipment or electronic storage to eat (as long as they don't get smash:). I don't break the habit of keeping bananas stocked even in the summer when the tendency is for them to turn quickly.  This past summer it seemed like our family couldn't keep up with the bananas, and my OCD made it so we couldn't go with bananas in our house for fear of ending up banana-less some time.  So I had to constantly make banana bread. What a shame, right? I kept asking the kids, "what kind of banana bread should I make?" The unanimous answer on most occasions was "CHOCOLATE!"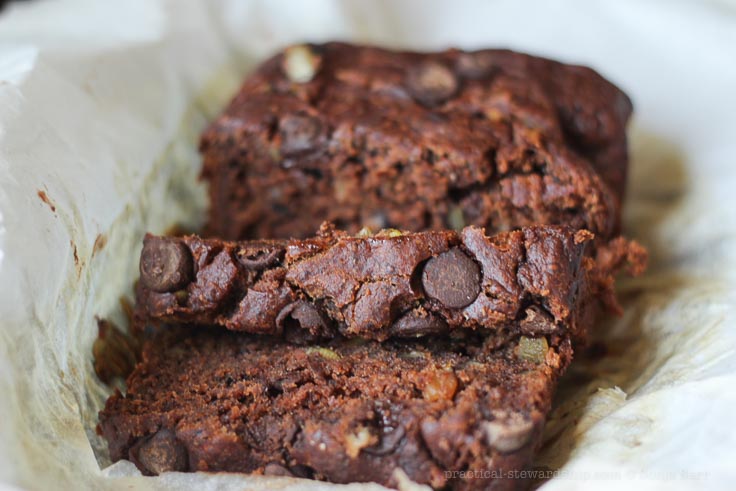 I might have made this every week this summer. I even brought it on our ten day road trip since it's so portable, moist and delicious. I love baking the banana bread on the weekend so I have the bread ready as a quick breakfast for those crazy mornings…or a nice snack midday…or as a healthier dessert. It works swimmingly for all I must say!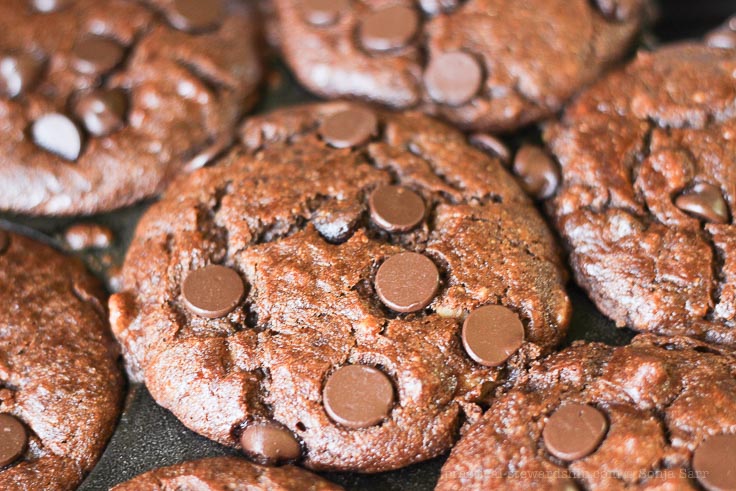 I always make this chocolate banana bread dairy-free, and it easily becomes vegan with chia or flax "eggs". I make it vegan about half the time.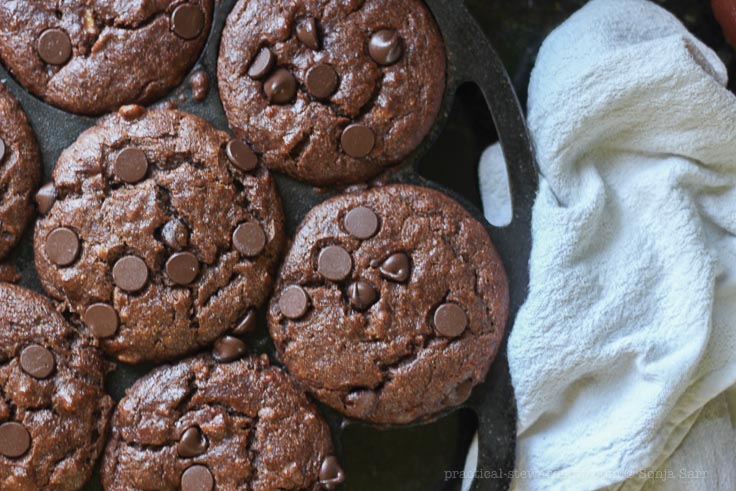 A few Mother's Days ago my husband, after seeing my disgust at the teflon flaking off onto my mini loaves which were supposed to be gifts for the secretaries at my school, my husband bought me this awesome Lodge Cast Iron Skillet Drop Biscuit Pan. I love having the small totable size.
This recipe makes two loaves. If you end up baking in the drop biscuit pan, baking time decreases to 40 minutes. I usually bake one loaf in a loaf pan, and the other simultaneously in this drop biscuit pan.
Dairy-free Chocolate Banana Bread
Yield 2 9x5 Loaves
Ingredients
3/4 cup Coconut Oil, softened

1 1/4 cups Coconut Sugar, or granulated sugar of choice

3 cups ripe Bananas, mashed (about 7 medium Bananas)

2 Eggs, or 2 "Chia"-Eggs (2 Tablespoons chia seed mixed with 6 Tablespoons of water, sitting for a few minutes until chia seeds are gel-like)

1 teaspoon Pure Vanilla Extract

2  cups White Whole Wheat Flour (I use Trader Joe's Brand)

1/2 cup cocoa powder

1 1/2 teaspoon Baking Soda

1/2 teaspoon Salt

2 Teaspoons Ground Flax Seed

1 cup Walnuts, chopped
Instructions
Preheat oven to 325 degrees.

Cream together coconut oil and sugar. Then add in the bananas, eggs, and vanilla, and stir until combined.

In a medium bowl combine the flour, cocoa powder, baking soda, and salt well.

Add dry ingredients to the wet ingredients, and stir until combined.

Mix in the flax seed, and walnuts, and stir until combined.

Pour into two ungreased 9 x 5 inch loaf pans (the coconut oil naturally greases the pans).

Bake both loaves on the center rack for approximately 60-70 minutes, or until a toothpick inserted into the middle of the loaves come out clean.

Cool. slice, and enjoy!
Courses Breakfast, Snack, Dessert