Sourdough bread is amazing to work with.  It is very versatile, and the basic sourdough dough can be used to be crafted into sourdough cinnamon rolls, pizza crust, waffles, rolls, and more.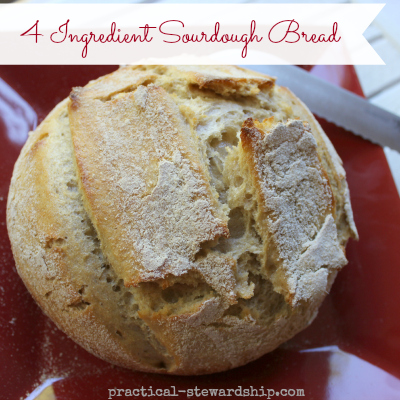 I haven't bought bread for a really long time.  In the last two years or so, I think I've bought one loaf.  We are not anti-bread, but we have gotten along well without it.  JSarr used to take dinner leftovers for lunch, and we eat things like fruit and  yogurt, scrambled eggs, tuna lettuce wraps, quesadillas, and nacho salads for lunch.
Then a couple of months ago I started reading about sourdough, and how good it is for you to eat and is easier to digest.  You can go to Kitchen Stewardship and Living Water Health and Wellness for more information and resources.  Then I read it is only three ingredients (4 if you count the start, but the start is made from two of the basic ingredients).  I had to try!  The sourdough start recipe is inspired by Living Water Health and Wellness.  This sourdough bread recipe is adapted from Cheeseslave.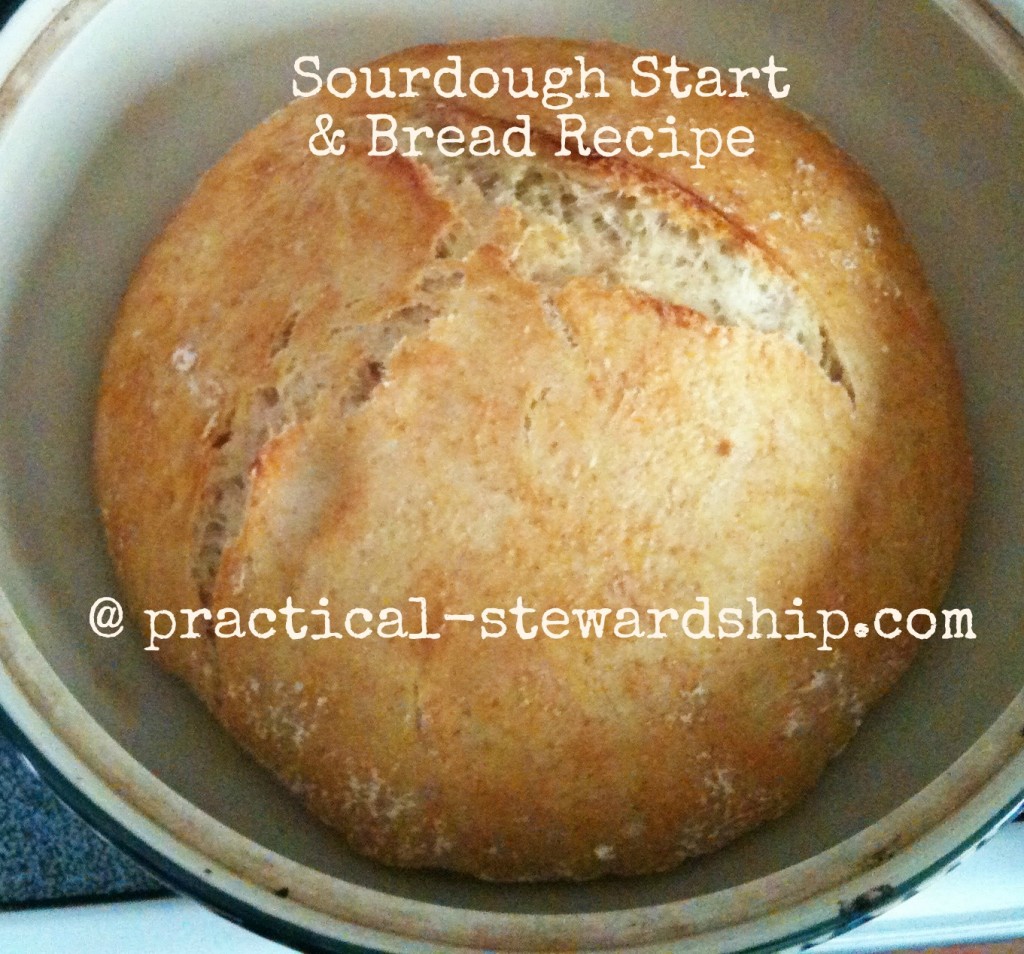 I have read many different instructions about starting sourdough.  Some say to feed it every 8 hours or 12 hours.  My recipe calls for feeding it every 24 hours.  I try to find the most efficient way to do things, so I will be more inclined to repeat the process.  The following has worked for me.  Also, some say to throw away part of the start.  I just don't understand this, as it seems like a waste, and you could at least give it away.  I have NEVER thrown any of it out.
Below the recipes are pictures of what the dough and bread should look like in different stages.
The start separating here below: totally normal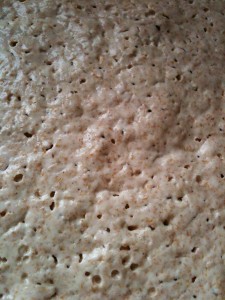 Pictured above is what the bubbles should look like after the dough has been on your counter all night.  The dough is spongy and wet.  The more whole wheat flour you use, the less wet and spongy it will be.  Here is one more picture of the wet sponge overnight.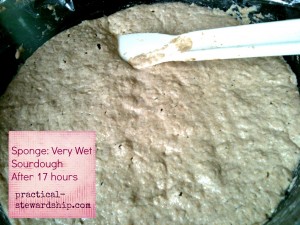 Below, the first picture is a picture of the dough right before turning onto the flour.  The middle picture is taken after the dough has been turned onto a floured surface until the dough is "dry" to the touch.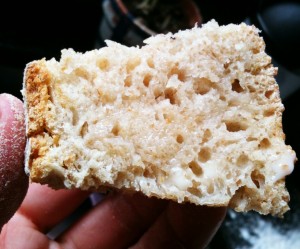 **Update 10/10/12 I made one batch of sourdough bread out of wheat flour the other day and divided it into two equal parts right before the 1 1/2 hour rise.  They rose in their own greased loaf pans, and it made 2 short loaves.  I preheated the oven to 500 degrees with nothing inside and forgot to turn it down.  So I baked the two loaves together uncovered at 500 degrees for 18 or 20 minutes.  Despite the mistake, they were beautiful and tasty as seen below.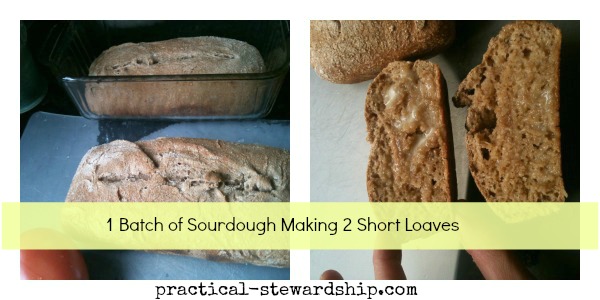 Then today I made 1 loaf out of 1 batch of sourdough bread so the bread would be taller.  It turned out great, too.  I baked it uncovered for 30 minutes at 450 degrees.  I was talking to my friend Merri about what I did, baking the bread so hot the previous day, and she commented that sourdough is forgiving.  She is right!!!**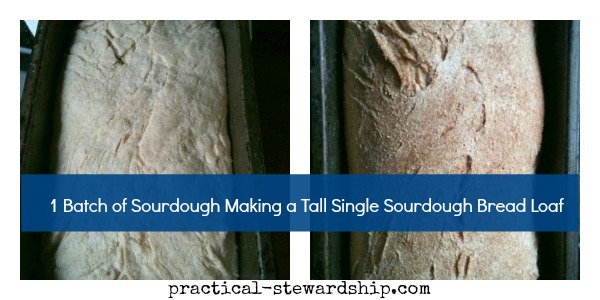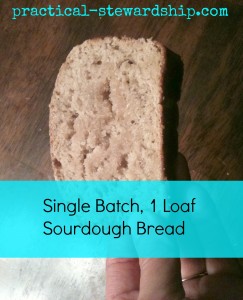 The Verdict: The first time I made this, JSarr said, "this is the most impressive thing you've ever made."  It seems like something you would buy in the store and it's SOOOO easy.  Its just takes some pre-thought.  We love this and eat this ALL of the TIME!!
Update 1/7/13**  I did the cost breakdown and figured it costs about $0.61/loaf to make for the ingredients.  You can go here to see the actual cost breakdown.
Want another idea to make with your start?
How about Sourdough Doughnuts?
Try making sourdough pizza crust, calzones, or breadsticks with the same recipe.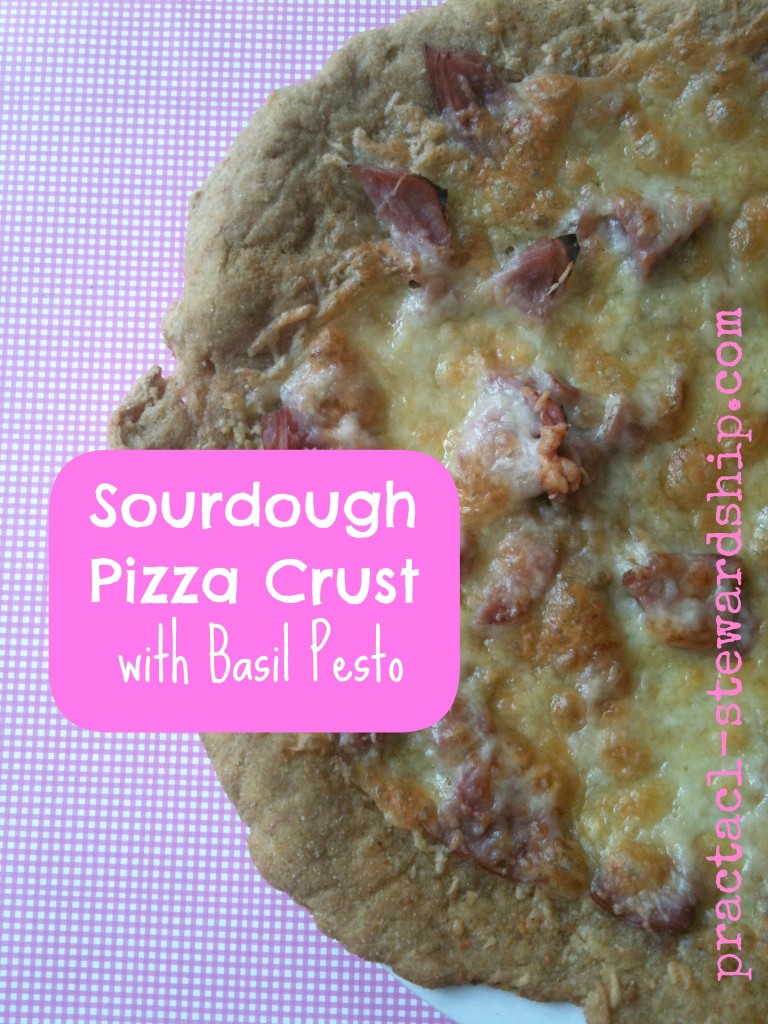 Or want to try making the sourdough bread in the crock-pot?  Go here to see how…

How about Crock-pot Sourdough Caprese Pizza?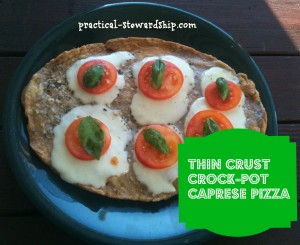 Go here for the complete list of recipes.
We would love to hear from you!  Feel free to comment.  Get free e-mail updates by subscribing here.  Follow us on Facebook and Twitter. "Moreover, it is required of stewards that they be found faithful" (1 Corinthians 4:2 ESV). Thanks for visiting!
Sonja