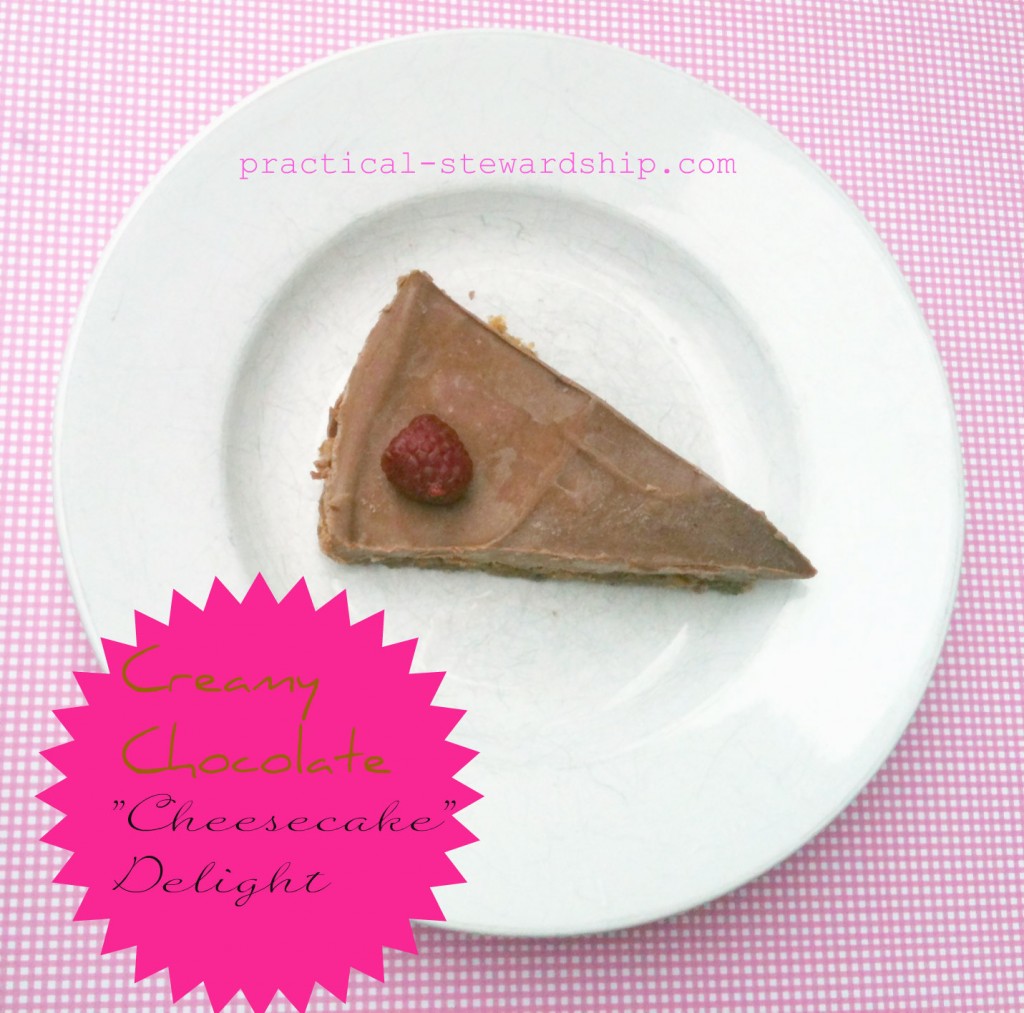 This recipe is very similar to the Raw Berry Creamy "Cheesecake" Delight that I make.  One day I was just thinking that I wanted to come up with a chocolate version.  Ooo chocolate!  I want to say, who doesn't love chocolate? I can actually think of one crazy person who doesn't, though.  Anyway, it was near Father's Day and my piano students' recital, and I wanted to make some good healthy food for all these people.  My dad LOVES pecans and all nuts (I am sure he is the reason I am a nut for nuts), so I wanted to make the crust with pecans.
We are not lactose-free, gluten-free or vegan, but so many of the recipes are so nutrient dense.  Creating food this way is such a great way to get vitamin-packed food without compromising flavor.  If you need a lactose-free, gluten-free or vegan recipe for company, this is a great recipe to make!!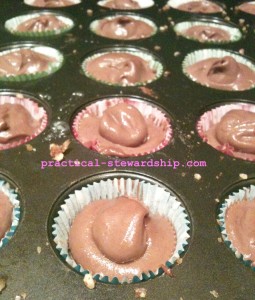 Amazing Chocolate "Cheesecake" Lactose & Gluten Free
Ingredients
The Crust Ingredients

:
1/2 cup raw pecans (other nuts will work)
1/2 cup dates (soaked in water for 2 hours will make them easier to work with, but not necessary)

The Filling Ingredients

:
1 ½ cups raw cashews, soaked in water for at least 2 hours
juice of 2 lemons (4-5 T)
1 t vanilla extract
1/3 cup coconut oil, melted
1/3 cup honey, warmed (agave for vegan)
1/4 cup cocoa powder
1/4 cup water
Instructions
Process the pecans and dates. The longer they process, the finer the crust, so it's up to you. Add more dates if the pecans and dates don't stick together.
Fill a pie plate or muffin liners with your crust, and press it down well. I use a bottom of a glass to smash the crust into the pie plate and my fingers to press it into the muffins liners.
Melt the coconut oil (30-60 seconds in the microwave).
Put all filling ingredients in a high powered blender, and blend until smooth and creamy. If the filling is too thick, add more water tablespoon by tablespoon to thin if desired.
Pour filling mixture into the pie crust(s-if you are making mini "cheesecakes").
Smooth out the filling. I used a spatula.
Freeze to solidify, take out of the freezer about 15 minutes before serving, and enjoy!
Keep refrigerated 3-4 days or in the freezer for up to a month.
http://practical-stewardship.com/2012/06/27/amazing-chocolate-cheesecake-lactose-gluten-free/
Honestly, making the mini "cheesecakes" take a lot more time because you have to individually press the crust into these small cupcake liners, but I really like sharing them this way because they are so portable.
The Verdict: We love the Berry "Cheesecake", but we ADORE the Chocolate "Cheesecake".  It's so creamy and smooth.
Go here for the complete list of smoothies and the complete list of recipes.
We would love to hear from you!  Feel free to comment.  Get free e-mail updates by subscribing here.  Follow us on Facebook and Twitter. "Moreover, it is required of stewards that they be found faithful" (1 Corinthians 4:2 ESV). Thanks for visiting!
Sonja
Need a lactose-free Alfredo sauce recipe?