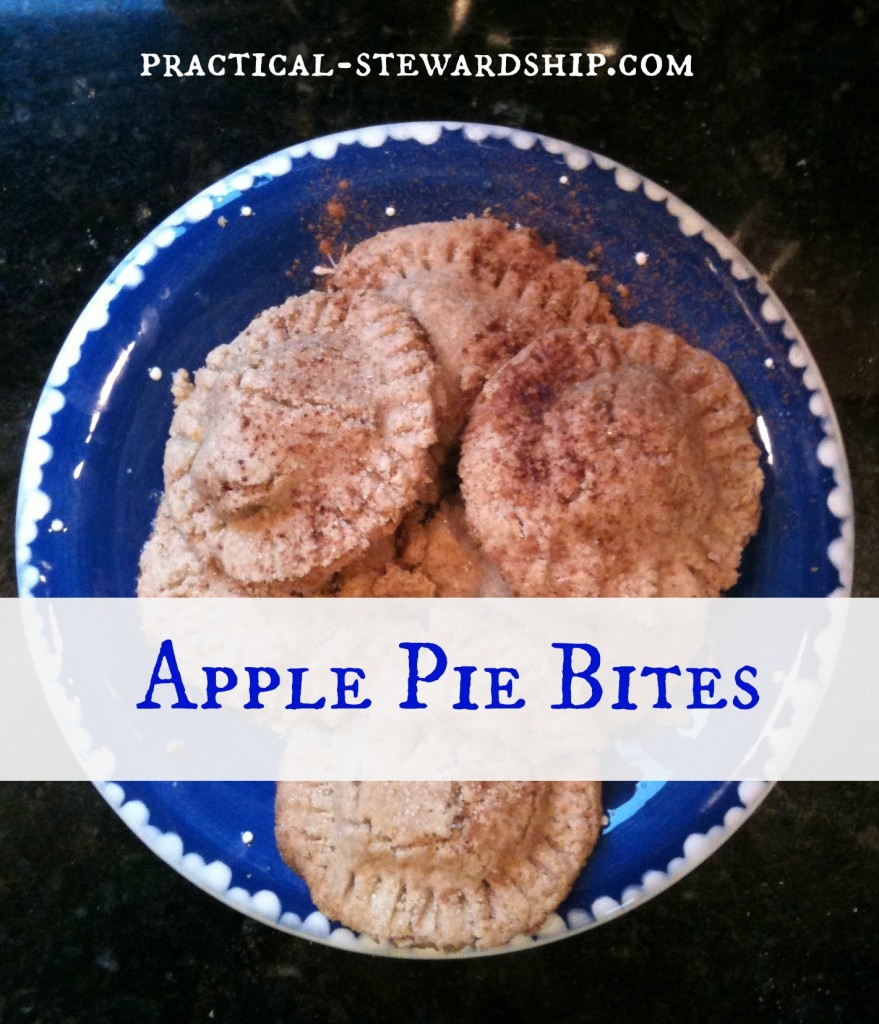 A few months ago I was thinking it would be great to make a portable apple pie.  As I was making them they totally brought me back to my childhood, reminding me of the Hostess pies and store brand pies we used to eat twenty or thirty years ago (this makes me sound so old:).  Sugary sweet; too sweet.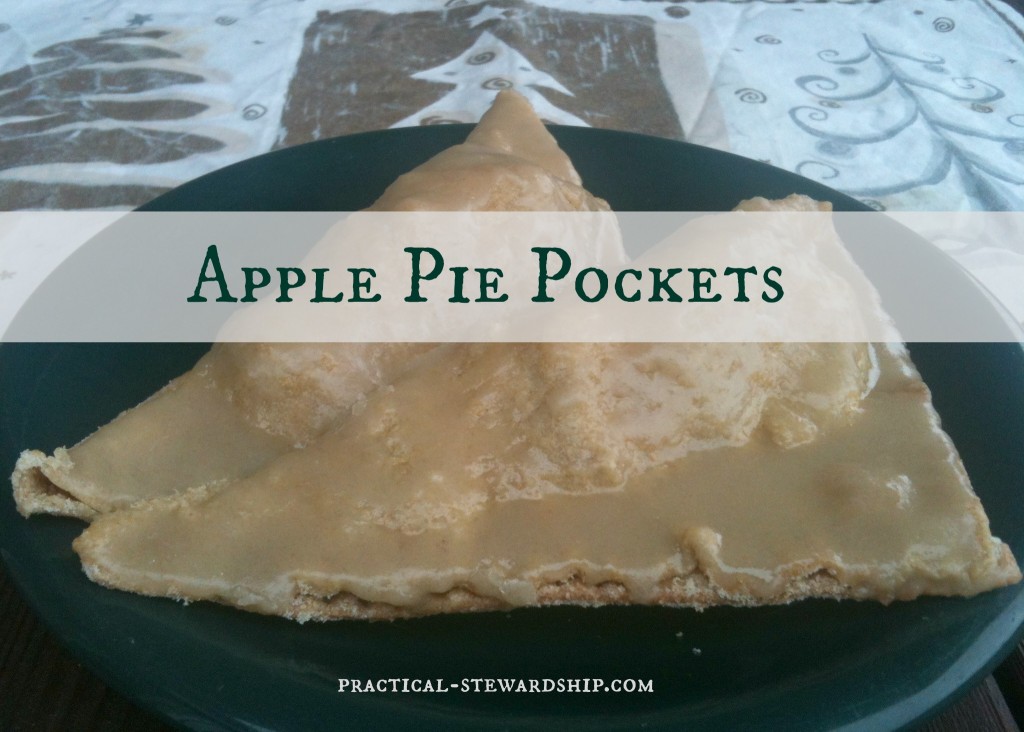 One of the great thing about these apple pies is that they don't have a huge list of artificial ingredients!  You can control the amount of sugar you use in them.  Plus, they taste great.  The pie crust is nice and flaky.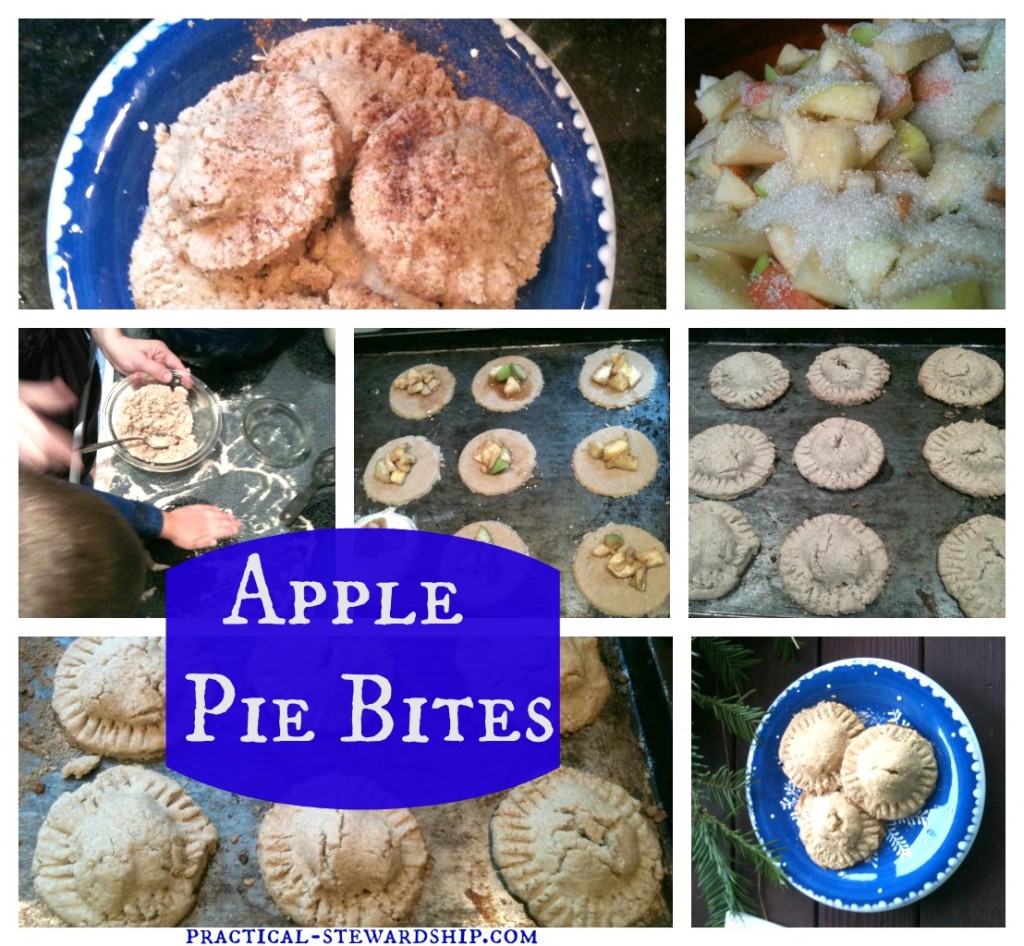 The recipe is flexible, so you can make little apple pie bites or apple pie pockets.  If you make the pockets you will probably want more pie crust dough.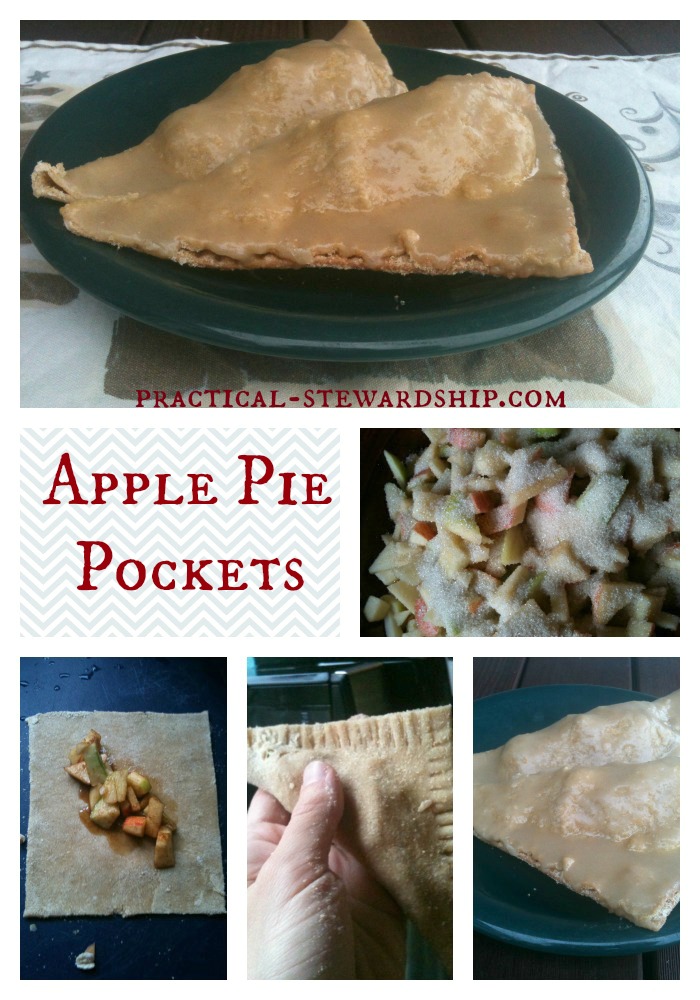 Apple Pie Bites or Apple Pie Pockets, Dairy-Free, Gluten-Free

Ingredients

For the Pie Crust

(or use your favorite healthified pie crust; I used this recipe for the apple pie pockets which makes more dough and contains whole wheat flour, yogurt, butter, and salt)
3 cups oat flour (grind old fashioned oats in a food processor, and use certified gluten free if needed)
1/2 cup organic coconut oil, melted
1/2 cup cold water
1/2 teaspoon sea salt

For the Apple Pie Filling

3 medium apple, finely diced (I leave the skins on)
1/2-1 t cinnamon (I go heavy on the cinnamon and put more like 4 t)
1/2-3/4 cup organic sugar (depending on tartness of the apples)
1/4 t nutmeg
1/4 t clove
1/4 sea salt

Instructions

Combine processed oats and salt.
Melt coconut oil in the microwave (approximately 30 seconds) or other method of choice.
Slowly add oil to the oat mixture, stirring it in well.
Slowly add water to the oat mixture, stirring constantly, until a moist dough forms.
Roll out dough on floured surface as thinly as you can, but keeping them thick enough as to not fall apart.
Cut out desired shape, circles or squares.
Combine all apple pie filling ingredients.
If you want apple pie bites that fit in the palm of your hand, put a heaping teaspoon of apple pie mixture directly in the center of the circle. The edges of the circles should have no apple filling touching them unless you don't mind the filling oozing out of your pie bites. You can fold over squares to make triangles. Refer to above pictures for shape ideas.
Place another pie crust circle on top of the apple filling, press down around the edges, and go around the circle with a fork.
Place on ungreased baking sheet, and bake at 425 degrees for 10-12 minutes or until the edges are golden brown.
Sprinkle with cinnamon and sugar or frost with a glaze or your favorite frosting.
Cool for 15 minutes and enjoy!

http://practical-stewardship.com/2012/12/20/apple-pie-bites-or-apple-pie-pockets-dairy-free-gluten-free/
The Verdict: This is a nice little treat, and is a portable way to eat an apple pie.  It's perfect for a little dessert appetizer.  They freeze well, too!  If you get an apple pie pocket with too much pie crust and end up with a dry portion, put some glaze on it (recipe below).
Thanks Jolie and Joshie for your help in making the bites!
Easy Glaze Recipe, Dairy-Free opt., Gluten-Free
Ingredients
1/2 cup powdered sugar
1-3 t of water (can use juice, milk, or non-dairy milk)
1/4 t vanilla
Instructions
Mix all ingredients together, adding one teaspoon of liquid at a time until you reach a desired consistency (when it's drizzle-able).
Drizzle on your favorite dessert.
Feel free to double or triple the recipe. We just try not to eat a ton of sugar around here:).
http://practical-stewardship.com/2012/12/20/apple-pie-bites-or-apple-pie-pockets-dairy-free-gluten-free/
If you have leftover apples, you can throw them into an apple pie smoothie.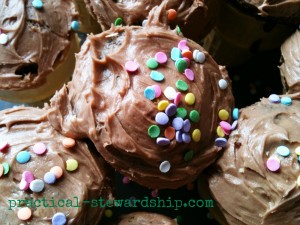 Go here for the complete list of recipes.
We would love to hear from you!  Feel free to comment.  Get free e-mail updates by subscribing here.  Follow us on Facebook and Twitter. "Moreover, it is required of stewards that they be found faithful" (1 Corinthians 4:2 ESV). Thanks for visiting!
Sonja