Slow Cooker Chicken Pot Pie Soup~an easy, tasty way to have pot pie flavors without all the work of a crust and all those calories.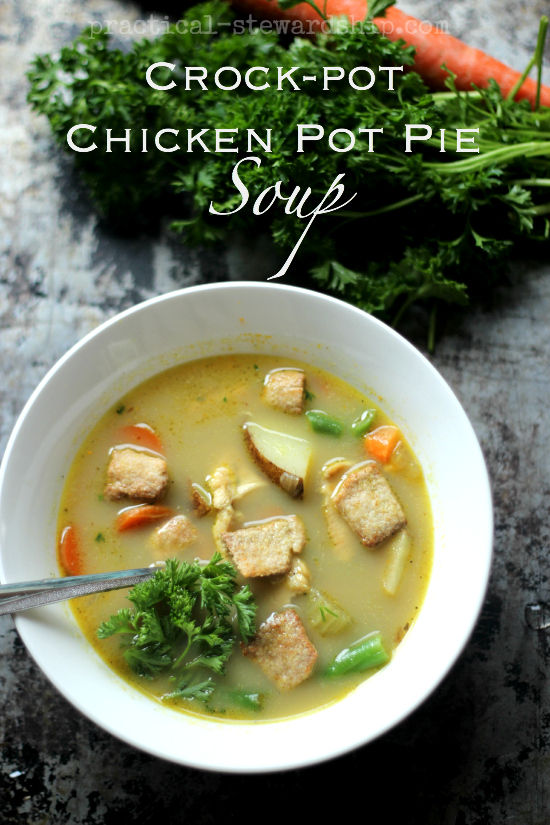 Since last fall a new favorite in the Sarr household is chicken pot pie soup. We have soups all the time in the fall, winter, and I guess the spring as well since it stays so gray most of the year. This recipe can be made easily with turkey as well.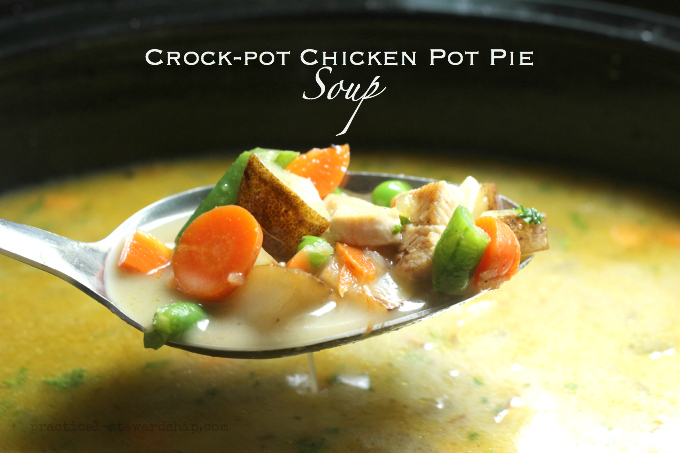 (a little late, but it's those taxes, I tell ya)
Last year I was inspired by pictures of chicken pot pie soup by Marie Poulin over at citronlimette.com. I wanted to adapt the recipe to the crock-pot
and make it dairy-free so I could eat it (although you can use regular milk with this). Marie's pictures of the soup looked so good, and they brought me back to lunchtime during my elementary school days when they served turkey and mashed potatoes with a nice thick gravy. Marie's soup reminded me of that gravy. Anyway, I had always brought a homemade lunch to school, and I never actually tasted the school potatoes and gravy, but it looked and smelled so scrumptiously. I had to believe it looked better than it tasted though, so I could curb my envious vein.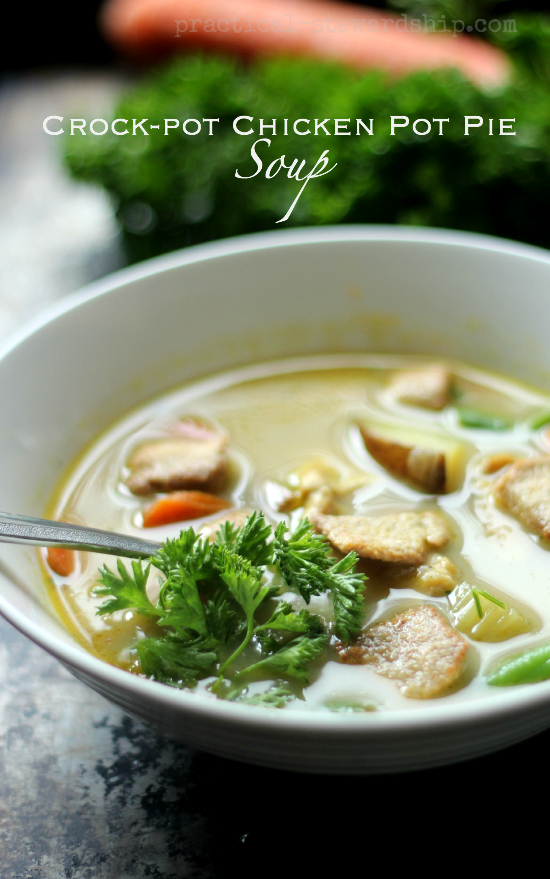 I also grew up on store brand chicken and turkey pot pies. My early years are full of memories of me eating pot pie in front of the TV.  Those pot pies seemed healthy enough since they had meat and vegetables, right? When we first got married at the turn of the century (1999-so I guess I can say that), we had our freezer stocked with pot pies. Years later when I started reading labels and saw the calorie and fat count of a pot pie, I about had a heart attack right then and there. Now I am not scared of high calories or high fat foods (we aren't calorie or fat counters) at all as long as they come from good, natural sources. So there's no need to be afraid of avocados and nuts, folks. Anyway, after that I learned how to make my own pot pie without any cream of ____ cans.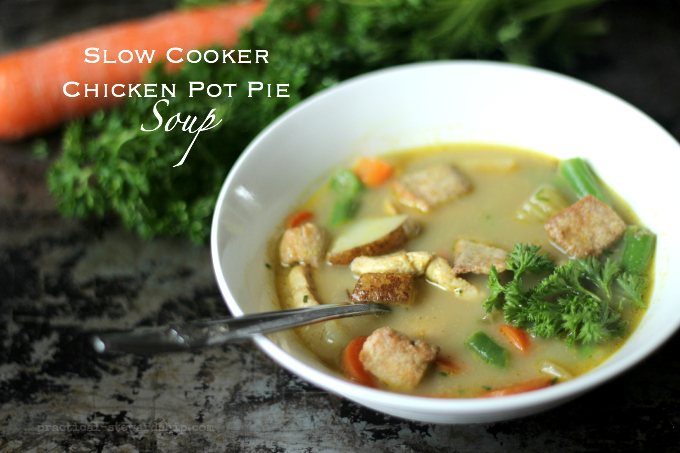 I can say bringing the flavors of chicken pot pie to a soup is way easier than making the pie, because it's making a pie, you know? This soup is pot pie without the mess. The key is enough pepper. Of course, make sure you salt the soup well, but really make sure you get enough pepper in the mix. And if you miss the pie crust, you can make some pie crust (here is a 4 ingredient recipe or use your own recipe), cut it into squares, and sprinkle the pie squares on your soup. You could also eat the soup with biscuits or bread. I have to admit, the kids loved eating those little pie squares when I actually got around to making the pie crust.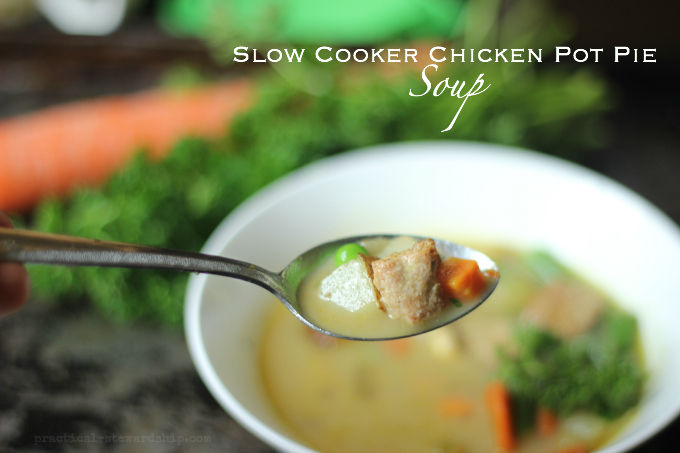 Another key to having a flavorful soup in the slow cooker is to sauté those onions, carrots, celery and garlic in a cast iron skillet
before throwing them into the crock-pot. They don't even need to be completely softened at the time since they'll spend time in the crock, but boy does that cast iron skillet bring out the flavor in those veggies. Sometimes I get the soup started in the morning and don't get to sauté the veggies until lunch or right before dinner. No problem. After I sauté them, I just throw them in when I get a chance. The flavor is worth it to me to include this step now (a few years ago I wouldn't have cared). Also, I have sautéed the potatoes before adding them to the crock when I was afraid I wouldn't have enough time to cook the potatoes all the way through. If I pre-cook the potatoes, I don't worry about pre-cooking them all the way through, since those potatoes'll also have plenty of time to soften in the crock-pot throughout the day. The smaller you dice the potatoes, the faster they'll cook, regardless of the cooking method. Updated 2/15.
Crock-pot Chicken Pot Pie Soup, with Stove Top Directions
Ingredients
1-2 cups shredded chicken (can use raw chicken breasts, cubed and cut into 1/2-inch pieces)
4 cups chicken broth
2 cups water
4 T olive oil or grape seed oil, divided
2 medium carrots, diced
2 stalks celery, diced
1 medium onion, diced
2 (or more) garlic cloves, minced
3 medium potatoes, peeled and cubed into 1/2 cubes (I used Russet)
2 tablespoons fresh parsley, chopped
2 cups of peas or mixed vegetables of choice
1 cup of unsweetened almond milk, or milk of choice
1/4 cup whole wheat flour or flour of choice
1/2 teaspoon dried thyme
turmeric, 2-4 dashes
coarse salt and fresh ground black pepper
Instructions
Optional, sauté celery, carrots, onions, and garlic in a skillet with 2 tablespoons of oil until onions are translucent. This will really bring out the flavors.
Place chicken, broth, water, 2 T oil, carrots, celery, onion, garlic, potatoes and parsley in the crock-pot.
Cover and cook on low for 8-10 hours, or on high for 4-5 hours or until the potatoes are mostly softened.
In the last hour of cooking slowly whisk in the flour and milk along with the thyme and peas-if you are using peas. Add additional flour by the tablespoon for a thicker soup if desired.
Add a few dashes of turmeric for a richer color and for its anti-iflammatory properties.
Salt and pepper to taste, cool a bit, and enjoy!
Stove Top Directions:
Alternatively, sauté celery, carrots, onions, and garlic in a Dutch oven with 2 tablespoons of oil. Add remaining ingredients, and cook on the stove top over medium heat, for approximately 20-25 minutes or until the potatoes are soften.
Have you tried a chicken or turkey enchilada soup?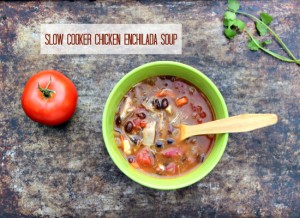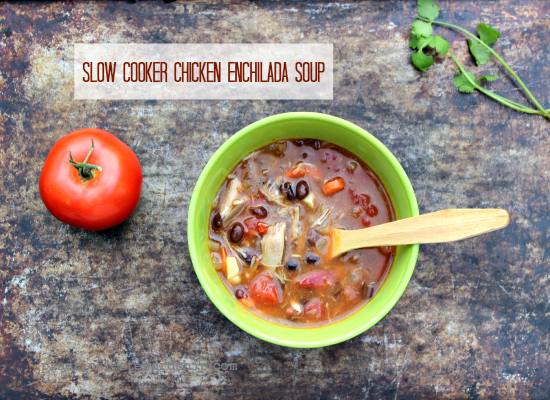 Or making a homemade pot pie (d-f, g-f opt.)?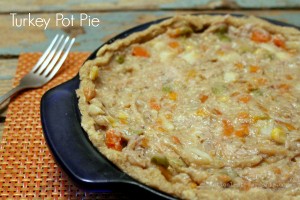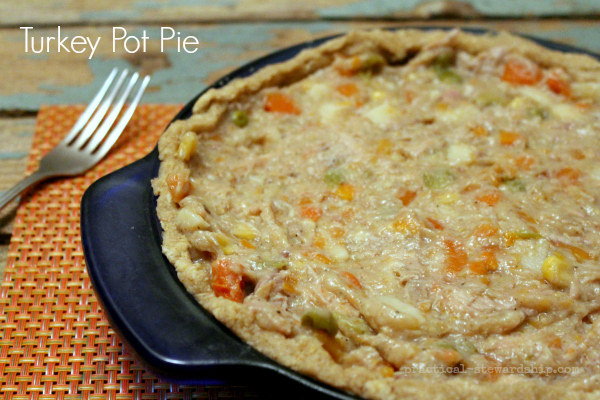 THIS POST MAY CONTAIN AFFILIATE LINKS THAT COST YOU NO MORE MONEY, BUT SUPPORT OUR BLOGGING EFFORTS. THANK YOU! 
Featured on Sunday Snippets.