Turkey Pot Pie is one of my kids' favorite dinners ever, and if you ask them, they would say I don't make this recipe enough.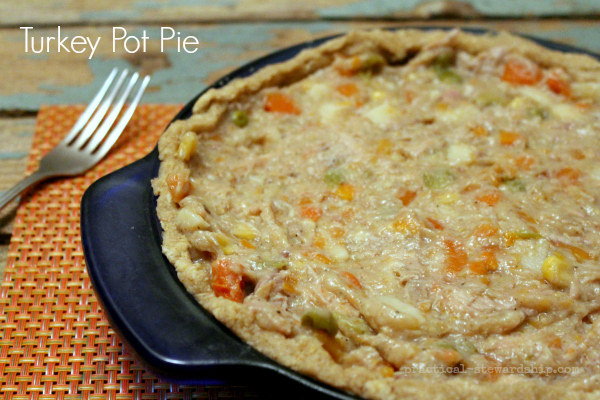 Two years ago I wanted to come up with a dairy-free pot pie filling for my sister, and I wanted to make it without cream of chicken or cream of mushroom soup.  We are done buying cream of … soups.  Now I need it dairy-free, too!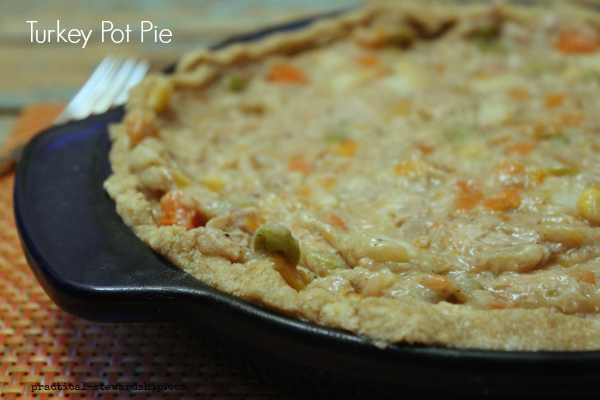 This recipe is even healthier because I don't put a top crust on.
The Verdict:  This is a great Thanksgiving leftover, and I always like to make two pot pies in order to save time, and money.  I will throw in leftover mashed potatoes, the shredded turkey, and a little stuffing, too!  This is a versatile and flexible recipe.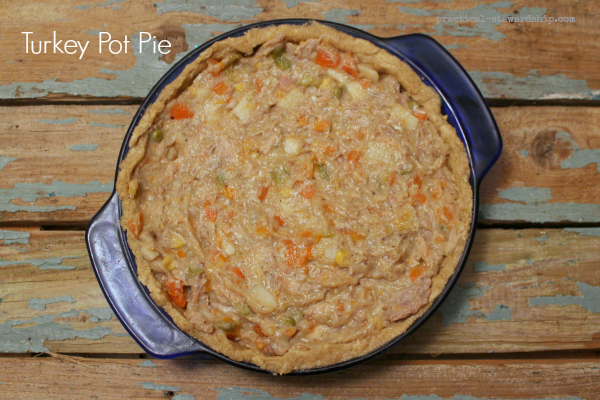 You might have a little filling left over, which is great to make mini pot pies.  The kids LOVE having their own individual pies!!
Chicken or Turkey Pot Pie, G-F option, Dairy-Free Filling (No Cream of…Cans)
Ingredients
1 1/2 cups gravy (made with warmed turkey drippings and 2 t cornstarch & 1/4 cup cold water) or use potato soup (I will freeze potato soup for this recipe)
1 1/2 cups of mixed vegetables (you can use a can of mixed veggies, and I have thrown in leftover roasted vegetables before-that's why you see asparagus on the first pot pie picture)
3/4 cups of shredded chicken or turkey
2 T minced garlic
3/4 t sea salt
1/2 t pepper
dash of cayenne pepper
4 ingredient dairy-free/gluten-free crust, or healthier crust of choice
Instructions
Roll out dough for the crust.
Place dough in pie plate.
Preheat oven to 350 degrees.
Mix remaining ingredients together.
Bake for 30-40 minutes or until center is heated thoroughly.
Let the pie sit for about 15 minutes, and serve.
Store leftovers in the refrigerator up to two days.
Have you ever made Turkey or Chicken Pot Pie Soup? It's easier than making a pot pie!
This post contains affiliate links that don't cost you any more money yet, support our blog efforts, so thank you for your support!