Super Burrito-A Great Portable and Tasty Meal-on-the-Go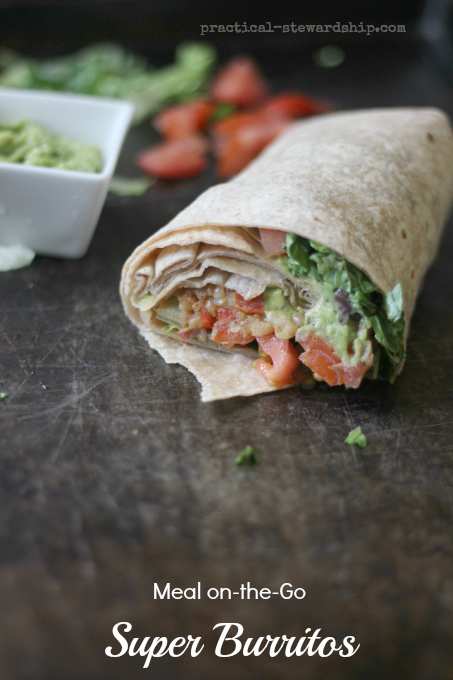 Around the Sarr household we are always trying to make our food healthier in some way as we move away from the Standard American Diet (SAD). Last spring we became a soccer family. It changed the way I thought about preparing dinners. If we were going to eat good, homemade food, it had to be portable because we had games right in the middle of dinnertime. I couldn't bare the thought of eating out twice a week for two months, or eating really late, or spending a bunch on eating out because "rack-rack". Eating out really adds up. I wanted to avoid the Taco Bell drive-thru, because in Marysville, we don't have many healthy fast food options (although I just saw a sign for a new eatery that serves organic sandwiches I'm gonna have to check out soon). Taco Bell is about as good as a drive-thru gets here (I get the Fresco Burrito there if we go-it contains no cheese and has fresh ingredients like tomatoes, onions, and cilantro).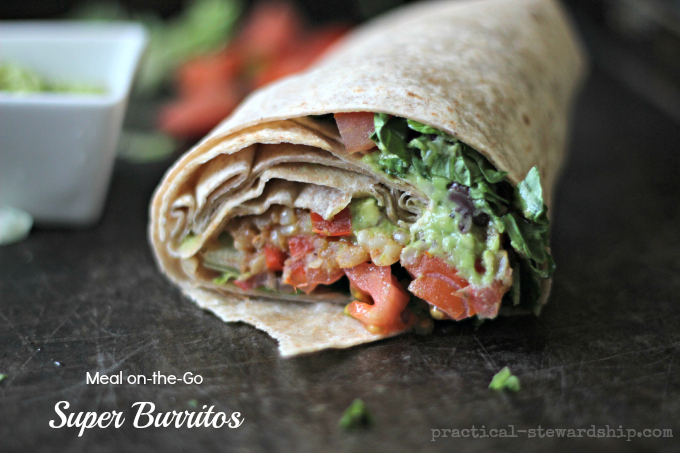 These super burritos are SUPER flexible and super filing! I love making these burritos out of leftovers, whether it's beans, brown rice or Mexican rice, guacamole, salsa, dairy-free cheese sauce, or chicken. You can prep the food beforehand the day before or the day of in anticipation of making a burrito assembly line. And you can make these and freeze, omitting the fresh produce. They are made easily vegetarian/vegan with the use of beans. I won't be really precise with these directions since what I have on hand always varies, and it's usually a spoonful of this and a handful of that.
I wanted to try to incorporate a portable salad with our meal so I thought I would stuff the burritos with fresh lettuce and tomatoes, along with some onions and maybe guacamole. Then I feel like we are getting our veggies in on-the-go, and that the kids have a complete meal in their hands.
So I do have one cheat here if you call it a cheat. I don't make my own tortillas. Nope! I buy them. So this isn't a completely homemade meal. I know most people buy them, but if you make them, I will try to not be jealous:). I will just look on with great admiration. There's nothing like a fresh homemade tortilla. I did make them once about five years ago and found them to be a bit labor intensive. The way we go through them, I didn't think making them on a regular basis would be the best use of my time, especially considering I make most other things from scratch. Maybe I should try making them again, and I'd be more efficient?!?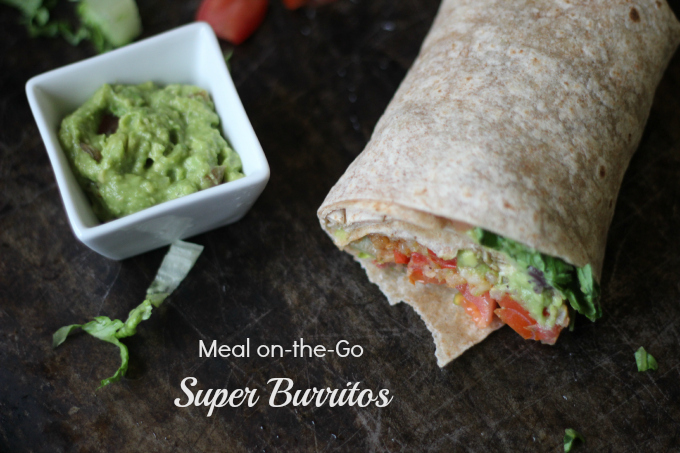 Anyway, when we make these ginormous burritos, I buy the huge extra-large wraps at WinCo. They are whole wheat, but they also have several ingredients I am not excited about. If you find a healthier extra-large wrap alternative, I'd love to hear about them in a comment. I know I could use smaller, healthier tortillas, but they don't wrap very well. We could also just omit the tortillas and use a bowl, too. We do have these Eco Silicone Collapsible Lunch Boxes that work well for traveling. But we like tortillas. what can I say?
**Update 11/14. Seriously the day after I posted this, I found these "Mountain Bread Natural Wraps" in the natural section in Fred Meyer (it's a Kroger Store).  They only have 4 ingredients, vegan, dairy-free. I bought them and need to try them now.
Want more meals-on-the-go? I plan to share more portable meals in the future. Sound like a plan?
Super Burrito-Meal on the Go
Ingredients
tortillas (I use huge whole wheat tortilla wraps), heated
protein: a can of cooked beans, or shredded pork, beef or chicken, heated
Mexican rice, heated
lettuce, chopped
2 tomatoes chopped
1/4 onion, chopped
avocado, diced, optional
cheese, or vegan cheese sauce, optional
hot sauce or salsa, optional
Instructions
Take a tortilla, and place a spoonful in the center of each of the following: protein (beans or meat), rice, lettuce, tomatoes, and guacamole. Top with onions, cheese, and sauce or salsa.
Slightly fold in sides toward the center, and roll up the contents in the tortilla.
Repeat, and place burritos in your favorite portable container, foil or plastic wrap. I try not to use the latter 2, but in a pinch, it's better to use than eating out.
THIS POST MAY CONTAIN AFFILIATE LINKS THAT COST YOU NO MORE MONEY, BUT SUPPORT OUR BLOGGING EFFORTS. THANK YOU!