Mexican Rice or Spanish Rice? What do you call it?  Some people refer to Mexican rice as Spanish rice, though. Spanish rice can include saffron, and often times there is cumin in Mexican rice (source). My dad is Mexican. I am half-Mexican (you can read more about me here if you'd like). And we use cumin, so we call it Mexican rice.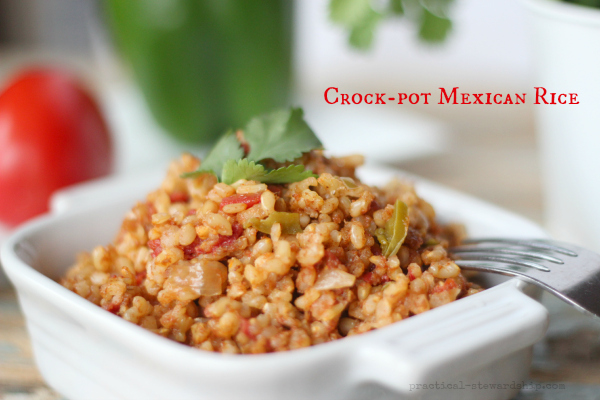 Well, I grew up eating Mexican Rice ALL. OF. THE. TIME. My dad made it so much and in such large quantities that there were leftovers galore. When I was going to community college I would eat it for dinner one night, and being the lazy efficient and resourceful student I was, I would bring it for lunch, and then have it for another meal or two after. Needless to say, I got a bit tired of it, and subsequently took a long break from it. I mean a REALLY LONG break from it. Honestly, I haven't had Mexican rice in close to twenty years, but I just recently broke my streak earlier this year.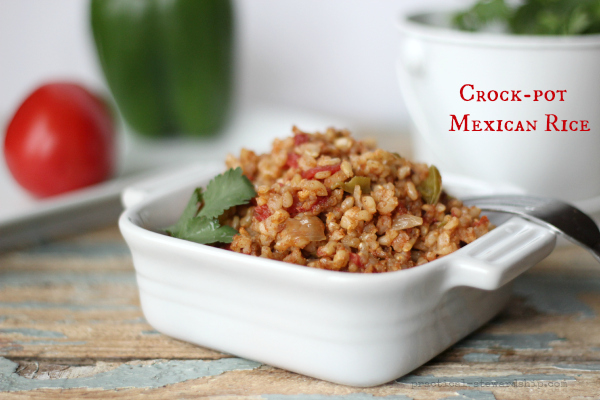 How often do us moms not make something for our families because we don't like it? Anyone else guilty out there? I have starting thinking that I really shouldn't deny my family different foods that I am not excited about, so I started making Mexican rice (and now I buy olives for the fam…and I am going to buy mushrooms soon because my seven year old keeps asking-seriously). Now that I cook plain rice in the slow cooker all of the time, I thought it would be a fabulous recipe to throw in the crock-pot.
I can't believe how easy it is to make this rice in the crock-pot. You can skip the steps of browning the rice, and sautéing the onions and bell pepper. I have made the rice in the crock without browning the rice and it still turns out great, but the browning of the rice and sautéing the veggies brings another layer of flavor to the dish that improves the quality of crock-pot cooking. I can actually say I like Mexican rice now. Just don't give it to me two days in a row:).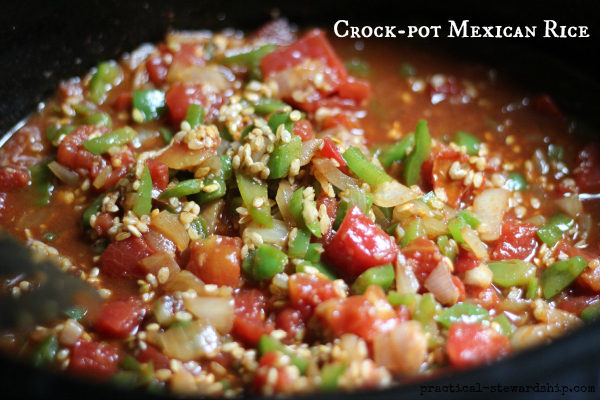 This recipe is an adaption of my dad's and mom's recipe to the crock-pot, of course.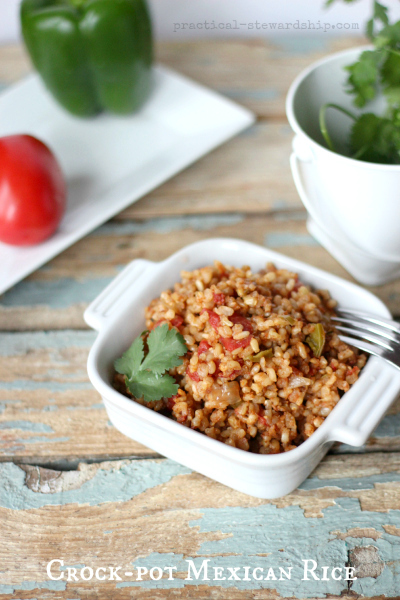 Crock-pot Mexican Rice or Spanish Rice
Ingredients
2

cups

uncooked basmati

or long or short grain brown rice

2

cups

chicken broth or vegetable broth for vegan

or water

1 14.5

ounce

can organic diced tomatoes

1

medium onion

optional sautéed

1

bell bell pepper

optional sautéed

2

t

chili powder

2

t

cumin

1

t

sea salt

2

T

fresh cilantro
Instructions
Optional, heat 2 T of oil (olive or grape seed) in a skillet and brown the rice for additional flavor.

Place all ingredients in a greased slow cooker except cilantro.

Stir, cover, and cook on high for 2.5-3.5 hours, checking after 2 hours to see how well the rice is absorbing the moisture. When the moisture is absorbed and the rice is soften, the rice is done. Add additional water or broth if needed.

Garnish with cilantro, serve and enjoy!
Need any Cinco de Mayo inspiration?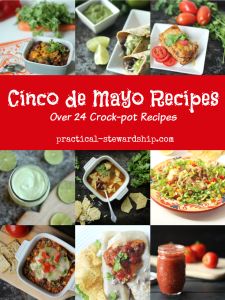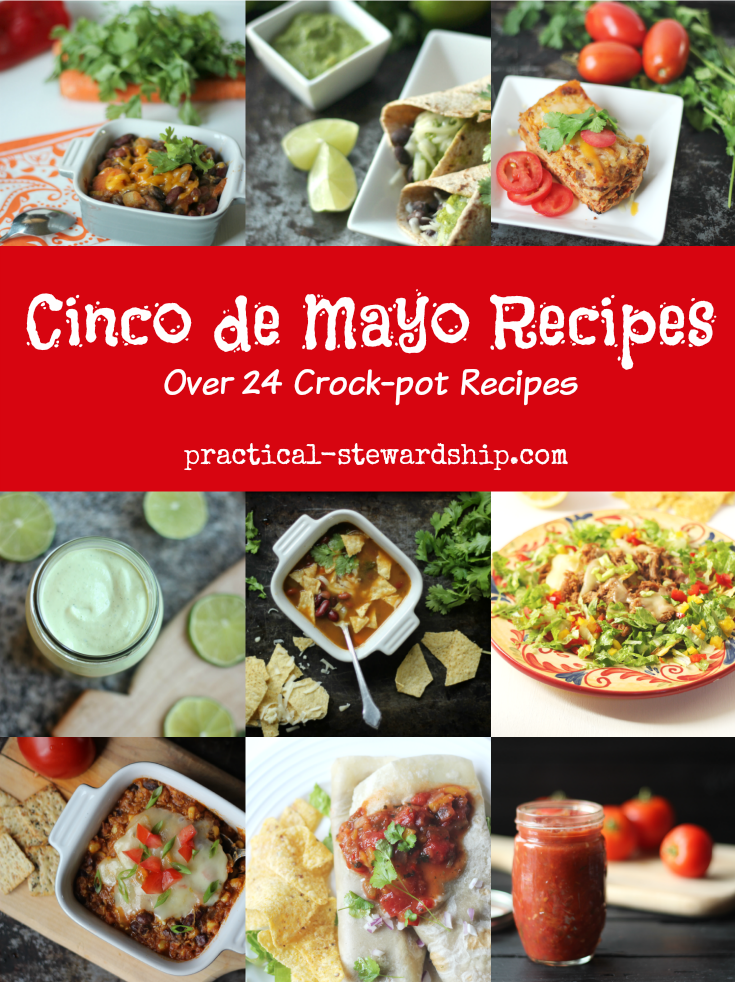 Go here for the complete list of recipes. 
This post may contain affiliate links that cost you no more money, but support our blogging efforts. Thank you! 
Sharing at  Wow Us Wednesday, and some of these great link parties.