Crock-pot Turkey Quinoa Chili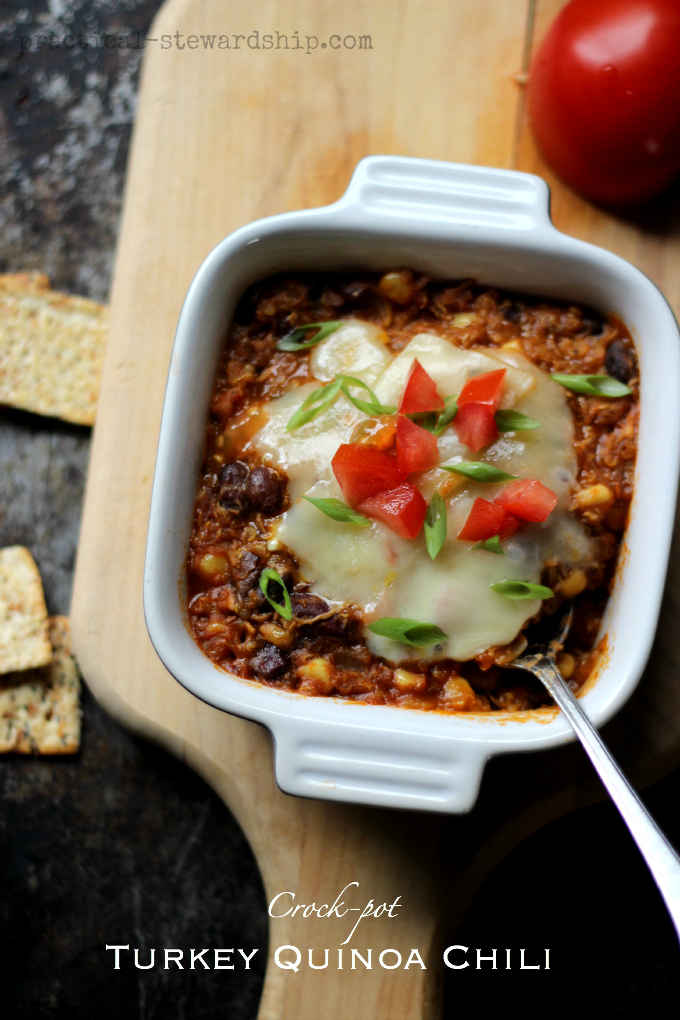 Crock-pot Chili (I also call it Can-Can Chili since it's basically a dump and go recipe) is one of our go-to meals, our fall-back when we want something warm and filling or when we want something cooking away while we go out and play. Well, sometimes you want a little variety to the old standards, don't you? And we know quinoa makes us all feel better about ourselves since it's so stinkin' healthy!
Back in November and December we had a few Turkey feasts that left us a plethora of shredded turkey. I love having shredded meat around because there are soooo many recipes you can throw it in (in fact, there are 12 different shredded meat ideas right here). Anyway, I found a meatless quinoa chili recipe that sounded amazing and thought shredded turkey would be a great addition. So you know me by now, if you've been following this blog for any length of time. I'm gonna find a way to cook it in the crock-pot
. Somehow. Well, this recipe adapted fabulously to the good old slow cooker.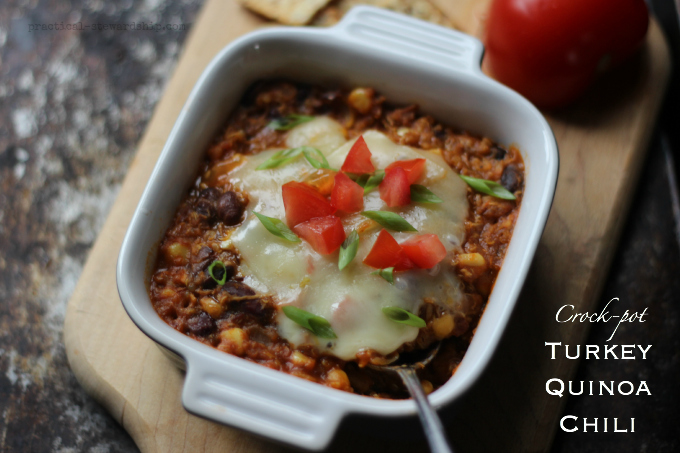 And if you've read most of my other crock-pot chili or soup recipes (here are those soup recipes), you know I'm gonna suggest sautéeing the carrot, onions, and celery in a cast iron skillet until the onions are translucent or have a little brown (translating to LOTS of additional flavor). And then throw that garlic in for just a minute or less so it doesn't burn, but just until you can smell that wonderful garlicky aroma filling the air. Oh yes, that's it, and not a moment more or the garlic will burn, burn, burn, baby. Having said that, you can just throw all of those veggies in raw, but the chili might not have that WOW factor, if you know what I mean. Plus, you'll have to cook the chili all day to soften those carrots (which is what you might just want to do).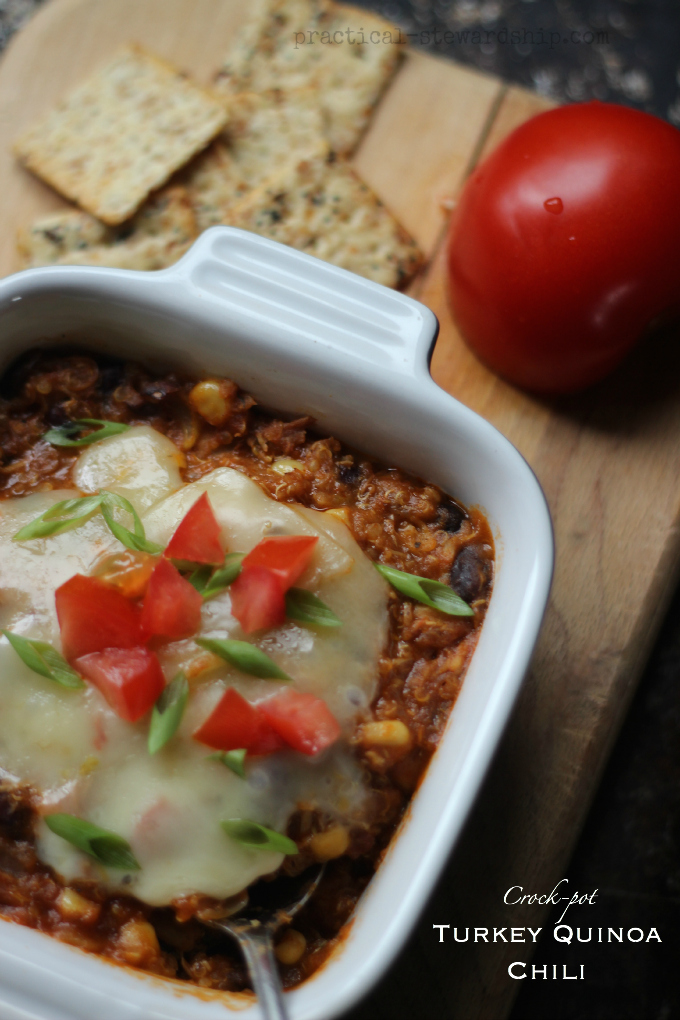 Honestly, this chili can be made sans meat or with shredded chicken. I've even made it with pulled pork once when we had an abundance (thank you Hunts!). But if you have that shredded meat in here, along with the beans and quinoa, get ready for a triple protein-packed punch. You'll be satiated for longer and the protein will build those muscles you need to run that marathon you've always wanted to do:).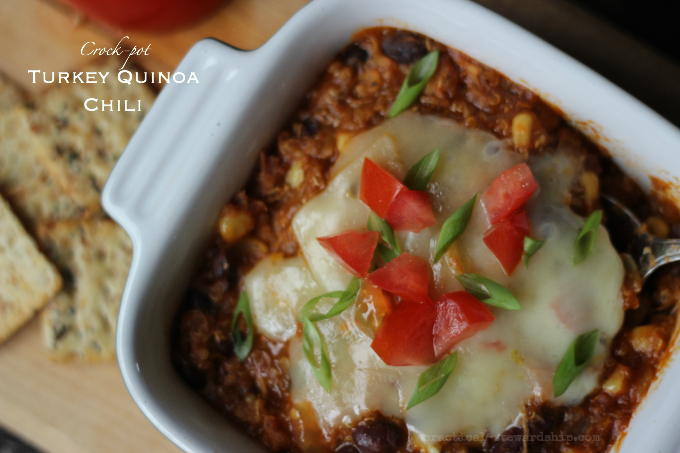 Inspired by Chungah.
Crock-pot Turkey Quinoa Chili
Ingredients
2 T avocado or olive oil
2 carrots, cut into coins
2 celery stalks, chopped
1 medium onion, diced
3-5 garlic cloves, minced
2 cups of broth of choice or water
1 cup uncooked quinoa
1-2 cups of shredded turkey or chicken
1 15 ounce can kidney beans, drained
1 15 ounce can black beans, drained
1 1/2 cups corn, (canned, fresh or frozen works)
1 4.5 ounce can diced green chiles, optional
2 14.5 ounce cans of diced tomatoes
1 15 ounce can of tomato sauce
1 1/2 t sugar, like coconut sugar or evaporated cane juice
1 1/2 T chili powder or more to taste
2 t cumin
1 1/2 t paprika
1/2 t Cayenne pepper
1/2 t ground coriander
sea salt and pepper to taste
3 T fresh cilantro
additional 1-2 cups broth or water
Instructions
Optional, in a cast iron skillet heat oil to medium heat. Sauté carrots, celery, and onions in oil until onions are translucent. Add garlic for one minute, stirring carefully to avoid burning.
Add (sautéed) vegetables to the crock-pot.
Rinse quinoa, and add to the crock-pot along with the 2 cups broth, shredded turkey, kidney beans, black beans, corn, chiles, diced tomatoes, tomato sauce and sugar.
Cover, and cook on low for 6-8 hours or on high for 3-4 hours.
In the last hour of cooking stir in the chili powder, cumin, paprika, Cayenne pepper, ground coriander, salt, and pepper to taste.
If the chili is too thick, add additional broth or water.
Serve and garnish with cilantro.
THIS POST MAY CONTAIN AFFILIATE LINKS THAT COST YOU NO MORE MONEY, BUT SUPPORT OUR BLOGGING EFFORTS. THANK YOU!