One of my favorite things to make in the slow cooker is applesauce.  I tried about 8 years ago to make apple sauce on top of the stove.  I was trying to use up apples from our fruitful backyard tree the day before going to Germany for three weeks.  Talk about lots of pressure to get things done before leaving.  Stove-top saucing was labor intensive, and just plain not fun.
I don't remember how I discovered crock-potting apples to make apple sauce because it was too long ago and in the midst of having my beautiful babies, but once I did it, I could not believe how incredibly easy it was.  I use this recipe if I have two or twenty apples.  Basically you can use however many apples you can fit in your crock-pot.
Ridiculously-Easy Apple Sauce
Ingredients
Apples
Water

Cinnamon (opt.)
Instructions
Peel, cut, and slice apples (however many apples you have)-I have done this with 2 apples and 20 apples
Cover the bottom of the slow cooker with water. If you have a small amount of apples, just use a couple of teaspoons.
Put the apples in the slow cooker. Add a teaspoon of cinnamon (or a lot more if you like). I mix in the cinnamon at the beginning, but you can do it at the end.
Cook on low for 3-4 hours or so. You don't need to mash them, because the apples will soften. Just stir every 30 minutes to an hour or so. If the apples aren't turning into sauce while you are stirring, leave them in for another 30 minutes, and check. You can make your sauce as chunky or as smooth as you like. Leave it in for longer to smooth it. You can use a potato masher to expedite the process.
If you leave it in for 5 hours or so, the apples may brown more. I don't like the darker brown applesauce, so I try to take it out before it gets too dark.
http://practical-stewardship.com/2011/11/12/slow-cooker-saturdays-easy-apple-sauce/
The Verdict: What great baby food or anybody food!  We all love it.  It's so easy.  I love recipes that I can fix and forget instead of hovering over the stove for a long time.
Here is the baby food I made for Baby Lucas, my ultra-adorable nephew, that we froze and stored in a plastic food-grade bag.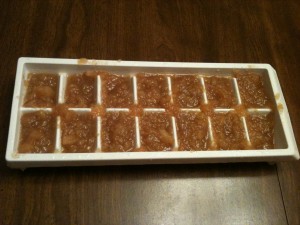 Have you tried making yogurt in the crock-pot?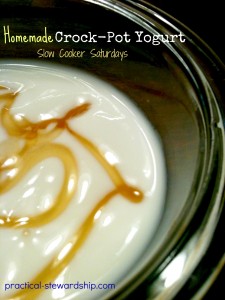 Have you made Blackberry Apple Crisp in the Crock-pot?
Go here for a complete list of recipes.
We would love to hear from you!  Get free e-mail updates by subscribing here.  Follow us on Pinterest, Facebook and Twitter. "Moreover, it is required of stewards that they be found faithful" (1 Corinthians 4:2 ESV). Thanks for visiting!
Sonja