4 Ingredient Biscuits~fast, tasty and easy
In the Relish Magazine that comes in our newspaper, they published a three ingredient Yogurt Biscuit recipe that inspired me to do an adaption.  I am in love with creating food with minimal ingredients.  The less ingredients, the more likely I am to make something from scratch, the more money saved, the healthier our food is…you get the picture.  The original recipe calls for self-rising flour, but I use whole wheat flour here with baking powder. **Updated 3/14.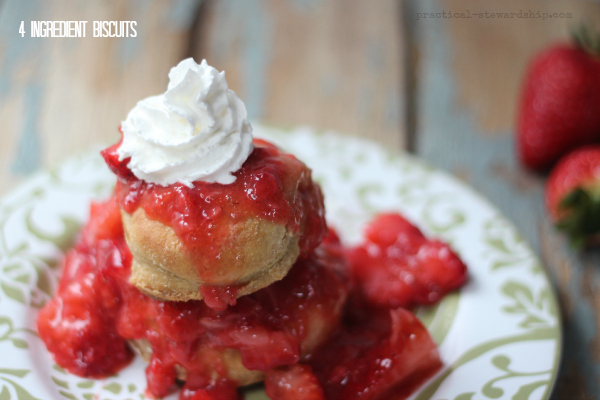 Biscuits can be so flexible.  In the first four days I had the recipe, I made them three times, each time with a different purpose.  The first time I made them just to try them as a side with soup.  The second time I added cheese, garlic and Italian seasonings to make a flavorful side item on our menu.  And the third time I made them to be the base for Strawberry Shortcake.  So flexible.  Yummy each time!!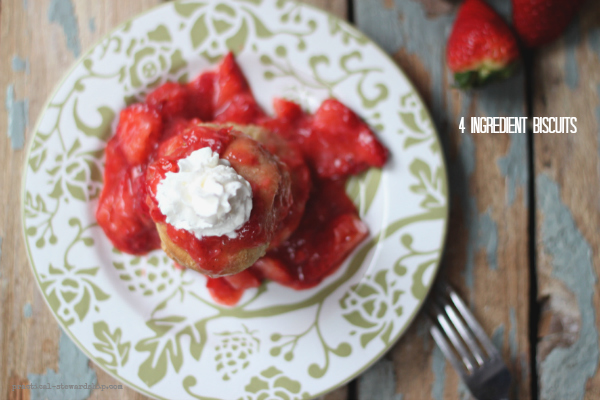 The Verdict: As I said before, this recipe is so flexible.  I love being able to make food with minimal ingredients.  The biscuits are so moist and tasty.  I've made them SEVERAL times!  Love them!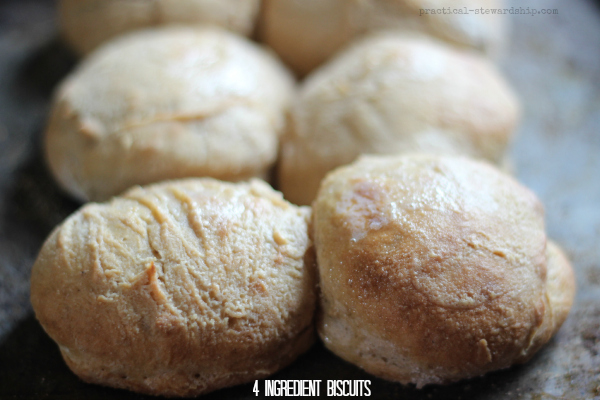 4 Ingredient Biscuits
Ingredients
1 1/2 cups whole wheat flour (try 1/2 whole wheat 1/2 white flour if you are transitioning to whole wheat baking. I grounded my wheat berries to have fresh flour. Using all white flour will make them fluffier.)
1 t salt
1 t baking powder
1 1/4 cups plain yogurt or plain Greek yogurt
optional, 1 T TriMix (1 t Wheat Germ, 1 t Wheat Bran, 1 t Oat Bran)
optional, 1 t ground flax seed
Instructions
Preheat oven to 450 degrees.
Grease baking sheet.
Combine wheat flour, baking powder, and salt in a mixing bowl.
Make a well with your dry goods.
Add the yogurt to the middle of the well and pull the dry ingredients into the yogurt with a fork until everything is moist.
Turn dough on a floured surface until it's no longer sticky. The dough will be nice, cool and soft.
Form dough into a mass with a 3/4 inch thickness.
Take a glass or cookie cutter to cut out biscuit circles.
Place the biscuits on the baking sheet close together.
Bake for 10-14 minutes or until biscuits turn golden brown. Stick a toothpick in the biscuits to make sure they are no longer doughy (unless you like doughy).
Optional, top with butter directly out of the oven.
Eat immediately with your favorite soup, dish, or top with strawberries and real whipped cream to enjoy some strawberry shortcake.
Store in an airtight container if they don't get gobbled up.
Have you tried 4 Ingredient Coconut Delights?

THIS POST MAY CONTAIN AFFILIATE LINKS THAT COST YOU NO MORE MONEY, BUT SUPPORT OUR BLOGGING EFFORTS. THANK YOU!