Crock-pot Lasagna Soup~a seriously easier and tasty way to have the flavors of lasagna without all of the hassle.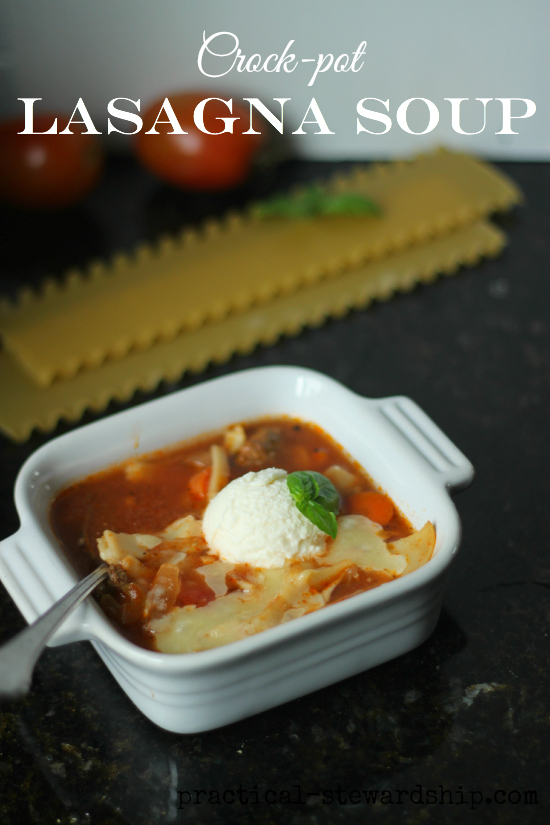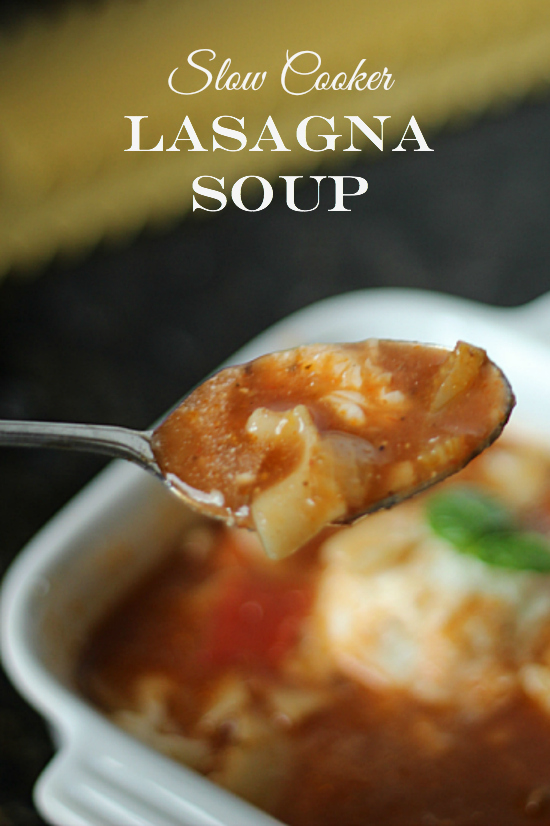 One afternoon a couple of weeks ago I had NO idea what I was going to fix my family for dinner.  I hate it when that happens, but it happens about once a week.  I get to lunch time and wonder what's for dinner.  That is not thinking ahead!  It just so happens that I am the creator of dinner, so I better come up with something.  If worse comes to worse there is always pasta and red sauce that we have stocked in our pantry.  I haven't had to go there in quite a while, months may be.  Well, I had these lasagna noodles hanging around that I needed to use.  Since I had been making chicken broth a few days prior, I had some of that around, too. I thought, 'what if I made a real lasagna soup, pretty much like a lasagna, but add the broth and water, which dilutes all the calories.'  Plus you can control the cheese you top the soup with for even more calorie control.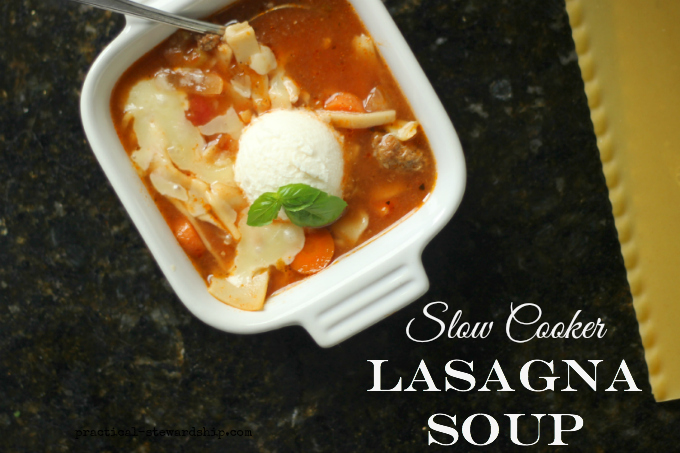 The Verdict: The whole family loved this, especially the kids who wanted more!!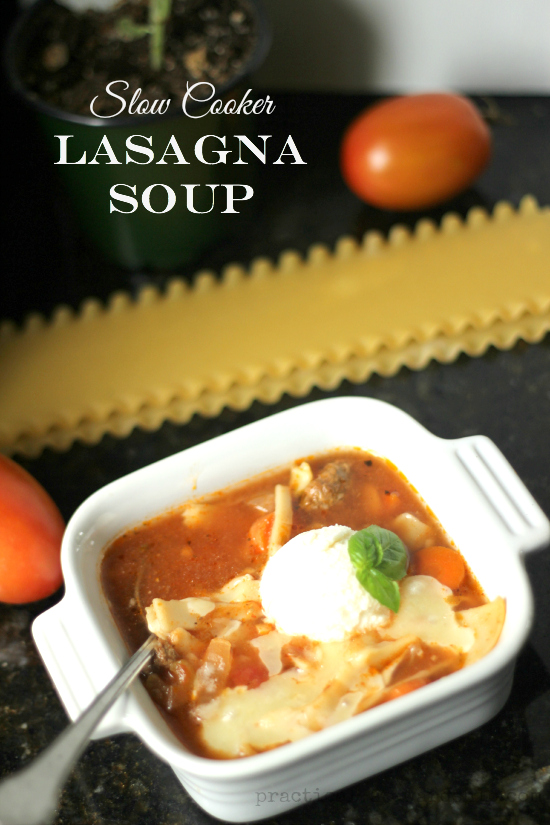 You can use almost any kind of pasta you want.  The lasagna noodles were perfect, not mushy and not under cooked.  If you use a smaller noodle, add them in the last hour, or cook them on the stove top to add at the very end.
Troubleshooting: If you have refrigerated leftovers of the lasagna soup and the sauce thickens, mix some more water, by the half cup full.  Add additional spices as needed so you don't dilute the flavor. Updated 11/14.
Crock-pot Lasagna Soup Recipe
Ingredients
4 cups of water (add more water if you want a thinner soup)
4 cups of broth
one 26 oz. cans of marinara sauce
approx. 6 100% whole wheat lasagna noodles, broken (we liked our noodles big-it made it more fun to eat)
1 lb. choice meat (ground beef, sausage, or turkey, I usually use chicken)
handful of spinach, diced
optional, 15 oz. container ricotta cheese
1 cup grated mozzarella
Instructions
Place all ingredients in the crock-pot minus the cheese.
Cook on high for 2 1/2 hours, or until the noodles are softened and the soup is nice and hot.
Garnish with cheese, serve hot, and enjoy!
Did you know you can make a lasagna in the crock-pot?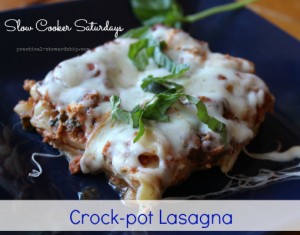 THIS POST MAY CONTAIN AFFILIATE LINKS THAT COST YOU NO MORE MONEY, BUT SUPPORT OUR BLOGGING EFFORTS. THANK YOU!