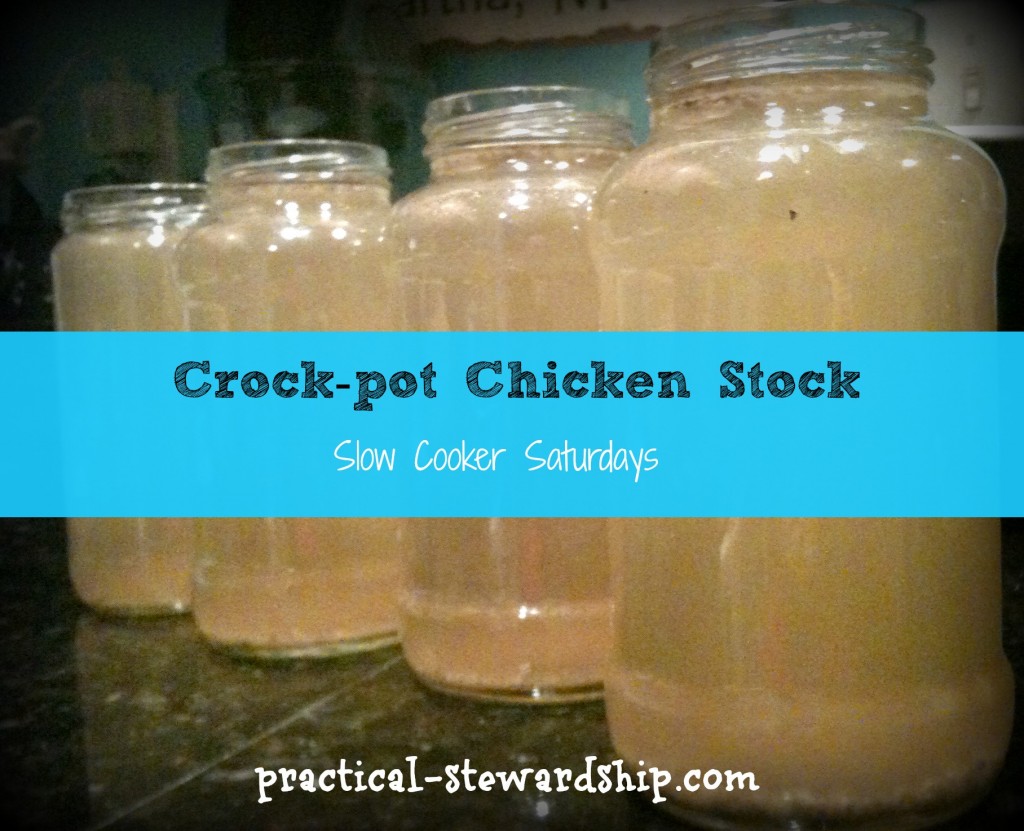 Have you ever made chicken stock?  Talk about a frugal idea!!  This is a great way to save $10 or more using food scraps and recycled pasta sauce jars that would be otherwise deemed as garbage.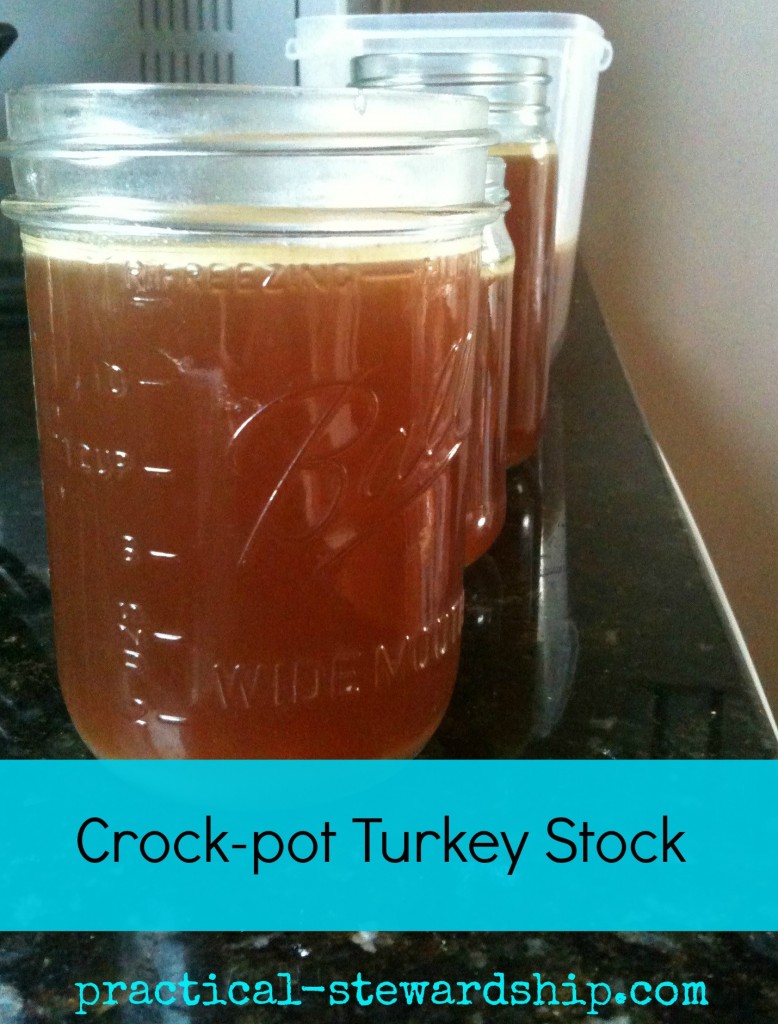 I figure I just saved about $10 now since this recipe gave me four-26 oz. jars of stock, and you can add 6 ounces of water to it to make 32 ounces, and I won't pay more than $2.50 for a 32 ounce box of chicken broth.
I can't believe I haven't done this more often, as I do keep broth on hand in our pantry.  Now over the years I have used the drippings from a crock-pot whole turkey or chicken before, froze that in glass jars and have added that to soups or risotto.  I think this stock is better!
Crock-pot Chicken Stock or Broth

Ingredients
bones left over from a whole chicken (we crock-pot our whole chickens)
2 or more celery ribs, quartered
2 or more carrots, quartered
1 or 2 onions, quartered
2 cloves garlic (unpeeled is fine)
Italian seasonings
2 t salt, or to taste
1/2 t pepper, or to taste
optional 1 T vinegar (can be apple cider)
optional dash of Cayenne pepper
Instructions
Place bones in the crock-pot.
Add vegetables/scraps.
Cover the bones and vegetables with cold water (cold water helps release more flavor/nutrients from the bones), but leave an 1.5 inches of space from the top of the crock-pot.
If you use vinegar, combine it in the crock-pot now, and leave the crock-pot for an hour with the crock-pot off. The vinegar helps bring out the calcium in the bones.
Cook on high for 4 hours, and then low for 4 to 6 hours, or cook 12-24 hours on low. The longer it slow cooks, the more flavorful it will be. This is a great recipe to cook overnight.
Strain, discard vegetables, and store in glass jars. I freeze mine with no issues-just make sure you leave at least an inch of space at the top for expansion purposes.
http://practical-stewardship.com/2012/09/22/crock-pot-chicken-stock-or-broth/
The Verdict: I have done this using turkey also.  It is really so easy to do.  You just have to do it!
**Update 10/1/12: I have been freezing my vegetable scraps in one gallon size freezer bag, and throwing that into the stock.  That way I don't waste valuable scraps.
Go here for the complete list of recipes.
We would love to hear from you!  Feel free to comment.  Get free e-mail updates by subscribing here.  Follow us on Facebook and Twitter. "Moreover, it is required of stewards that they be found faithful" (1 Corinthians 4:2 ESV). Thanks for visiting!
Sonja