Granola has been our go-to breakfast for over two years now. Before that it was steel cut oats (which we still have once or twice a week), and before that it was boxed cereal. Boxes and boxes of cold cereal (which was my go-to for over 3 decades). While I still keep some boxes of cereal around just in case we run out of granola or want a little variety, it's not nearly the stockpile of cereal I used to build when I was actively couponing.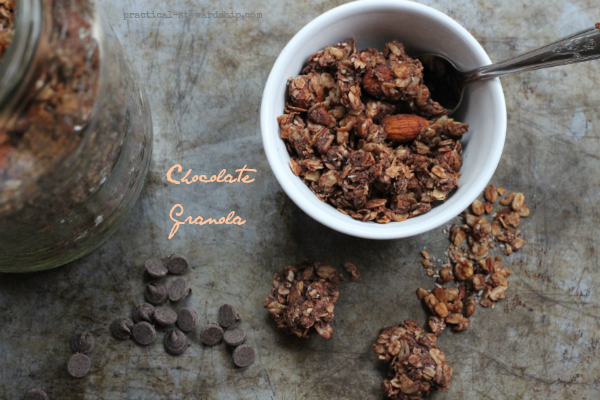 Since we've been eating basically the same granola recipe for a few years, I wanted to give our go-to granola a little variety. Chocolate! I thought it was time to add some chocolate to the mix. Usually I can't do chocolate in the morning, but the exception has been crispy cocoa rice cereals and this granola cereal.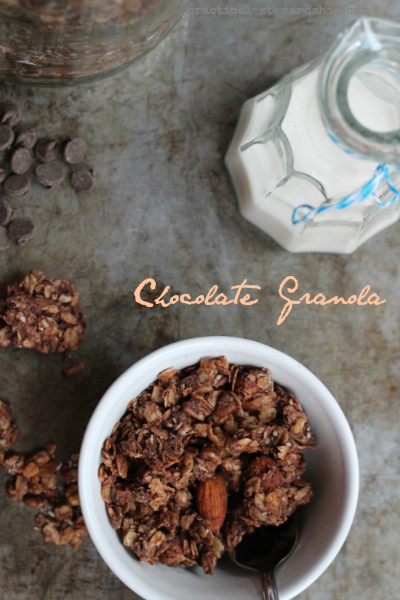 There are so many different variations of granola you can make when you experiment with the different nuts, seeds and dried fruits. So here is the base of our recipe, and feel free to add and substitute as you wish.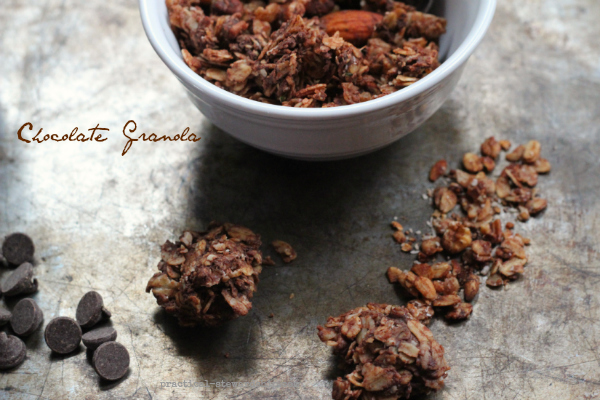 A few notes:
I cut this recipe in half to bake in the oven on one baking sheet.
If you are using a crock-pot, a 5 quart crock-pot or larger would work. I've put it in my 4.5 quart before, but the 6 and 7 quarts have worked best.
This version of chocolate granola happens to be dairy-free depending on how dark your chocolate is, vegan if you substitute the honey for maple syrup, and gluten-free if you use gluten-free oats.
For a clumpier granola, don't aggressively stir the granola after adding the chocolate chips.
I like to make two batches at a time so we end up with 28 cups of granola. It might last us two weeks.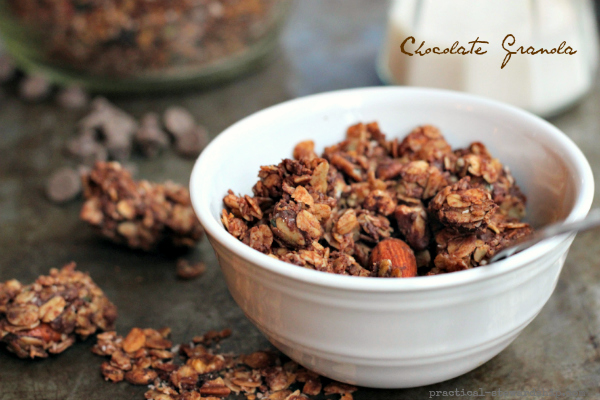 For more crock-pot ideas, check out my Cookin' with the Crock-pot Board on Pinterest. Follow Sonja Sarr (practical-stewardship.com)'s board Cookin' w/the Crock-pot on Pinterest.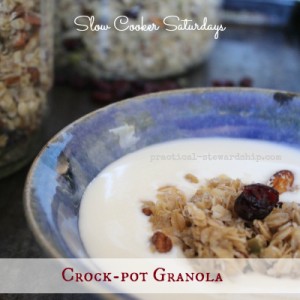 How about Oatless, Low Carb Peanut Butter Granola?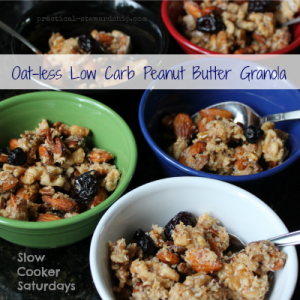 Featured at Whole New Mom!